Mary McLeod Bethune Council House
Introduction
The Mary McLeod Bethune Council House was the private residence of civil rights leader, educator, and stateswoman Mary McLeod Bethune, who lived at the house from 1943 to 1949. The house also served as the first headquarters of the National Council of Negro Women from 1943 to 1966. The house is overseen by the National Park Service as part of the Mary McLeod Bethune Council House National Historic Site and is located within the Logan Circle Historic District.
Images
The Council House by McGeiver on Wikimedia Commons (CC BY-SA 3.0)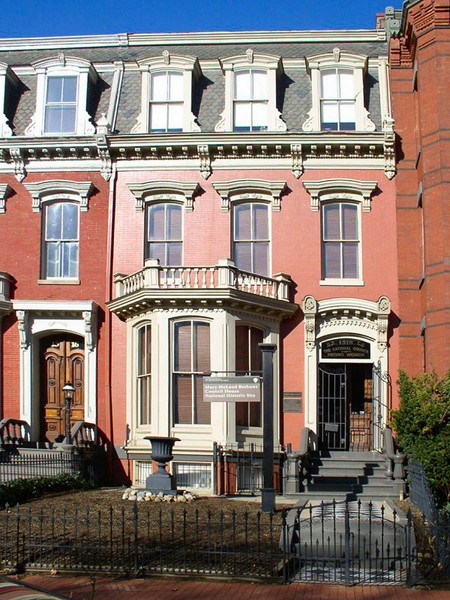 Location of The Council House on a map of Washington, DC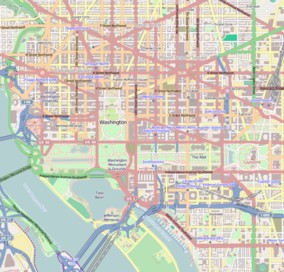 Portrait of Mary McLeod Bethune (unknown source)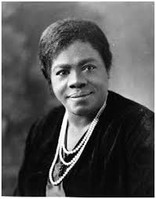 Mary McLeod Bethune in building's parlor, 1945, courtesy of National Park Service (reproduced under Fair Use)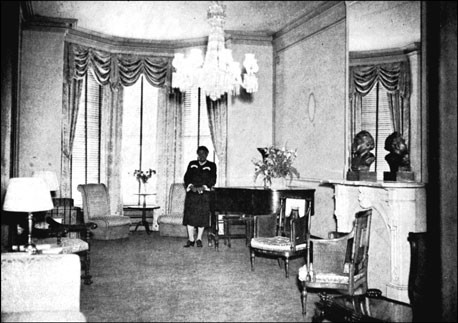 Parlor as it looks today, courtesy of National Park Service (public domain)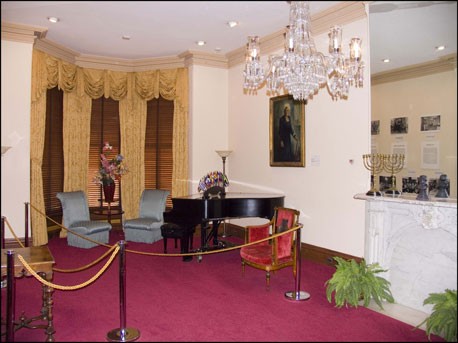 Backstory and Context
Mary McLeod Bethune was born in 1875, in Mayesville, South Carolina, to former slaves. As the fifteenth of seventeen children in her family, Mary was one of the few children in her family not born into slavery. This provided her the opportunity to attend school and bring what she learned home to her family. Growing up in the oppressive Reconstruction era, Mary was inspired to become a teacher and empower Black children, especially girls.
In 1904, Bethune founded the Daytona Normal and Industrial Institute for Negro Girls in Daytona, Florida. Starting out with only five students, she helped grow the school to more 250 students over the next few years. Bethune served as the school's president and she remained its leader even after it merged with the Cookman Institute for Men in the 1920s. At the time, Bethune-Cookman College was one of the few coeducational institutions in the South that offered African Americans a college degree. Bethune stayed with the college until 1942.
Bethune's mission of advocating for Black youth extended beyond she school. She became involved with a number of civil rights organizations, including the National Association of Colored Women and Southeastern Association of Colored Women's Clubs. As a nationally recognized educator and activist, Bethune developed connections with political figures, including United States Presidents. President Calvin Coolidge invited her to participate a conference on child welfare. During President Herbert Hoover's term, she served on Commission on Home Building and Home Ownership and was appointed to a committee on child health. In 1935, she became President Franklin D. Roosevelt's special advisor on minority affairs, and was promoted the following year to director of the Division of Negro Affairs of the National Youth Administration. While part of the Roosevelt administration, Bethune recruited Black women to serve in the Women's Army Corps, many of whom served in World War II, and helped young people find job opportunities. In addition to her official role in the Roosevelt administration, Bethune became a trusted friend and advisor to both the president and his wife Eleanor Roosevelt. In 1935, Bethune also started the National Council of Negro Women, which brought leaders of numerous civil rights groups together to advocate for African American women and the distinct issues they faced.
After leaving Bethune-Cookman College in 1942, Bethune devoted her time to social causes and the National Council of Negro Women (NCNW). She took up residence at the new NCNW headquarters in a Washington, D.C., a townhouse built in the 1870s. The house included fifteen rooms for meetings and hosting guests, including First Lady Eleanor Roosevelt, activist Mary Church Terrell, and United Nations delegate, Madame Pandit of India. Bethune helped represent the National Association for the Advancement of Colored People at the 1945 conference on the founding of the United Nations along with W.E.B. DuBois. Under the Truman administration, Bethune served on a committee on national defense and an official delegate to a presidential inauguration in Liberia. As the civil rights movement gained speed in the 1950s, Bethune remained an important voice in national conversations, supporting the Supreme Court ruling in Brown v. Board of Education. After she died in 1955, Bethune's mission carried on.
The Council House remained the headquarters of the NCNW until 1966, when a fire caused significant water and smoke damage. The NCNW relocated to 1346 Connecticut Avenue, while the original Council House sat empty. Once the Council House was added to the National Register of Historic Places in 1975, the NCNW began fundraising for its restoration. The house opened as a museum and archive in 1979. In 1982, the Council House was declared a National Historic Site, which acknowledged that the house had unique historical significance due to its association with Bethune and the NCNW. The National Park Service acquired the property in 1994. Visitors are welcome to tour the house to learn about Bethune and Black women's history. The site is temporarily closed due to renovations.
Sources
"Council of Negro Women Buys Building." Washington Post. December 9, 1995.
"Black Women's Museum Dedicated." Washington Post. November 12, 1981.
Danilov, Victor J. Women and Museums: A Comprehensive Guide. Lanham, Md.: AltaMira Press, 2005, p. 29.
Ewert, Sara Dant and Rothman, Hal. Encyclopedia of American National Parks. Armonk, N.Y.: M.E. Sharpe, 2004, p. 406.
Kaiser, Harvey H. The National Park Architecture Sourcebook. New York: Princeton Architectural Press, 2008, p. 441.
National Park Service. "The Council House." History and Culture. Mary McLeod Bethune Council House National Historic Site. Accessed December 2017. https://www.nps.gov/mamc/learn/historyculture/the-council-house.htm 
National Park Service. "Mary McLeod Bethune." History and Culture. Mary McLeod Bethune Council House National Historic Site. Accessed December 2017. https://www.nps.gov/mamc/learn/historyculture/mary-mcleod-bethune.htm
Image Sources
https://commons.wikimedia.org/wiki/File:Mary_McLeod_Bethune_Council_House.jpg

https://www.nps.gov/articles/the-mary-mcleod-bethune-council-house-african-american-women-unite-for-change-teaching-with-historic-places.htm

https://www.nps.gov/articles/the-mary-mcleod-bethune-council-house-african-american-women-unite-for-change-teaching-with-historic-places.htm

Additional Information