Tule Lake Unit of World War II Valor in the Pacific National Monument
Introduction
Located southeast of Tulelake, California, the Tule Lake Unit, World War II Valor in the Pacific National Monument is the former site of one of the ten Japanese internment camps during World War II. It was built in 1942 and was initially called the Tule Lake War Relocation Center but it was renamed (and security upgraded) a year later to the Tule Lake Segregation Center. It became a maximum security camp for those proved to be "disloyal" or who protested conditions at other camps. Draft resisters were also held at there. The World War II Valor in the Pacific National Monument commemorates sites of major importance in the Pacific theater of the war. It comprises nine different sites; the camp is the only one located in the contiguous United States. At its peak it held over 18,000 prisoners (the total number of prisoners at the camps reached 120,000). Immediately after the war it served as a holding place for Japanese Americans who were going to be either expatriated or deported to Japan. The camp finally closed for good in March 1946. Many prisoners filed a class action lawsuit to regain their citizenship but this did not come to fruition until twenty years later. The camp is fenced off but visitors can stop next to it and look inside. There is also a sign posted describing the history of the camp. The site—which includes the internment camp, a 1935 Civilian Conservation Corps Camp, and the Peninsula/Castle Rock formation—is a California Historical Landmark, a National Historic Landmark, and listed on the National Register of Historic Places. There is a camp visitor center in Tulelake and it is open weekdays from 9:30-4:30. Tours of the internment and CCC camps are offered from Memorial Day to Labor Day.
Images
The camp as it appeared circa 1942-1943.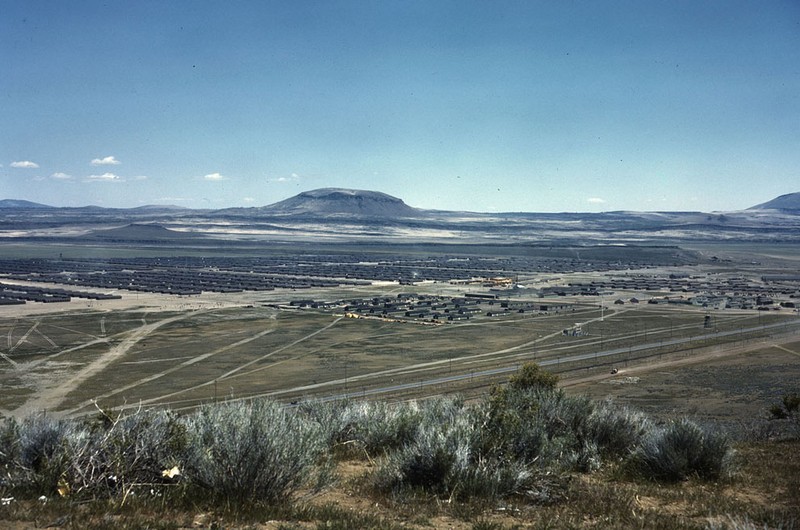 Sources
Jeffery F. Burton & Mary M. Farrell. "Tule Lake Segregation Center," National Register of Historic Places. 2-17-08.
Additional Information