Cabot's Pueblo Museum
Introduction
Cabot's Pueblo Museum is a Hopi-inspired pueblo. The structure is hand-made, created from reclaimed and found materials. The Pueblo is four-stories, 5,000 square feet, and includes 35 rooms, 150 windows and 65 doors. Visitors will notice many unique features including windows and doors collected and reassembled from abandoned homesteads, old telephone poles, buck board wagon parts and many other materials used creatively.
Images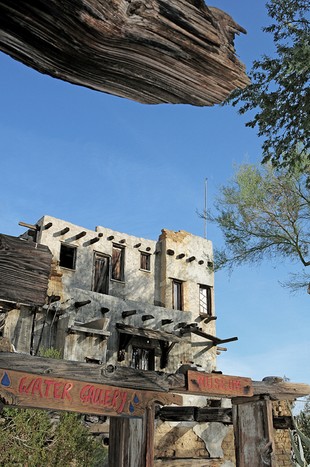 Backstory and Context
Cabot Yerxa was an incredible man often described as a visionary, artist, writer, builder, architect, adventurer, explorer, collector, idealist and entrepreneur. He was a human rights activist concerned about the legal, economic and cultural crisis for Native Americans. Cabot was a highly degreed Mason. Masons believe in independent thinking and self-actualization. Cabot was also the president and founder of the Theosophical Society in 1946-47 in Desert Hot Springs.
Before settling in the California desert, Cabot Yerxa led an adventurous life, traveling to Mexico, Alaska, Cuba, and Europe. In Paris, France he studied at the Academie Julian art school.
In 1913 (at age 30) Cabot homesteaded 160 acres in what is now Desert Hot Springs. Pressed for water, he dug a well with pick and shovel, discovering the now famous hot mineral waters of Desert Hot Springs. Nearby, he dug a second well and discovered the pure cold water of the Mission Springs Aquifer. These two wells, hot and cold, give the area its name – Miracle Hill.
Cabot began construction on his pueblo-style home in 1941 and worked on it until his death in 1965 at the age of 81.
Cabot's Pueblo Museum is now listed on the National Register of Historic Places! Cabot Yerxa started building his Museum and home in about 1941 at the age of 57, although collecting the materials he needed to build the Pueblo started years before.
The Hopi-inspired structure is hand-made, created from reclaimed and found materials Cabot was inspired as a young boy when he first saw a replica of a Southwest Indian pueblo at the Chicago World's Fair. Much of the material used to build the Pueblo was from abandoned cabins that had housed the men who built the California aqueduct in the 1930's. Cabot purchased these cabins and deconstructed them to build his Pueblo. The Pueblo is four-stories, 5,000 square feet and includes 35 rooms, 150 windows and 65 doors. Much of the Pueblo is made from adobe-style and sun-dried brick Cabot made himself in the courtyard. Cabot modified his formula and used a cup of cement rather than straw to make his bricks.
Waokiye" (Y oh kee ay), means "Traditional Helper" in the Lakota Sioux language.
Created by artist Peter "Wolf" Toth, Waokiye was completed in May 1978. At the dedication ceremony on May 20, 1978 Toth simply said, "The American Indian is a proud and often misunderstood people...even as a young boy I had admiration for my Indian brothers and perhaps this monument, and all the others, will bring awareness of a proud and great people."
Toth was an immigrant to the United States from Hungary. His family fled from the Soviet invasion of Hungary in 1956. In learning about the Native American culture, he empathized with the tribes' situation. He saw parallels to the violent repression of the Magyar people he experienced in Hungary.
Toth started his project, The Trail of Whispering Giants, to highlight the struggle of the American Indians for justice and recognition of their human rights. Waokiye is 27th in the series. The series has over 70 statues remaining throughout the United States, Canada and Hungary. They represent all humanity and stand against injustice to all people. This philosophy is a mirror of Cabot Yerxa's 50-year commitment as an American Indian Rights activist.
The 750-year-old Sequoia redwood log was donated by the California Division of Forestry. It was delivered at the end of February 1978. It weighs over 20-tons and stands over 22 feet high. The tree had been struck by lightening in the mid-1950s. The feather is made from an Incense Cedar from Idyllwild and is 15 feet tall, over 4 feet thick. The entire statue is over 40-feet high.
Sources
http://www.cabotsmuseum.org/
Additional Information