Mission Santa Clara de Asis (CA Mission #8)
Introduction
The 8th of 21 missions established in California, Mission Santa Clara was ruined and rebuilt six times, and relocated on five separate occasions. Its final location now resides within Santa Clara University, California's oldest college, where it serves as the university's main chapel. In addition to being the second mission established in the San Francisco Bay Area, it was also the first mission named after a woman: Saint Clare of Assisi.
Images
Oldest known daguerrotype of Mission Santa Clara. Taken in 1854. (Courtesy of Santa Clara University)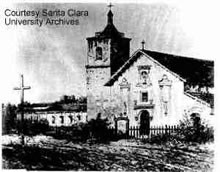 The modern-day mission, which was reconstructed in 1929 after a catastrophic fire.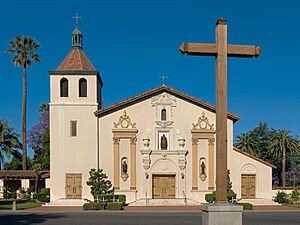 A 14th century fresco of Clare of Assisi, the Catholic saint for whom the mission was eventually named.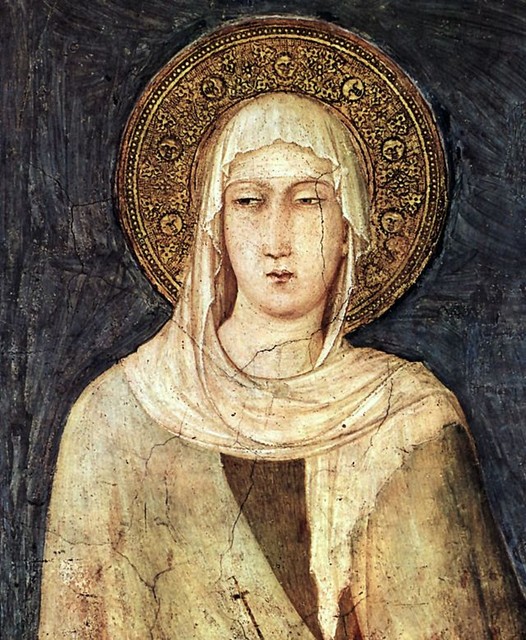 A 1774 portrait of Juan Bautista de Anza, the Spanish explorer famed for establishing an overland route from New Spain (Mexico) to Alta California.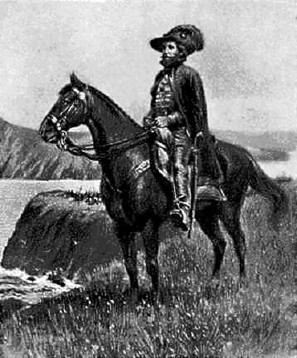 The 1926 fire that destroyed the mission/chapel was caused by faulty electrical wiring. (Courtesy of Santa Clara University).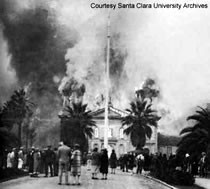 The Santa Clara Mission and Church as it appeared in 1851 (Claremont Colleges).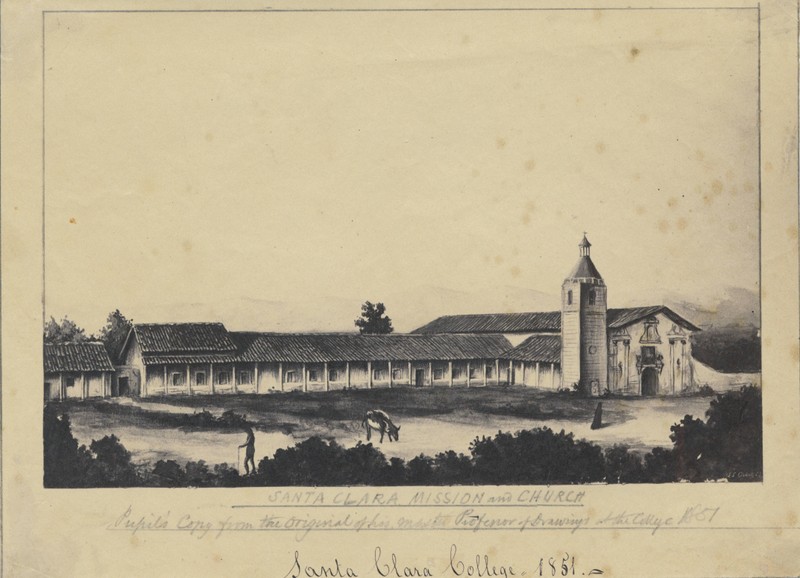 The expanded college in 1863, in a photograph from the famous Carleton E. Watkins (Online Archive of California).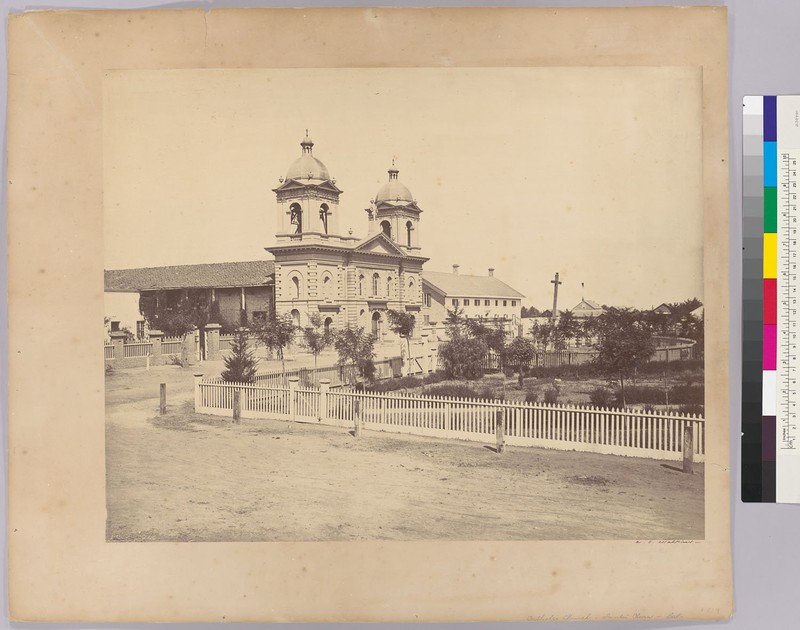 French sea captain Auguste Duhaut-Cilly stopped at Santa Clara in July 1827. A keen observer, he described some of the mission's agricultural processes in great detail.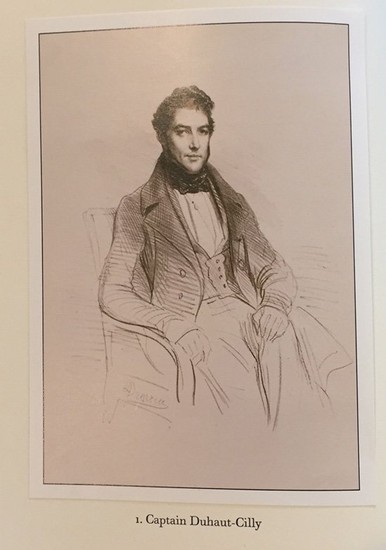 Backstory and Context
Founded on January 12, 1777, the first site for Mission Santa Clara was sanctified by Padre Junipero Serra, first Presidente of the California missions. The location had been selected earlier by Spanish adventurer and trailblazer Juan Bautista de Anza, a soldier best known for breaking an overland route from New Spain (Mexico) to the San Francisco Bay. The "El Camino Real" (King's Highway) cut by De Anza opened further development of missions far to the north by allowing the flow of supplies by horse and cart. Previously, the missions could only be resupplied by sea.
The mission could have been completed a year earlier and shortly after Mission San Francisco, but a Native American uprising farther south Mission San Luis Obispo de Tolosa interrupted construction. The original site was lush and well disposed to agriculture. The first Franciscan friars dubbed i Mission Santa Clara de Thamien, referring to a local Native tribe, the Tamyans, though the mission also drew labor and neophytes from the Ohlone and Costanoan tribes.
In 1779, however, Santa Clara de Thamien was damaged by floods, fire and earthquakes. The mission was moved temporarily to a location nearby and renamed Mission Santa Clara de Asis as a new permanent site was scouted. Santa Clara's third iteration was built in 1784 and lasted through several more fires and floods until 1818, when a final earthquake resulted in new location and yet another reconstruction.
During these first 34 years, the mission's purpose of converting Native Californians to Catholicism was well-served: Santa Clara led all other missions in conversions. As the mission grew, however, it ran afoul of nearby Pueblo de San Jose over property and water rights. A new road lined with Black willows, the Alameda, built by 200 hundred Indians, was required to mitigate the conflict and concerns from the padres that the mission's population was in danger of corruption from worldly life in the pueblo.
After the devastating 1818 earthquake, the mission moved a fourth time, to where present-day Santa Clara University's Kenna Hall now resides. In 1825, a new and larger adobe was constructed nearby. This fifth location would be the permanent home for the mission.
It was not long before trouble came again. After Mexico gained independence from Spain in 1822, voices clamoring for the secularization of the missions gained momentum within the new Mexican government, where many felt that the Franciscan padres still owed allegiance to Spain. One by one, control of the missions was removed from the monastic Franciscan orders. The secularization law provided that half the mission property be distributed among the Indians and half controlled by a lay (non-religious) administrator. Because there were so few secular priests in California, the Franciscans stayed on at the missions as parish priests and were allowed to retain the buildings in the mission quadrangles. Secularization did not, however, go according to plan. Native Americans were quickly defrauded of their lands and livestock. At Santa Clara, American squatters quickly seized mission property. All over California, mission buildings fell into disrepair, and in some cases the fate of Native peoples was even worse than the forced labor and cultural oppression of the mission system.
From the 1830s to 1851, Santa Clara served as a simple parish church. The community around it grew during the Gold Rush and the mission was transformed into a Jesuit university, but was deemed inadequate for the needs of the new American state of California. A new university was built around the mission, which remains a Jesuit institution today. The mission itself was renovated to serve as the new university chapel. Though both school and mission suffered financially the first few years, with wealthy backers and help from the US government conditions had improved by 1861.
Sources
"California Missions." Lowman Publishing Company, Arroyo Canyon, CA. 2011. Mission Santa Clara de Asis is on page 20.

Duhaut-Cilly, Auguste. Translated by Fruge, August and Harlow, Neal. A Voyage to California, the Sandwich Islands, and Around the World. Berkeley, California. University of California Press, 1999. pp. 129-132.

Baxter, Don J.. Missions of California. San Francisco, CA. Pacific Gas & Electric Company, 1970. Compiled from a series of articles in P.G. and E. Progress

Hoover, Mildred Brooke. Rensch, Hero Eugene. Historic Spots in California. Edition 3. Stanford, CA. Stanford University Press, 1958. Mission San Jose, pp.325-26.

Mission Santa Clara de Asis. Missions California. . Accessed March 15, 2019. https://www.missionscalifornia.com/mission-facts/santa-clara-de-as%C3%ADs.

Mission Santa Clara de Asis: Historical Overview. Santa Clara University. . Accessed March 15, 2019. https://www.scu.edu/missionchurch/historical-information/.



Additional Information