Spy Rock
Introduction
This historic marker in Fayette County commemorates a sandstone formation known as "Spy Rock." The rock itself is a short hike beyond the highway, leading some to confuse the small rock formations near the sign as Spy Rock. However, historical markers are usually placed on well-traveled roads for the sake of visibility. Both Union and Confederate forces during the Civil War used this rock formation to provide both high ground and cover. Spy Rock's most significant role came when Union troops under the command of General J.D. Cox camped in this area and used the rock formation as a means of surveying a broad area of territory and occupying the higher ground as they trailed Confederates under Robert E. Lee. Prior to the Civil War, Native Americans also used the area to secure a better view of possible threats, referring to the formation as the "Rock of Eyes."
Images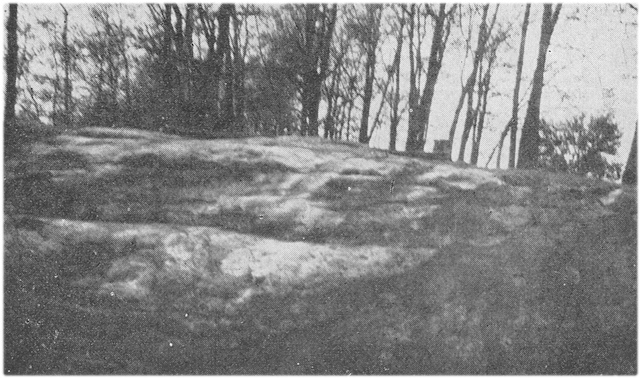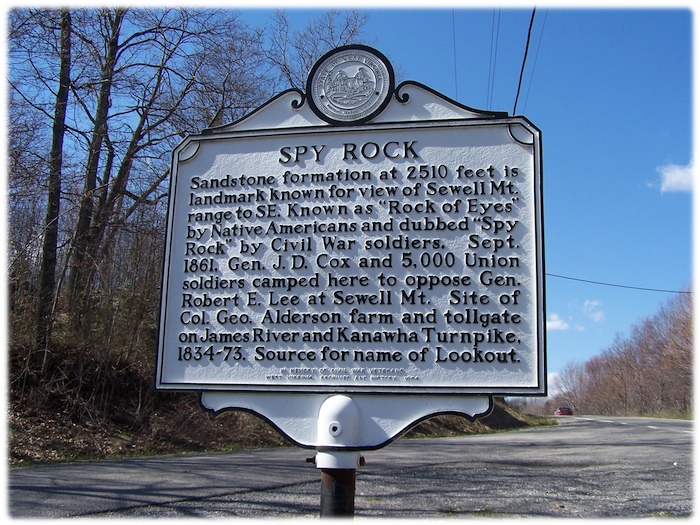 Backstory and Context
Spy Rock is a natural landmark. It is located on U.S. 60 along the old James River and Kanawha Turnpike. It is eighteen miles east of Hawks Nest and lies almost halfway between Charleston and Lewisburg. Spy Rock is elevated at 2510 feet and overlooks the Sewell Mountains.
Prior to the Civil War, Native Americans used the site and referred to it as "Rock of Eyes." During the Civil War both Union and Confederate Soldiers. To the soldiers it was known as "Spy Rock" and was used for observation. After the Battle of Carnifex Ferry, Union forces led by General Jacob Cox occupied Spy Rock while pursuing the Confederates.
Between September and October 1861, while Union and Confederate forces scuffled along the turnpike, they moved into position for a battle that would take place at Sewell Mountain. General Cox established Spy Rock as his headquarters. General Robert E. Lee set up at Sewell Mountain; this caused Cox to call General William Rosecrans for reinforcements.
Late October 1861 saw record rainfall in the area. It caused the turnpike to become extremely muddy and no one could move. Forces became sick and hungry and caused more casualties than actual fighting. General Cox decided to move to Gauley Bridge due to 500 of his men being sick. While Cox fell back to Gauley Bridge, General Lee retreated to Meadow Bluff.
Sources
Holzer, Harold, James M. McPherson, James I. Robertson, Stephen W. Sears, and Craig L. Symonds. Hearts Touched by Fire: The Best of Battles and Leaders of the Civil War. New York: Modern Library, 2011. http://www.wvexp.com/index.php/Spy_Rock Cohen, Stan. The Civil War in West Virginia: A Pictorial History. Charleston, W. Va.: Pictorial Histories Pub., 1982. Print. Lane, Winthrop D. Civil War in West Virginia. New York: B.W. Huebsch, 1921. Print. Phillips, David L. War Stories: Civil War in West Virginia. Leesburg, VA: Gauley Mount, 1991. Print. Bard, David. "Spy Rock." The West Virginia Encyclopedia. West Virginia Humanities Council, 29 Oct. 2010. Web. 22 June 2015. .
Additional Information