Spellman Museum of Stamps & Postal History
Introduction
The Spellman Museum of Stamps and Postal History is one of only 2 museums in the United States dedicated to stamps and postal history. This unique museum, which is located on the campus of Regis College, serves to preserve the history of stamp collecting while educating the public about the history of the postal system. The museum also hopes to promote knowledge of geography and world history through understanding the backstory behind stamps and the larger history of the postal system.
Images
This museum of postal history is also known as the Cardinal Spellman Philatelic Museum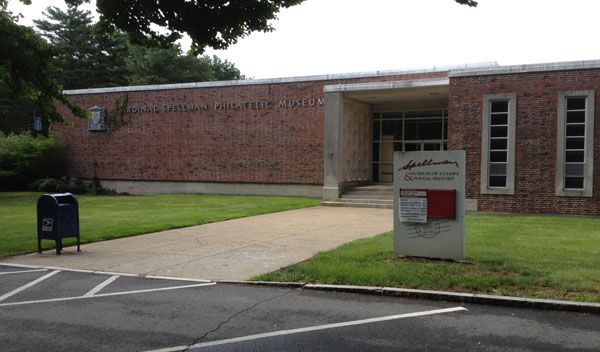 Backstory and Context
The museum features over 2,000,000 items, including stamps from the collection of General Dwight D. Eisenhower, and has exhibitions, programs, a library, and a resource center. The museum's stamp collection "includes a representative, worldwide stamp collection; individual items of rarity and curiosity; representative specialized collections of a particular stamp, set of stamps, or area of postal history; topical and thematic collections; collateral collections related to philately, stamp design, production and use, and the development of postal and telegraph system.

The museum is named for Cardinal Frank Spellman whose stamp collection inspired it all. Spellman's interest in stamp collecting first began when he attended North American College in Rome. From 1932-1939, he was the Auxiliary Bishop of Boston and began to amass his collection. In 1948, Cardinal Spellman donated his collection to the Congregation of the Sisters of St. Joseph of Boston and then features his collection at the National Philatelic Museum in Philadelphia. His collection was moved to the Spellman Room at the Regis College Library in 1955 where the Cardinal Spellman Philatelic Society was founded. The Cardinal Spellman Philatelic Museum was dedicated in 1963.
Sources
http://www.spellman.org/core/history/ http://www.spellman.org/core/about/
Additional Information