Phillips Chapel CME Church
Introduction
This historic church dates back to 1911, when a group of African American and Hispanic residents decided to work together and build a small chapel. This new congregation was one of the first in the town of Las Cruces. The congregation continues to meet, although their membership has declined in recent years. Phillips Chapel CME (CME stands for Christian Methodist Episcopal today, formerly Colored Methodist Episcopal) is located in the Mesquite Historic District and has been placed on the New Mexico State Register of Cultural Properties. In 2003, the church was listed with the National Register of Historic Places.
Images
Phillips Chapel before restoration started.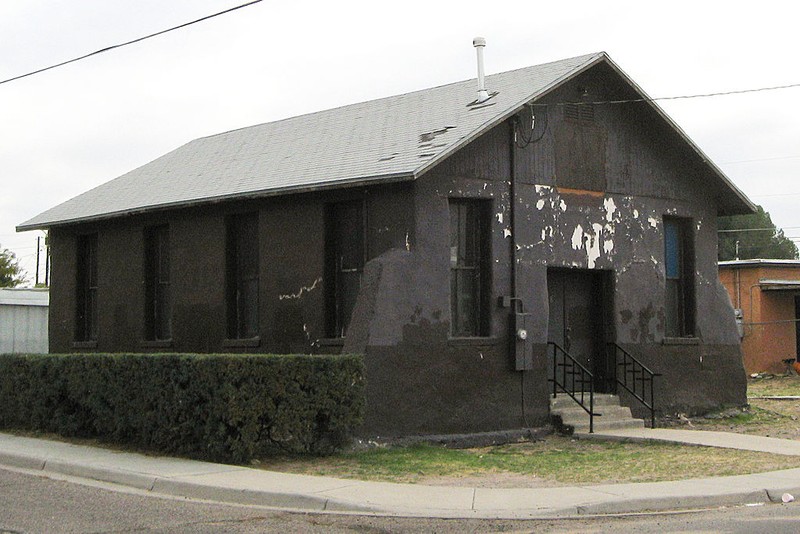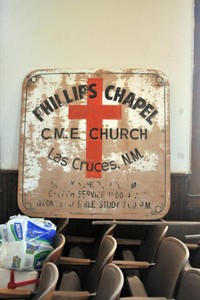 Phillips Chapel today after the renovation.
Backstory and Context
This simple one-room adobe chapel has been a gathering place for its congregants for more than a century. A modest structure, the building originally cost $45 to complete as much of the work was done by members. Phillips Chapel was named after Reverend Charles H. Phillips, the first presiding bishop of the Colored Methodist Episcopal Church in America.
Phillips Chapel has served as more then just a place to hold religious services. When Jim Crow laws and customs prevailed throughout New Mexico in
the 1920s and beyond, churches served as schools and community buildings for African American and Hispanic neighborhoods. In 1924, Black children in Las Cruces were no longer able to attend the city's public schools. This chapel served as a meeting place for African American children and was known as Lincoln High School. Later, after segregated Booker T. Washington School was built in Las Cruces, Philips Chapel continued to be the site of graduation services. The schools of Las Cruces remained segregated until after the U.S. Supreme Court's 1954 decision against school segregation in Brown V. Board of Education.
Congregants have devoted time and money to preserve and restore this church with the help of students and staff from NMSU and Dona Ana Community College.
Anthropology Professor Beth O'Leary and church trustee Clarence Fielder have led
the restoration project.
Sources
African-American Experience in Southern New Mexico http://newmexicohistory.org/people/african-american-experience-in-southern-new-mexico 'Farther Along' — Restoration of city's oldest church building continues. http://www.lcsun-news.com/mylascruces/ci_22198856 Phillips Chapel CME Church, Las Cruces, New Mexico (1911- ) http://www.Blackpast.org/aaw/phillips-chapel-cme-church-las-cruces-new-mexico-1911 NMSU helps historic chapel from crumbling to the ground with the aid of DACC students. http://newscenter.nmsu.edu/Articles/view/4755 Photo credit: https://en.wikipedia.org/wiki/Phillips_Chapel_CME_Church Photo credit: http://www.lcsun-news.com/mylascruces/ci_17980086
Additional Information