Mission San Francisco Solano de Sonoma (CA Mission #21)
Introduction
The last of the California missions to be built, San Francisco Solano de Sonoma was also the only one constructed during Mexican rule of Alta California (Upper California) and without approval of the Catholic Church. Despite the Mexican government's distrust of the missions and their Franciscan friars, the mission at Sonoma was deemed a prudent way to thwart Russian territorial ambitions and protect Mexico's northern frontier.
Images
A layout of the Mission drawn in 1878.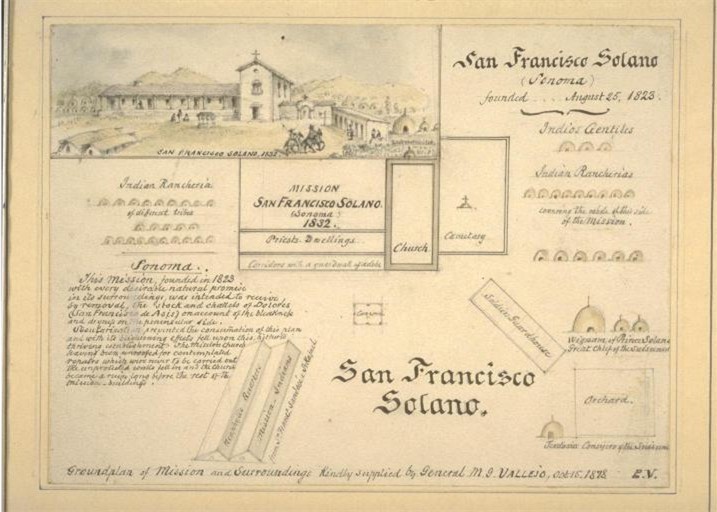 A photograph of a sketch by Edward Vischer in 1874. Vischer was one of the most prolific artists of the California missions in the 1800s, and one of the best visual resources for research on the topic (USC Digital Collections).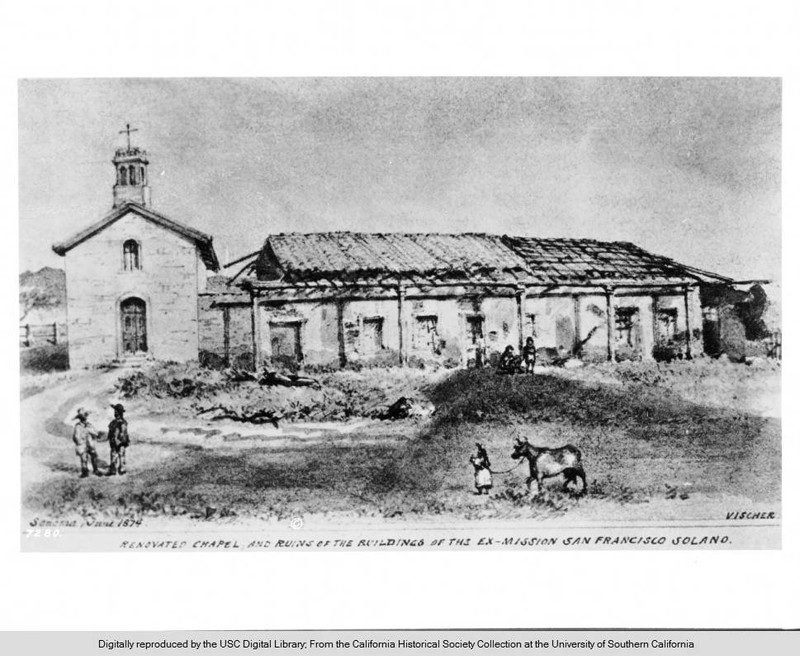 Another rendition of the mission from painter Alexander F. Harmer, this time from 1900 (USC Digital Collections).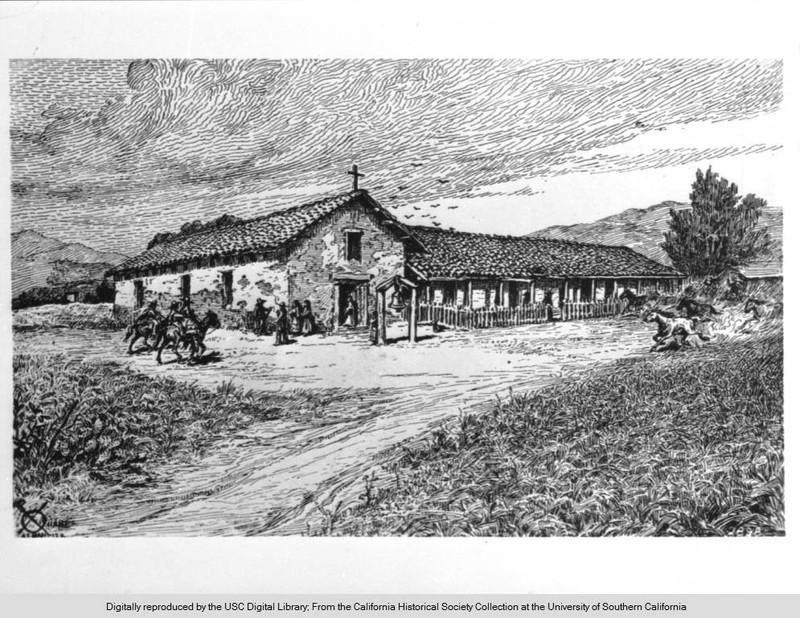 A postcard of the Mission from 1914 shows the neglected state of the whitewashed adobe walls (Smithsonian).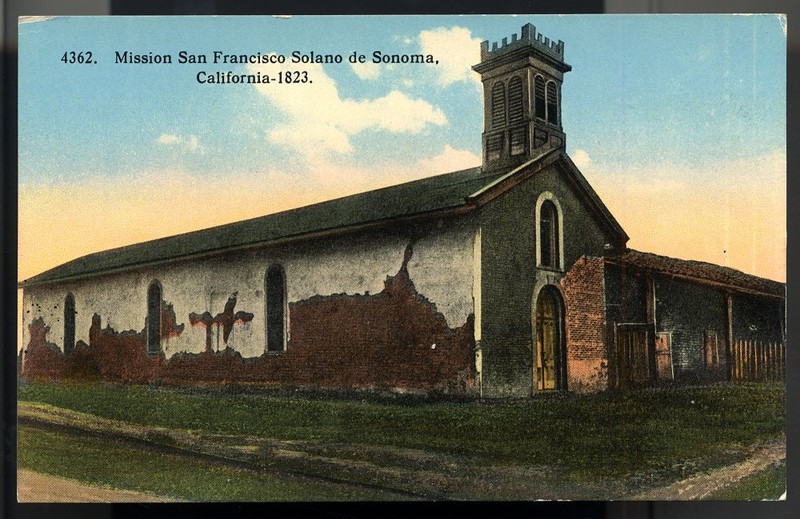 The restored Mission as it appears today.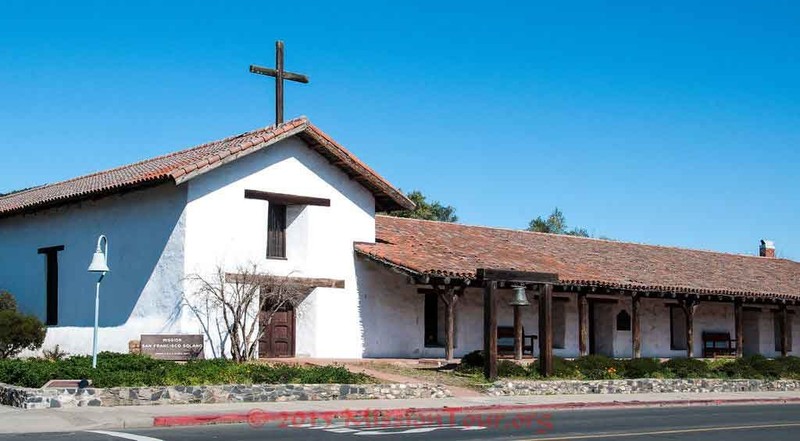 Interior of the Mission chapel.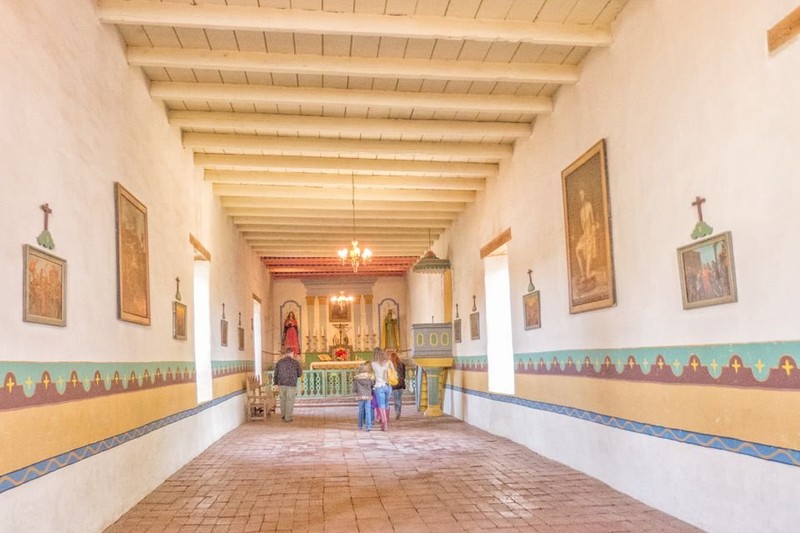 Mexican General Mariano Vallejo was placed in charge of administrating the Missions at San Francisco Solano and San Rafael after secularization in 1834.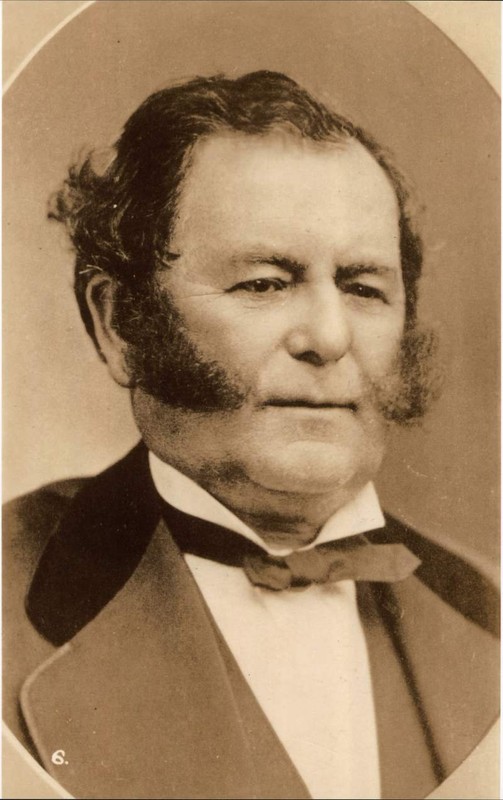 French sea captain Auguste Duhaut-Cilly visited the mission in 1827 and described the deer hunting practices of the neophytes there in detail.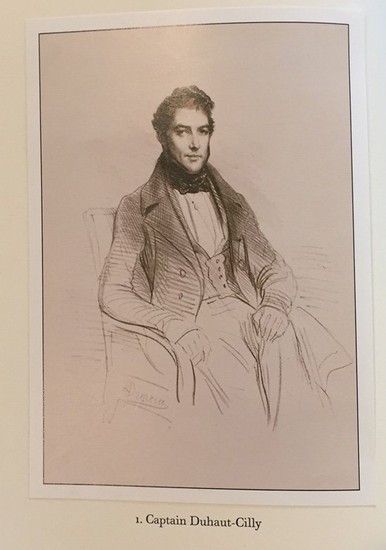 Backstory and Context
For the first twenty California missions, the founding protocol was generally to establish a site with several Spanish padres, a military escort, and a labor force of Native American workers. From there, as temporary structures were built, cattle herds cultivated and crops grown, a pair of the Franciscan friars would remain in charge of the mission while slowly converting more of the local populace to Catholicism. The development of Mission San Francisco Solano de Sonoma in 1823 traveled an entirely different path.
This mission at the northern frontier of Mexican California was founded on July 4, 1823 by Padre Jose Altimira. He was the last Franciscan priest of the California missions to be trained in Spain. His first posting at Mission San Francisco de Asis (Dolores) present-day San Francisco, and his experiences there led him to believe that the establishment of a new mission was necessary. San Francisco de Asis had failed to thrive due to its cold, wet weather and cramped quarters, resulting in high rates of illness and mortality--the very factors that had birthed Mission San Rafael in warmer climates across the Bay in 1817. Noting San Rafael's success, Altimira desired to close San Francisco Asis and build a new mission nearer to the former. Fearing the Church would disapprove of the proposition, Altimira instead went to the Mexican Governor of California, Luis Arguello, for approval and political backing.
Arguello saw this as an opportunity to extend Mexico's California holdings further north due to the government's fear--unfounded, as it turned out--that Russian activity at Fort Ross and Bodega Bay portended imminent encroachment, and possibly invasion, of Mexican lands. A new mission could serve as a self-sustaining outpost and firmly stake Mexico's claim.
Thus Altimira and a military escort, entered the Sonoma Valley on July 4, 1823, and erected a red cross on the spot where the new mission would be established. This mission would work to convert the local Native tribes of Miwok, Wintun and Wappo. The first wave of neophytes, as converted Native Americans living and working at the missions were called, were also drawn from other missions to form the nucleus of the workforce.
In September, correspondence from the Catholic Church reached Altimira, and an agreement was struck for the erection of the Mission at Sonoma (by this time Altimira had already began construction, unbeknownst to Church authorities). However, a neophyte uprising soon burned down the church and other structures, and Altimira became so discouraged that he returned to Spain in 1828. Father Buenaventura Fortuny, stationed at Mission San Jose, was sent north to replace him.
Fortuny quickly reestablished order and morale, and the work of building the mission continued. Its main buildings were arranged around a large, square enclosure--the classic mission "quadrangle." By 1832 the mission had 27 rooms in the convento (priests' quarters), with a great adobe church and a wooden storehouse (the original wooden chapel, which had been converted). Completing this enclosure were workshops where the indians were taught to be craftsmen and created items needed to sustain the mission. Also in keeping with traditional mission architecture were the living quarters and workrooms for the neophyte women, who were rarely allowed to mingle with men and were usually locked in their quarters at night. In addition to the quadrangle there were orchards, gardens, vineyards, fields of grain, a gristmill, houses for the soldiers and Native families, a jail, a cemetery and an infirmary.
The most successful year of Solano de Sonoma's brief lifespan (11 years) was 1832. In his annual report that year, Fortuny recorded the following: 127 baptisms, 34 marriages and 70 deaths; a total of 996 neophytes; the livestock inventory accounted for 6,000 sheep and goats, 900 horses, 13 mules, 50 pigs and 3,500 head of cattle; 800 fanegas (old unit of measure of dry goods used in Spanish speaking countries) of wheat, 1025 fanegas of barley, 3 fanegas of beans, 52 fanegas of peas, 300 fanegas of corn, 32 fanegas of frioles, and 2 fanegas of garbanzos were harvested .
Fortuny, having labored at this mission for six and a half years alone, felt the need to transfer to another mission where the work would be shared. He was 58 years old when he was replaced by Father Gutierrez.
In 1834 the Mexican Congress decided to secularize the missions. Mission San Francisco Solano ceased to exist on November 3, 1834, when it was redesignated a First Class Parish by government decree. General Mariano Vallejo was sent north by the Mexican government with orders to oversee the closing of the mission and the founding of the pueblo of Sonoma.
The mission buildings rapidly fell into disrepair. The town of Sonoma was growing and building materials were in great demand. Roof tiles, timbers and adobe bricks were salvaged from the mission, and once settlers had cannibalized the old buildings, nature began recycling the remnants.
In 1841, General Vallejo ordered a smaller church of adobe to be built in the location of the first wooden mission chapel. It replaced the large mission church, which was rapidly deteriorating. It stood on the west end of the convento, so was often taken, in later years, to be a church of the old mission. Finally, in 1862 President Abraham Lincoln transferred ownership of all the mission churches in California to the Roman Catholic Church. In 1881, the church property was sold to a Sonoma businessman and a new parish church was built across town. At one time, the chapel was used as a warehouse. The convento may have been used as a winery.
In 1903, the two remaining mission buildings were purchased by a preservation group, and became part of the California Park System in 1906. By 1913, both had been reconstructed, and the chapel contained a museum of Sonoma history. After the 1940s, the former church and convento were remodeled along more authentically, and now include exhibits about mission history.
Sources
"San Francisco de Solano - General Information". California Indian Museum and Cultural Center. "California Missions." Lowman Publishing Company, Arroyo Canyon, CA. 2011. Sonoma is on page 24
Mission San Francisco Solano. Missions California. . Accessed March 16, 2019. https://www.missionscalifornia.com/mission-facts/san-francisco-solano.
Mission San Francisco Solano. Mission Tour. . Accessed March 16, 2019. https://missiontour.org/wp/sonoma/mission-san-francisco-solano.html.
Mission (21st) San Francisco Solano de Sonoma, Calif., founded by Fr. Altimira, July 4, 1823, 23065. 1910-1920. Retrieved from the Digital Public Library of America, http://catalog.library.ca.gov/F/?func=find-b&request=001562748&find_code=SYS. (Accessed March 16, 2019.)

Pierce, C.C. (Charles C.), 1861-1946. Drawing (painting?) by Edward Vischer depicting the renovated chapel and ruins of the ex Mission San Francisco Solano, June 1874. 1874-06. Retrieved from the Digital Public Library of America, http://digitallibrary.usc.edu/cdm/ref/collection/p15799coll65/id/8928. (Accessed March 16, 2019.)

Duhaut-Cilly, Auguste. Translated by Fruge, August and Harlow, Neal. A Voyage to California, the Sandwich Islands, and Around the World. Berkeley, California. University of California Press, 1999. pp. 135-139.

Hoover, Mildred Brooke. Rensch, Hero Eugene. Historic Spots in California. Edition 3. Stanford, CA. Stanford University Press, 1958. Mission San Jose, pp.371.

Additional Information