Elverhoj (Elverhoy) Museum of Art and History
Introduction
Found within the home of Viggo Brandt-Erichsen, a renown artist and sculptor and his wife Martha, this museum/house was built in the style of 18th century Jutland in northern Denmark. The museum's purpose is to collect, preserve and exhibit the history and Danish culture of Solvang and to promote the arts. Work done by the Brandt-Erichsens are also on display.
Images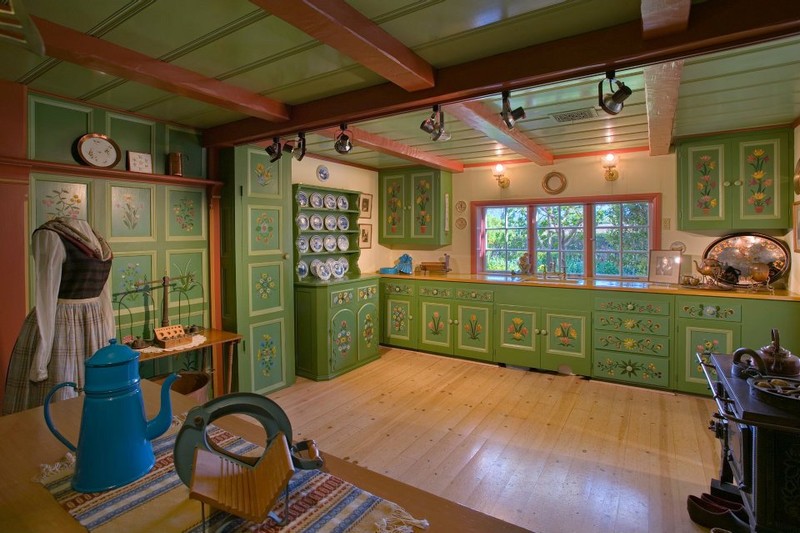 Elverhoj museum/house today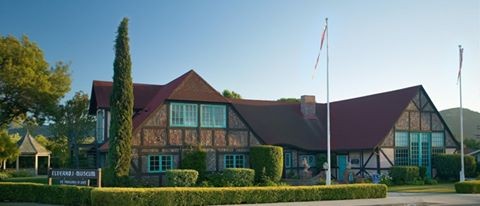 Elverhoj courtyard with sculpture by Brandt-Erichsen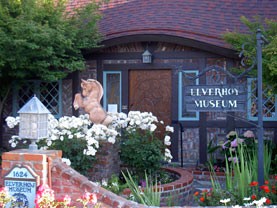 Door into museum. Decor and carvings done by Brandt-Erichsen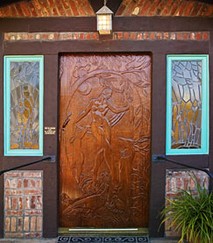 Martha (Mott) Brandt-Erichsen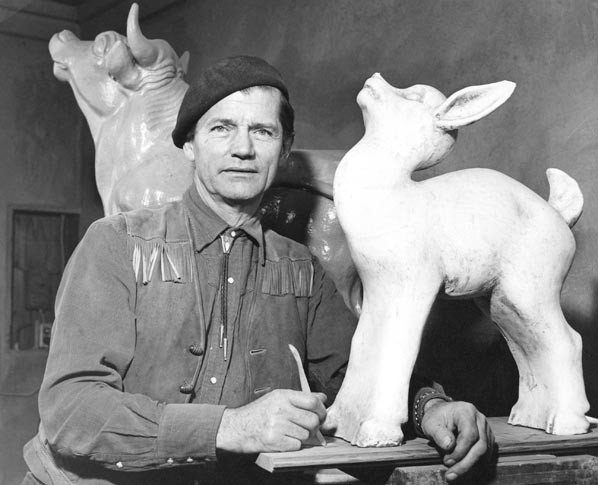 Viking Paul gives a group tour of the Viking exhibit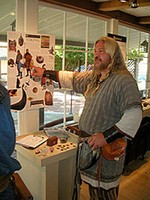 Backstory and Context
From Elverhoj's website: "Located in Solvang, California, the Elverhøj Museum is the former residence of one of Solvang's most artistic families, which is now a community museum devoted to the history of Solvang, the Danish-American pioneer spirit, the colorful heritage of Denmark, and the arts.
The historic hand-crafted structure was the dream home of Viggo Brandt-Erichsen and his wife, Martha Mott. He was an internationally recognized painter and sculptor and she was an accomplished painter and art teacher. In 1950 the Brandt-Erichsens began building their home in the style derived from the large farmhouses of 18th century Jutland in northern Denmark. They incorporated many elements of Scandinavian architecture. Ornamental wrought ironwork, a carved redwood main entry door, and hand-painted panels are a few of the permanent imprints of this remarkable family. After extensive renovation in 1987, the Elverhøj Museum opened to the public in May of 1988. Today Elverhøj is one of the few museums outside of Denmark devoted to the Danish culture and the Danish-American experience."
The name "Elverhøj" is pronounced "Elverhoy" (as spelled in its English version). It was taken from Denmark's most famous folk play, "Elverhøj," written in 1828. The play is still performed today. Translated as "elves on a hill," the story involves a kings's visit to the night world of the dancing female wood-spirits and her forest friends. Elverhøj was first performed in Solvang in 1914.
The graphic depiction of Elverhøj was designed by Viggo Brandt-Erichsen. The artwork was used as a pattern to create the redwood carving on the front door of the Museum and now has become the logotype for the Museum."
Art and sculpting classes are held at the museum, along with hand crafts and Viking Camp. Classes and programs are designed for children and adults. Weddings are held in the backyard.
Some of the more permanent exhibits within the museum include the history of the town of Solvang, Vikings, the work of Brandt-Erichsens and the history of Denmark, its people and culture.
Additional Information