Deetjen's Big Sur Inn
Introduction
In the late 1920s, the Norwegian Helmuth Deetjen fled Norway and eventually settled in Big Sur. Shortly after, he married Helen Haight, who was a member of the prominent and important California Haight family. Henry Huntly Haight was the tenth governor of California. The couple moved to Big Sur in the 1930s, and while they lived in tents for a while, they eventually built a small house and a big barn.
Images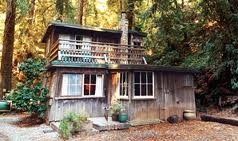 Backstory and Context
The Deetjen couple were very friendly and hospitable, and would often shelter and feed travelers. They eventually moved to Helen's forty-acre property in Castro Canyon. They proceeded to small, Norwegian-style cottages, and also a restaurant. The restaurant became known for it's delicious food, and over time, the couple became known as Grandpa and Grandma.

The hotel has a beautiful rustic charm and it surrounded by gorgeous scenery. The inn has glass that Helmuth made himself in King City. He brought the glass back to the inn by mule. Helmuth died in 1972, and had it made to where his holdings could not be sold off individually.