Dallam-Merritt House
Introduction
Built around 1870, this Victorian-style house was home to George and Emma Merritt. Both of the Merritt's were doctors, and practised medicine in their home. Emma was a very significant figure in the women's movement. In 1913, the Merritt's moved, and their home became a boarding house.
Images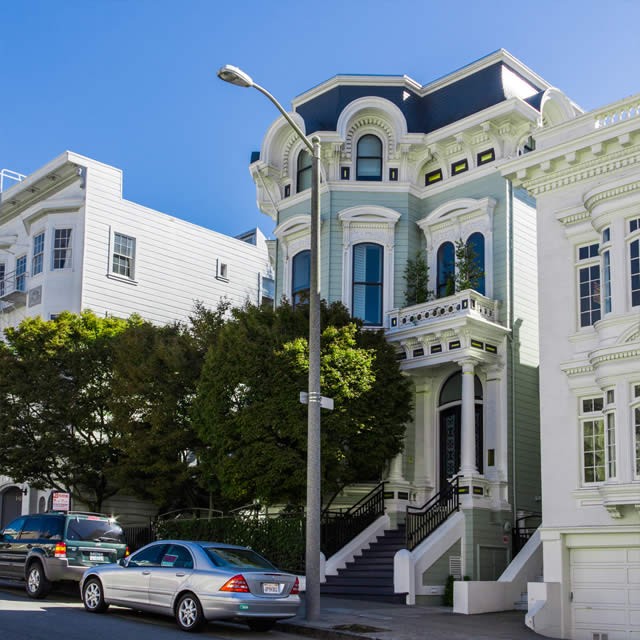 Backstory and Context
The Dallam-Merritt House is a three story detached house in Pacific Heights, designed in the Italianate style with rustic V-groove siding. The most striking feature is the unusual round-gabled concave Mansard roof, covered in alternating bands of scalloped shingles. This roof is so unique that it became a stand out characteristic of the house, making it easily recognisable across the city.

Since its construction in 1870 the house has undergone many changes. In 1900 Drs. George and Emma Merritt moved the house about a mile and a half from the northeast corner of Butter and Mason, where it had faced south, to its present site facing north, and remodelled it. They both lived and practised medicine in the house and it is thought that they moved it as a way to escape the increased commercialization of Sutter and Mason.

Later additions include a detached 1934 frame garage at the lot's south east corner, a carport next to it from an uncertain date, and a 1982 rear wooden staircase to the third floor. Between about 1910 and 1940 there was some now-vanished structure in the slot between the house and the west lot line; all that remains of it now is an independent entrance to the former basement ballroom, flanked by a half-columnn and a half-pilaster which nearly match those of the portico

Sources
National Register #84001185 Dallam-Merritt House. Noe Hill. Accessed March 23, 2017. http://noehill.com/sf/landmarks/nat1984001185.asp.


National Register of Historic Places Inventory—Nomination Form. United States Department of the Interior National Park Service. March 23, 1984. Accessed March 23, 2017. https://npgallery.nps.gov/GetAsset/c65962ef-e086-4c79-885a-45e2101f4730.