Good Vibrations Antique Vibrator Museum
Introduction
The Good Vibrations Antique Vibrator Museum displays vibrator models from the 19th and 20th century. The museum exhibits over 100 years of the history of the use of vibrators in women's health and the treatment of mental disease, woman's beauty regiments, and sexual health. The museum offers tours, lead by sexologist Dr. Carol Queen, covering the history and function of early vibrators across vintage exhibits from the 1800s to the 1970s.
Images
Good Vibrations Antique Vibrator Museum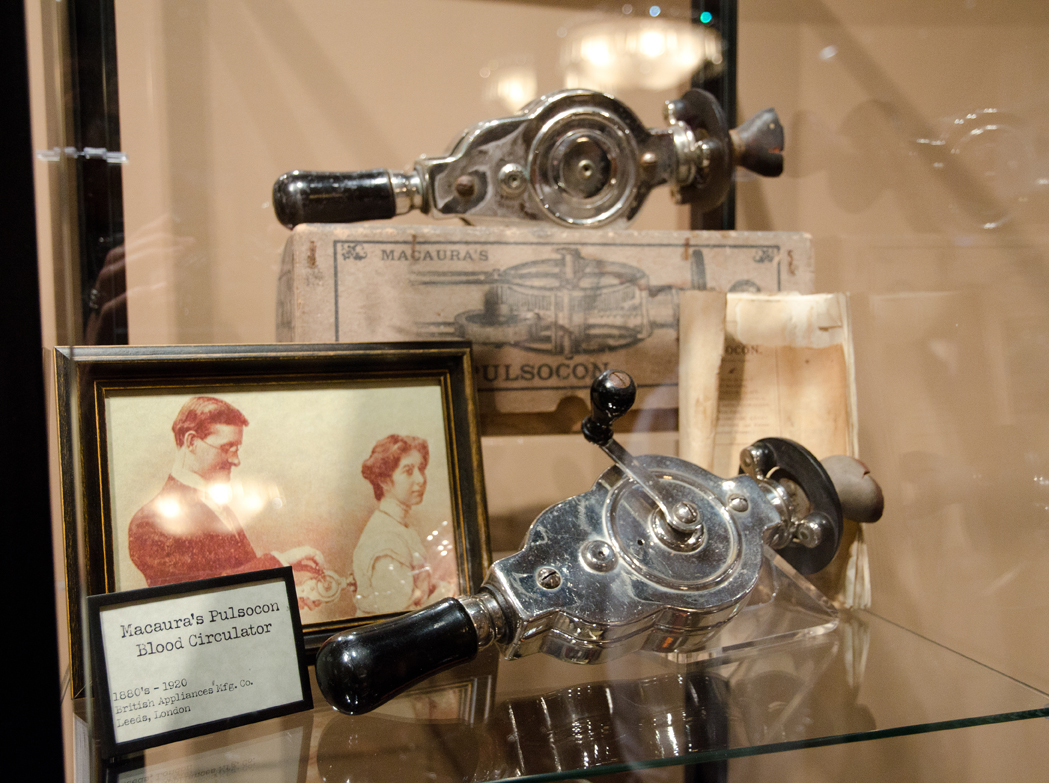 Backstory and Context
The precursor to the electric vibrator was the steam power massager, invented in 1869 by an American doctor as a medical tool for treating "female disorders". Over the next decades a portable, battery powered model had been created, and by 1900 there were dozens of electric vibrators available to medical professionals.

The first vibrators were used by doctors as treatments for "hysteria", a common diagnosis for women of the day which covered a wide range of symptoms. The most common ailment associated with hysteria was a heightened mental and emotional distress, considered to be a physical disease which common among women of the day. By 1952 the American Psychiatric Association had debunked the hysteria myth, ending a belief stretching back to Ancient Greece.
It was thought that genital massage could "cure" hysteria by bringing on a "hysterical paroxysm", known to us as an orgasm. Before the advent of the steam powered massager, this "cure" could only be performed mannually, so doctors were elated at the convenience of the newly invented devices. The misconception of hysteria arose due to a misclassification of basic female sexual desire, coupled with societal constraints of the day, creating a non-existent disease to explain femininity that doctors did not understand..
As the twentieth century progressed, vibrators made their way into the open market as a domestic appliance for women. The reclassification of hysteria from a physical condition to a mental one meant that doctors stopped prescribing the new physical cure. Instead, vibrators found their place as an at-home health product which could improve beauty and vigor.
The Antique Vibrator Museum is designed to showcase kinky collectables from the late 1800s to the 1970s, and the history of health and sexuality between 1890 and 1970. The exhibits contextualize the vibrator's role in society and highlights how attitudes around sex and female pleasure have evolved.

The museum showcases vibrators collected since 1977 by the proprietors of Good Vibrations, a sex shop with five locations in San Francisco and Oakland, and an additional one in Brookline, Massachusetts. The 300-square-foot museum is in the back of the Good Vibrations shop on Polk Street.
Sources
Good Vibrations Antique Vibrator Museum. Atlas Obscura. Accessed March 17, 2017. http://www.atlasobscura.com/places/good-vibrations-antique-vibrator-museum.


Additional Information