Twin Peaks Tavern
Introduction
Twin Peaks Tavern first opened in 1935 but was purchased by Mary Ellen Cunha and Peggy Forster in 1971. It is believed to be the first gay bar in the nation to feature full-length, open plate glass windows that let its patrons look out, and more importantly, the public look in. The lesbian friends, known to most regulars as "the girls," opened the bar to the world at a time when many gays still feared losing their jobs or being socially ostracized if their sexual orientation was revealed. It has now survived for 40 years as one of the Castro district's most memorable and welcoming establishments.
Images
Photo by Carlos Avila Gonzalez, The Chronicle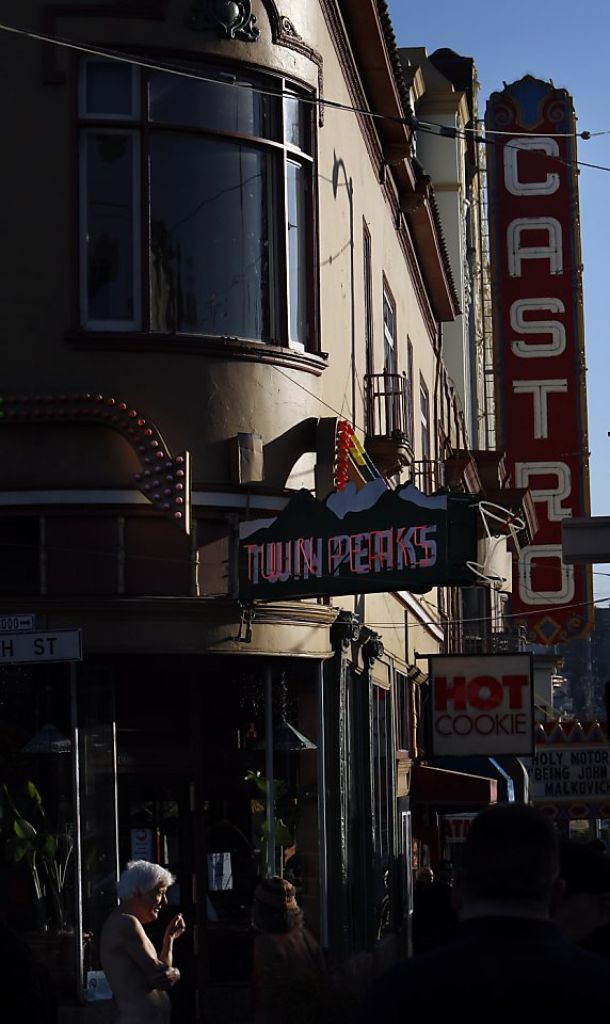 Backstory and Context
First erected in 1883, the building was originally a saloon and cigar shop. Forty years later the building was updated by owner Samuel Levin from a Victorian style building to the more modern Mediterranean revival style, which exists to this day. At this time it operated as a store, until it became Twin Peaks Tavern in 1935. The bar was originally run by Osborne Bye and William Mullane, before changing hands to Gus Fangerlind and Knut Carlson in the mid 1940s. It changed hands once again in the 50s before being purchased by lesbians Mary Ellen Cunha and Peggy Forster in 1972.
"The girls", as they came to be known, had been working at a liquor store on Valencia and 16th when they head that the bar was for sale. They redecorated the building, turning it into a fern bar, and uncovering the windows that the previous owners had hidden in order to conceal patrons' identity from their wives. Twin Peaks became the first gay bar in the city, and possibly the country, in which patrons could be seen from the outside. This marked a change in prevailing opinion, and shows that it had become less risky to be openly gay. It was bold move however, especially at a time when people could lost their jobs simply for being gay.
The Twin Peaks Tavern sign had existed since 1935, but the girls decided to add their ow flair to the design. They added a cocktail glass and hand painted lights in rainbow colors, to celebrate the diversity of the LGBT community. The bar became one of the stops on the city's Great Tricycle race, a fundraiser in which people dress up in drag and ride tricycles around some of the city's bars. The ladies were in their 30's when they took over the bar, and many of their clientele was middle aged or older. In order to avoid problems with the police and licensing control, the bar operated under a strict no touching policy. Guests could say hello and hug and kiss, but anything beyond that, such as making out, was not allowed. It wasn't until 1975 that laws prohibiting same-sex sexual activity were repealed.

The bar was taken over again in 2003, by bartenders Jeffrey Green and George Roehm, continuing the bar's traditions, and working within the community. The girls are sadly no longer with us; Peggy Forster died in 2008 and Mary Cunha died in 2015. In 2012 the San Francisco Historic Preservation Commission voted to confirm the nomination of Twin Peaks as a historic landmark, which was approved unanimously on January 15, 2013.
Sources
Lagos, Marisa. Twin Peaks Tavern - gay bar, historic landmark. San Francisco Chronicle. January 19, 2013. Accessed March 17, 2017. http://www.sfgate.com/politics/article/Twin-Peaks-Tavern-gay-bar-historic-landmark-4208442.php.
Flanagan, Michael, "Old is New: Twin Peaks celebrates historic status," Bay Area Reporter, January 2, 2014.
Twin Peaks Tavern. SF Gay History. Accessed March 17, 2017. http://www.sfgayhistory.com/neighborhoods/castro/castro-gay-bars/twin-peaks-tavern/.
Additional Information