Vernon House
Introduction
The Vernon House is located on Clark Street in beautiful Newport, Rhode Island, just blocks away from the water. It is a historic Georgian-style colonial era house that was likely built around 1700. Early records indicate that a painter named William Gibbs owned the home in 1708. During the American Revolution, the house served as the headquarters for the French general Jean-Baptiste-Donatien de Vimeur, Comte de Rochambeau (1725-1807). Rochambeau was the commander of French forces in Newport from 1780 to 1783. The Vernon House was designated as a National Historic Landmark and was listed on the National Register of Historic Places in 1968. However, it is not open to the public.
Images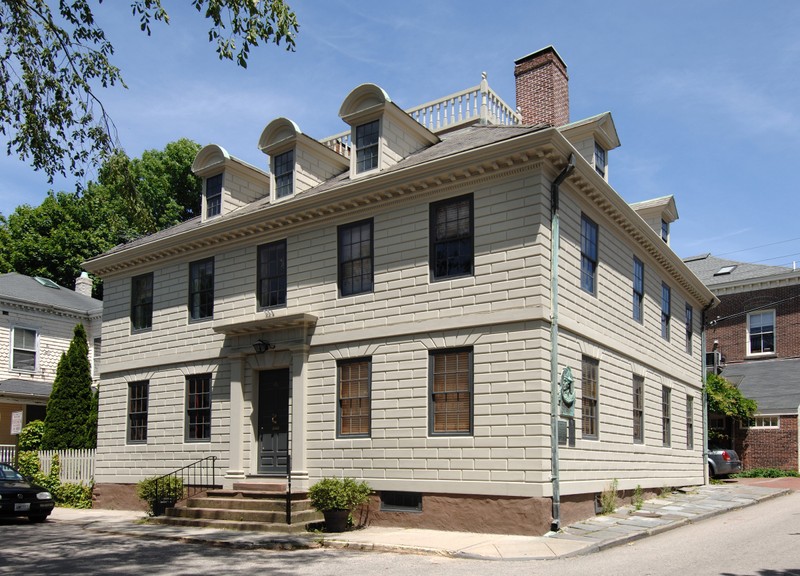 Jean-Baptiste-Donatien de Vimeur, Comte de Rochambeau (1725-1807)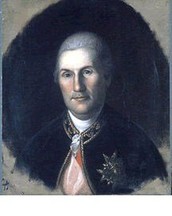 Paneling uncovered during the 1930s restoration.
Plaques on the home's exterior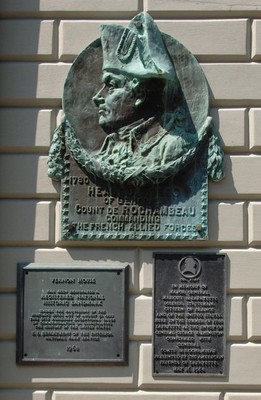 Backstory and Context
The historical records are not entirely clear about who resided in the house when it was first built, but painter William Gibbs owned it beginning in 1708 and it remained in his family until 1744. Charles Bowler bought the house in 1753 and gave it to his son, Metcalf in 1758. Metcalf was a merchant in the West Indies who later served as a Rhode Island Representative and Chief Justice in the Rhode Island Supreme Court. Years after Metcalf Bowler's death, evidence surfaced which claimed that he had worked as a British spy during the Revolution. He probably gave information to the enemy in an attempt to save some of his fortune. He sold the house to another merchant named William Vernon in 1773. Vernon offered the home to a French general, Comte de Rochambeau, who used it as his base of operations in Newport during the American Revolution.
Jean-Baptiste-Donatien de Vimeur, Comte de Rochambeau (1725-1807) arrived in Newport with his troops in the summer of 1780. He is best known in the Revolutionary War historical records for working with General Washington, bringing 12,000 men into Virginia, and defeating the British troops at the Battle of Yorktown in October 1781. He continued to lead the French forces for several years after he returned to France in 1783. Rochambeau finally attempted to retire from military service in 1789 but was arrested and imprisoned by Maximilian Robespierre's government during the Reign of Terror. Only Robispierre's own death saved Rochambeau from the guillotine.
After the war was over, Vernon reclaimed his property. The house remained in the Vernon family until 1872. In 1912, it was bought and partially restored by a local group called the Charity Organization Society. Sometime after that it became the headquarters for the Family Service Society until 1966.
The Vernon House is a simple yet elegant two-story wooden framed home with a low-pitched roof and three high windows projecting from the rooftop's slope (often called "dormers"). The front façade is symmetrically designed with two first-story windows on either side of the entryway, and five windows directly above. There is a small porch just behind the dormers on the rooftop – probably used for looking out to sea (although that view is now blocked by more buildings). The Vernon House is known for the elaborate murals that were discovered during a restoration project in the 1930s. The murals were painted to look like precious wood paneling with pictures representing Chinese life.
At this time, the Vernon House is not open to the public for tours. It has been a private residence since the mid-1960s. Its last private owner, Ms. Margaretta M. Clulow donated the home to the Newport Restoration Foundation with the expressed wish that it would remain a private residence, while also being accessible to scholars.
Sources
Vernon House. Newport Restoration Foundation. Accessed March 18, 2018. https://www.newportrestoration.org/preservation/historic_houses/details/78-vernon_house.

Heintzelman, Patricia. Vernon House. National Register of Historic Place Inventory - Nomination Form. January 23, 1975. Accessed March 31, 2018. https://npgallery.nps.gov/pdfhost/docs/nrhp/text/68000005.PDF.
Jean-Baptiste-Donatien de Vimeur, Comte de Rochambeau (1725-1807). The American Revolution. Accessed March 25, 2018. http://www.ouramericanrevolution.org/index.cfm/people/view/pp0028.
Vernon House. French Heritage Society. Accessed March 28, 2018. https://frenchheritagesociety.org/wp-content/uploads/2016/12/Vernon-House.pdf.
April 25, 1775: Rhode Island Is 'Firm and Determined' Writes Metcalf Bowler. New England Historical Society. Accessed April 07, 2018. http://www.newenglandhistoricalsociety.com/april-25-1775-rhode-island-firm-determined-writes-metcalf....
Additional Information