Mission House
Introduction
This house was built in c. 1742 by Reverend John Sergeant, the first Christian missionary to the Stockbridge Indians. It is now owned and operated by The Trustees of Reservations as a house museum.
Images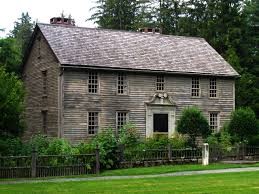 Backstory and Context
Located on Main Street in Stockbridge, this National Historic Landmark was home to the first missionary to the Mohican Indians. It not only provides a glimpse into Colonial history but also the Native American tribe that lived here.
In the mid-1730s, the Mohicans living in western Massachusetts gave permission for a young minister to live among them. The Rev. John Sergeant lived in a simple cabin until he married Abigail Williams in 1739 and built the Mission House c.1742.
Originally located on Prospect Hill in Stockbridge, this National Historic Landmark was carefully disassembled, moved, and restored between 1926 and 1930 by Miss Mabel Choate (then owner of nearby Naumkeag, which is now also a Trustees property) at its present location on Main Street.
From 1928 to 1933, noted landscape architect Fletcher Steele designed the Colonial Revival garden, which features a colonial-style dooryard garden of circular brick paths enclosed by a cypress fence. A kitchen garden divided by crushed stone walkways contains 100 herbs, perennials, and annuals that had culinary or medicinal value to early colonists. A replica of an old cobbler shop serves as the entrance to the property.
The house showcases an outstanding collection of 18th-century American furniture and decorative arts. A grape arbor in the Well Courtyard behind the Mission House leads to a small Native American museum that tells the story of the Mohicans through artifacts gathered by Mabel Choate in the early 1930s and stories and perspectives from Mohicans today. The red barn behind the Mission House serves as The Trustees' Berkshires regional office.
Sources
http://www.thetrustees.org/places-to-visit/berkshires/mission-house.html
Additional Information