Grateful Dead House
Introduction
The Grateful Dead house was occupied by the legendary band Grateful Dead in the mid-sixties. Jerry Garcia and other band members lived at 710 Ashbury Street, at Waller near Haight Street, from 1965 to 1968, including the famed 'Summer of Love' in 1967. They were busted for drugs in 1967 and held a press conference at this house, arguing for decriminalization and claiming if everyone who smoked marijuana were arrested, San Francisco would be empty.
Images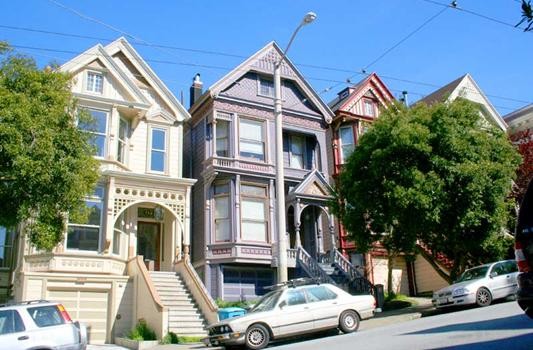 Backstory and Context
During the 1960s, affordable housing and the bohemian lifestyle created the perfect storm in Haight-Asbury. The community was the epicenter of flower power, the hippie movement, the counterculture and the birthplace of various musical genres. One of the musical groups that lived in the community was a band formed in1965 by five musicians who originally called themselves the Warlocks. They were the remnants of a Palo Alto band called Mother McCree's Uptown Jug Champions. They later changed the name of their group to The Grateful Dead. The charter members were Jerry Garcia, Bill Kreutzmann, Phil Lesh, Ron McKernan and Bob Weir. The group lived at 710 Ashbury Street from 1965 until 1968. It was the scene of their famous 1967 Summer of Love drug bust. The Grateful Dead's transcendent musical style was born in this row house.
Building contractors Cranston and Keenan built the approximately 2,600-square-foot, Victorian style home in 1890 that is now known as The Grateful Dead House. The men constructed numerous other homes in the Upper Haight around the turn of the 20th century as well. Mr. Cranston was the grandfather of California Senator Alan Cranston. The price of the house was $7,000, which was a considerable amount of money for a residence in the late 19th century. The home is a private residence and is not available for public tours.
Sources
Grateful Dead House. Lonely Planet. Accessed March 26, 2017. https://www.lonelyplanet.com/usa/san-francisco/attractions/grateful-dead-house/a/poi-sig/383905/3618....



710a Ashbury St - Grateful Dead House. FIC. Accessed March 26, 2017. http://www.ic.org/wiki/710a-ashbury-st-grateful-dead-house/.

The Grateful Dead House. City Walking Guide. https://www.citywalkingguide.com/sanfrancisco/thegratefuldeadhouse.