Martin Hotel
Introduction
The Martin Hotel was the largest African American-operated hotel in the South. This hotel hosted many celebrities such as Ella Fitzgerald, the Harlem Globetrotters, Willie Mays and Nat King Cole.
Images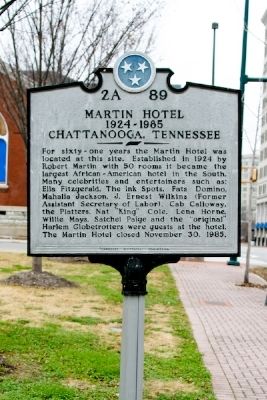 Martin Hotel marker on land where hotel once stood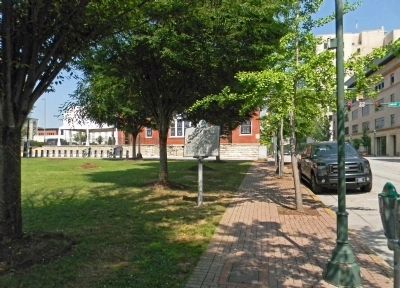 undated photo of Ms. Mayme Martin inside hotel's resturant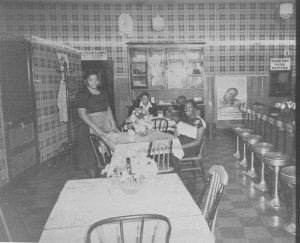 Backstory and Context
Starting in 1862, the lot where the Martin Hotel would be built changed owners several times before it reached the hands of attorney Richard Kimball in 1906. Kimball, for reasons unknown, allowed Robert Martin, an African American former porter of the local railroads, to construct a hotel. Martin built and opened his hotel in 1924. His niece Mayme Martin, a former school teacher from South Carolina, came to Chattanooga to help her uncle and his hotel in 1930. The Martin Hotel boasted fifty steam-heated rooms and a restaurant that served guests and off-the-street customers three full-course meals a day.
Following the end of Prohibition in 1933, the Martin Hotel became Chattanooga's first hotel to receive a liquor license.
A year later, Kimball sold the land to the Huskey family. In 1936, following Richard Martin's death, his niece, Mayme, assumed management. The hotel had its greatest success during World War II, when African American soldiers passed through Chattanooga on their way to Europe. In 1985 the hotel was forced to close after its business license expired and Ms. Martin was not able to renew the license. The hotel had operated for sixty-one years. The Chattanooga Times, a local newspaper, tried to save the hotel and preserve it as a historical site and museum. Unsuccessful, the building was demolished in 1986. The lot now belongs to the Martin Luther King Jr. Community Development Corporation.
In 1993, the Tennessee state government designated the site of the hotel as a State Historical site and had a marker placed on the spot.
Many famous African-Americans stayed at the hotel including Willie Mays, Satchel Paige, the original Harlem Globetrotters, Lena Horne, Cab Calloway, J. Ernest Wilkins (U. S. Assistant Secretary of Labor), and many more.
Additional Information