Science History Institute (Formerly the Chemical Heritage Foundation)
Introduction
The Science History Institute offers exhibits and programs dedicated to preserving the history of chemistry and related sciences such as chemical engineering and the life sciences. Founded in 1982 as the Center for the History of Chemistry and as a collaboration between the University of Pennsylvania and the American Chemical Society, the organization was known as the Chemical Heritage Foundation for many years prior to the merger of that organization with the Life Sciences Foundation. Today, the Science HIstory Institute collects items and stories related to the history of science. In addition to serving as the headquarters of the organization, this building houses a museum, library, archives, conference center, and a research center dedicated to expanding the knowledge and ever-expanding history of the life sciences and chemistry.
Images
Science History Institute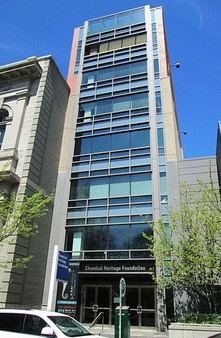 Backstory and Context
In 1979, the American Chemistry Society proposed a plan to construct a national center for the history of chemistry. Through the efforts of chemist and museum curator Arnold Thackray, funds from private and institutional sources were secured for the construction of such a project in Philadelphia, and in 1981, the proposal was approved for constructing the center in the city with the cooperation of the University of Pennsylvania. In 1983, the Center for the History of Chemistry was established, occupying only two basement rooms of the University of Pennsylvania. Even in its fledgling years, the Center gained support and hosted a number of traveling exhibits, though it had high hopes to one day have the resources and space available to collaborate with the likes of the Smithsonian Institute.
The Center quickly gained support over the years, gaining funds from sources such as the Arnold and Mabel Beckman Foundation's challenge grants, and support from other institutions in order to expand the Center. Through this continued support, the Center changed its name first to the National Foundation for the History of Chemistry, and then again in 1992 to the Chemical Heritage Foundation, in order to reflect that the support given to the Foundation reached beyond the United States. As the collection and support of the Foundation continued to grow, so too did the need for permanent exhibits and a more solid location. It was not until October of 2008 that the Foundation unveiled the museum and conference center components.

Sources
About Us. Science History Institute. . Accessed August 23, 2018. https://www.sciencehistory.org/about-us.


Additional Information