Oakhurst Links Golf Course
Introduction
In 1884, The Oakhurst Links Golf Course was designed and built, making it the oldest golf course in America. The nine hole course was used until 1912, when it reverted back to a pasture. In 1994, the course underwent a restoration and golf was being played once again on this historical site. In 2001, the course was listed on the National Register of Historic Places.
Images
Oakhurst Links Golf Course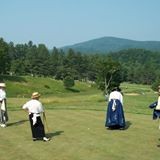 The rough at Oakhurst Links Golf Course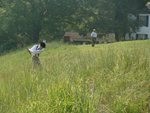 Backstory and Context
In 1884, Oakhurst Links Golf Course was designed, built and owned by Russell Montague. The Oakhurst course was the first golf course to be built in America. Montague lived on the property and used a 30 acre pasture for the nine hole layout. Having learned about golf in Scotland, he brought his knowledge to the small town of White Sulphur Springs. In 1888, the first match was played on the course with Montague's friends in the traditional Scottish style.1
In 1912, the course was returned to pasture and was not used again until 1994. A restoration of the course took place and reopened for play managed by the Ironwood Golf Group. The course featured a unique style of attire and equipment required when playing here. Knickers, high socks, long sleeve shirts and ties are to be worn by the men and colonial style dresses for the women. The clubs are hickory and the golf balls are gutta-percha. This requirement for the course gives you a feeling of how the game was played when it was first built.   
"Owner Lewis Keller reportedly bought the course as a horse farm in 1959, but restored it after learning about its history."2 Keller used sheep to mow the grass like they did when it was first built. He added sand tee boxes and only had old newspaper clippings to go by in the restoration. "The National Hickory Championship has been held at Oakhurst since 1998."3 
 In 2012, Oakhurst Links went up for sale after 50 years of having the same owner, and later that same year the Greenbrier Resort purchased it. "Financing for a $410,000 winning bid from a July 28 auction fell through and a heartbroken Keller feared a Virginia bank would foreclose on the property and its history would fall apart -- until Jim Justice, the Greenbrier owner, came along." 4  
The Greenbrier has added Oakhurst to its long list of amenities. The hotel will help to bring the golf course towards the popularity it deserves predating all other courses in America. The history of Oakhurst Links Golf Course will place guests into a historical past with the attire and equipment that is recommended to use in order to take in the full experience. Parties and events would also give a historical feeling when participating and knowing this is where America got its start in golf.
Sources
1 http://www.greenbrier.com/oakhurst 2 http://www.wvnstv.com/story/19131584/americas-oldest-golf-course-is-up- for-sale 3 http://golfweek.com/news/2012/jul/29/oakhurst-links-sold-auction-410000/ 4 http://www.cbssports.com/golf/story/20552068/greenbrier-resort-buys-historic-oakhurst-links-course-in-west-Virginia
Additional Information