Greater Warner Tabernacle AME Zion Church
Introduction
This church was establsihed in 1845 for both free and enslaved Blacks, making this Knoxville's oldest African-American congregation in existence. It also played a role in the Underground Railroad. A building to house this congregation would not be constructed until the late 1800s. The building now standing was built in the mid-20th century.
Images
Greater Warner AME Zion church building today.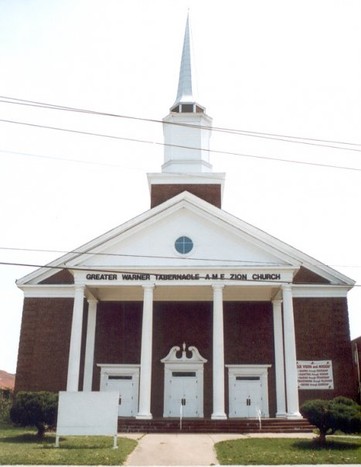 Backstory and Context
Belonging to the African Methodist Episcopal Zion Church (AME Zion), founded in 1795, this Knoxville congregation was formed in 1845. It was known as the "freedom church" for its role in abolitionism. The church was a station long the Underground Railroad.
Originally located on Fuller St., the land was given to the congregation by a wealthy German man whose name now seems to be lost in history. The original church and congregation's name was Warner Church. Presumably, 'Warner' could be the name of their benefactor. An actual church building would not be built until the late 1800s. Unfortunately this first church was destroyed in a fire in 1908. A second church was completed two years later.
In 1967, the congregation moved from Fuller to Speedway Circle and changed their name to Speedway Circle AME Zion. In 1969, they changed the name again to Greater Warner Tabernacle AME Zion.
The church would move again in 1987 to McCalla Ave and into the then McCalla Ave. Baptist church. McCalla Ave. is now Martin Luther King Jr. Ave.
Additional Information