The Knickerbocker Hotel
Introduction
This iconic hotel New York was acquired by businessman John Jacob Astor IV in 1904 and opened two years later. The influential hotel owner saw the building's potential to provide luxurious hotel accommodations in New York City and acquired the building from a pair of businessmen who launched the hotel's construction in 1903 but soon ran into liquidity issues. Astor's wealth and fame brought success to the hotel in the early 1900s. However, the management of the Knickerbocker found themselves saddled with growing expenses in trying to maintain the grand hotel following the onset of prohibition just fifteen years after the ambitious hotel opened. the building served as the home for many offices and retailers until 2015 when the restored building reopened as a historically-themed luxury hotel. The hotel emphasizes its history and seeks to recreate the luxury and grandeur envisioned by its founder.
Images
The Knickerbocker Hotel during its period of restoration in 2012.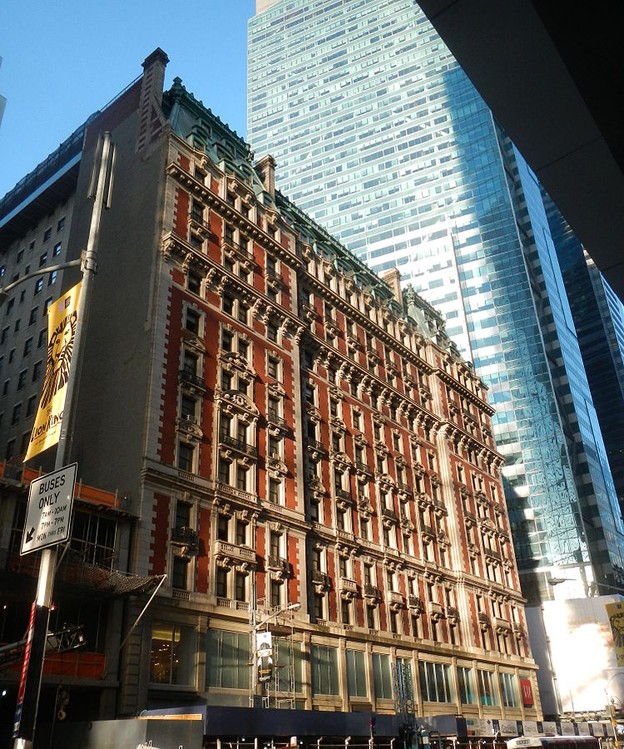 Backstory and Context
The Knickerbocker Hotel was originally the project of J.E. and A.L. Pennock in 1903, but due to financial difficulties, the project was surrendered to John Jacob Astor IV in 1904. Astor was a descendent of an immigrant of modest means who arrived in the United States in 1783. A successful fur trader, Astor invested his wealth by buying land in New York City prior to the growth of the city.
Under the guidance of the Astor family, the building was redesigned shortly after opening. The family invested heavily in the property, redesigning the interior and adding a three-story restaurant and bar which was able to hold 2,000 patrons. When the Knickerbocker Hotel opened on October 23, 1906, it immediately became a popular spot among the New York City social scene. The bar and restaurant were almost always hugely active, especially being so close to the downtown area. However, with the death of Astor IV on the Titanic and the advent of prohibition, the Knickerbocker began to suffer financially. Instead of keeping the Hotel alive, Astor's son Vincent Astor decided to convert the Hotel for use as offices.
From 1921, the Knickerbocker Hotel building was used as various office spaces and was renamed the Newsweek Building from 1940 to 1959 after the eponymous magazine made the building its home. From then until the early 2000s, the building switched hands numerous times, until it was sold in 2006 to a hotel firm planning to revitalize the building. However, the plan fell through, and the building was surrendered in 2010 with little progress made. The building was purchased a final time in 2012 by FelCor Lodging Trust, who began a renovation project on the Hotel. In February of 2015, the Knickerbocker Hotel reopened under its old name, and once again offers lavish accommodations as it did in its glory days.

Additional Information