Iowa Revolutionary War Monument
Introduction
At first glance, it might seem that Iowa and the Revolutionary War had very little in common. Therefore, the Iowa Revolutionary War Monument may seem out of place on the State Capitol grounds. Located just west of the Soldiers' and Sailors' Monument, the Iowa Revolutionary War Monument commemorates the 39 Revolutionary War veterans who are buried in the State of Iowa. This monument features 13 granite pillars dedicated to the original 13 colonies of the United States, and each pillar carries an inscribed patriotic quotation. A central obelisk includes the names of the soldiers, where in Iowa they were buried, and where they were born. Surrounding the pillars includes planted wild roses, Iowa's state flower.
Images
View of the Iowa Revolutionary War Monument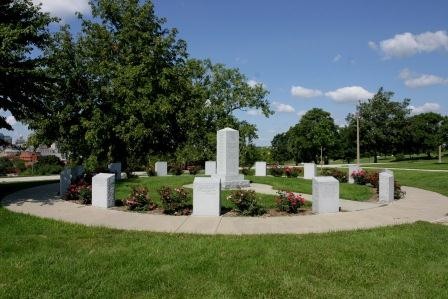 Central Obelisk of the Monument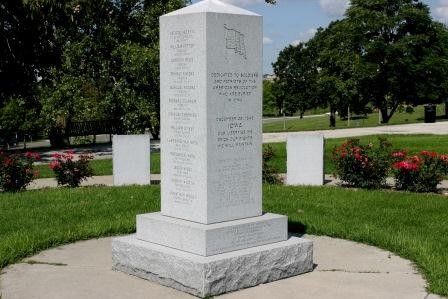 Backstory and Context
Revolutionary War Veterans in Iowa
Iowa didn't become a state until 1846, and the first (official) white settlers in the region started coming in 1833. Additionally, the Revolutionary War ended in 1783, which puts a 63-year gap between Iowa's statehood and the end of the war.
Thus, it can be hard to believe that there were any Revolutionary War veterans who lived in the state. It is important to remember, however, that many of the soldiers who fought in the war were quite young, often between 14- and 16-years-old. Many of the veterans who survived the war and moved west lived to be around 80.
Because of the wandering spirit of many of these vets as well as their appropriate ages, it does make sense that some soldiers were buried in Iowa. According to an article published in the Des Moines Register at an unknown date, there are at least 39 Revolutionary War veterans who were buried in the state (perhaps more, as second burial sites were popular as some families moving west brought their dead with them).
One woman who gathered information and created a list of Revolutionary War soldiers buried in the state was Mrs. Shepherd, who was the wife of a former state representative. Between the 1840s and 1850s, Mrs. Shepherd did considerable work on Iowa census records. From her records, it was clear that many of the veterans lived to an old age. A Benjamin Bell, from Pennsylvania, was born in 1751 and died in Webster County, Iowa, in 1853 (making him 102-years-old). Others on the list created by Mrs. Shepherd included:
Timothy Brees, New Jersey private, died in Lee County at 86 in 1847, buried in Lost Creek Cemetery 5 miles north of Fort Madison.
Nathaniel Fellows, New Hampshire private, died at 79 in Johnson County in 1837. Highway went over his grave site and there is a memorial stone along Highway 6 at Coralville.
Abraham Horshe, Pennsylvania militia. Was living at 83 year of age in 1850 in city of Muscatine. Grave unlocated.
Mrs. Shepherd tried locating all Revolutionary War vets in the 1850s, but she stated that the graves of many veterans will never be located.1
Inscription on the Memorial
Front
Dedicated to soldiers
and patriots of the
American Revolution
who are buried in Iowa
December 28, 1846
Iowa
Our liberties we
prize our rights
we will maintain
Reverse
George Perkins, N. and S. Carolina, Lee County
William Potter, Virginia, Jackson County
Sampson Price, Virginia, Louisa County
Thomas Rhodes, Virginia, Van Buren County
Achilles Rogers, Virginia, Keokuk County
Richard Scarrem, Vermont, Makaska County
Charles Shepherd, Pennsylvania, Henry County
William Sinkey, Pennsylvania, Jackson County
Lawrence Van Hook, New Jersey, Jackson County
Frederick Ware, Pennsylvania, Des Moines County
Jacob Wiley, New York, Jefferson County
Nathan Winton, Connecticut, Davis County
Jonathon Woody, North Carolina, Wapello County
Sources
1.) http://files.usgwarchives.net/ia/state/military/revwar/rwvtsia.txt 2.) http://www.hmdb.org/marker.asp?marker=48277
Additional Information