This entry includes a walking tour! Take the tour.
Introduction
The Watkins Museum of History is the headquarters of the Douglas County Historical Society. The society and museum's mission is to "promote civic engagement by supporting the preservation, research, and interpretation of county history through active exhibits and thought-provoking educational programs for the public." The museum is housed in the historic Watkins Building and contains three floors of exhibits telling stories of Lawrence and Douglas County history, from the tense days of Bleeding Kansas through the Civil Rights Era and KU Jayhawks championships. Admission is free. The second floor gallery exhibits provide an excellent introduction to how the creation of Lawrence and Kansas helped precipitate the Civil War, as well as the cause and effects of William Clarke Quantrill's infamous raid on the city on August 21, 1863.
Images
Photo of the Watkins Building from the museum website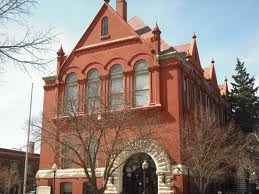 A historic photo of the Watkins Building from the museum's official website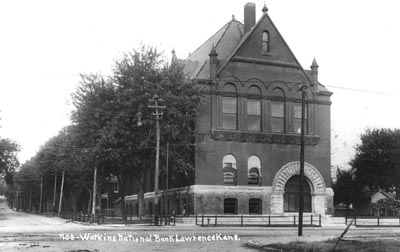 Backstory and Context
Lawrence is a community proud of its past. And the Watkins—where exhibits, activities, and interactive experiences reveal unique, historic, and sometimes unexpected stories—is the place to discover why.
Since 1975, the Watkins Museum of History, housed in the iconic 1888 Watkins Land Mortgage and National Bank Building in downtown Lawrence, has provided programs and public events, educational resources and activities, and changing exhibits that explore the heritage of Douglas County and connect the past with issues that affect our communities today. The Watkins is rich in resources to help researchers uncover their family history or learn more about the place where they live.
The Watkins Museum is operated by the Douglas County Historical Society, a non-profit organization committed to preserving Douglas County heritage and encouraging civic engagement by sharing stories of the people and events that have shaped our communities.
The Watkins Museum of History gratefully acknowledges the operational support provided by Douglas County through its annual outside agency allocation process.
The Watkins is proud to be a member of the Douglas County Heritage Alliance, a cooperative effort of the historical societies in Douglas County to share resources and preserve and county historic places, and a partner organization in the Freedom's Frontier National Heritage Area.
Sources
Watkins Museum website. www.watkinsmuseum.org/index.php
Additional Information