Gilsey House
Introduction
The Gilsey House was once a luxurious hotel, the Gilsey House Hotel, which operated in the late 1800s in the NoMad neighborhood of Manhattan. The Hotel offered guests luxuries the likes no other hotel had offered before, such as in-room telephones, and was in a central location that made getting around to popular spots in Manhattan simple. The Hotel closed in 1911 and was left in disrepair for some time, but the building has recently been restored and houses numerous luxury apartments today. The Building was placed on the National Register of Historic Places in 1978.
Images
A view of the Gilsey House from 2010.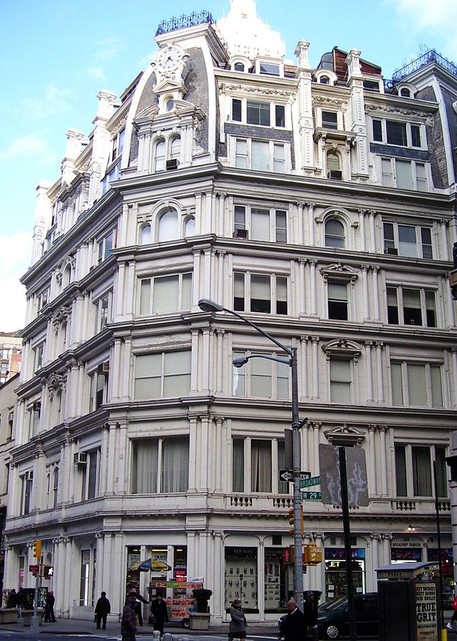 Backstory and Context
In the wave of immigrants who made their way to the United States in the late 1800s, a Danish merchant named Peter Gilsey set his eyes on a plot of land in Manhattan around 1869. Gilsey had plans to construct a hotel the likes no one had ever seen before, and construction on the Gilsey House Hotel began in 1869. Construction was finished in 1871, complete with the fabricated cast-iron façade of the Hotel, and in 1872, the Hotel opened for business. The hotel was considered highly luxurious, as it offered guests amenities such as in-room telephones, chandeliers, tapestries, and other fine decorations, and it was in a central location that made getting around to popular spots in Manhattan easy.
The Gilsey House Hotel enjoyed playing host to several historic guests during its prime time, such as Oscar Wilde and Samuel Clemens, and also was a favorite for theatrical clientele passing through Manhattan. The Hotel thrived until it was caught up in a legal battle in 1904 over the Hotel property's lease. After seven years of legal battles, the Gilsey House closed in 1911 and soon went into disrepair. Plans were made to refurbish the building in the 1920s but were never put through, though the ground level was made into storefronts in 1946. The Gilsey House remained a shadow of its former self until it was purchased in 1980 and remade into co-op apartments. Today, the Gilsey House still offers luxury apartments for those wanting to experience what the Gilsey House once was.

Sources
"Home." Gilsey House. Accessed Web, 5/20/17. http://gilseyhouse.com/Gilsey_House/Home.html.

"Gilsey House Description." StreetEasy. Accessed Web, 5/20/17. http://streeteasy.com/building/gilsey-house.


Additional Information