John Grate Memorial
Introduction
As a young man, John Henry Grate was an eyewitness to history. A lifetime later, as a very old man, he was himself a part of history, a living link to a distant past. In 1949 Mr. Grate died just shy of his 104th birthday. So why was Mr. Grate a living part of History? What historical event could John Grate possibly have saw? With 49000 other veterans from Ohio to witness history with John Grates as they served in the Civil War. Mr. Grates was the oldest living Civil War Veteran in Ohio having seen combat in the Civil War and lived through 2 World Wars until his death in 1949.
Images
John Grate in his Union uniform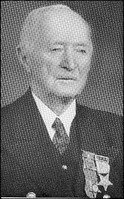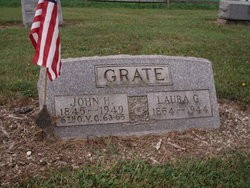 Backstory and Context
John Grate spent all of his 104 years in Portage County, where he was born on August 1, 1845 Edinburg. For two years he was stationed with the Sixth Ohio Calvary Regiment and later on with the Army of the Potomac. He was the mere age of 19 when he witnessed Robert E. Lee surrender the Confederacy at the Appomattox Court House in Va. on April 9, 1865. Upon returning from the war, he became a buggy maker, pursuing a trade he had learned during his youth. A skilled woodworker, he was employed for many years by the Heiser buggy works in Yale, the community located at the crossroads of Atwater, Edinburg, Deerfield and Palmyra. He worked there until it closed because of the advent of the automobile.

He later farmed on his property in Atwater's northeastern corner, marketing dried corn through an evaporator works on his property. After the evaporator works burned, he retired and moved to Atwater Center in 1918, spending the rest of his long life there. When he was nearly 100 years old, he was elected commander of the Ohio G.A.R. unit and, in 1946, was named national commander of the G.A.R. By that time, however, only a dozen veterans were able to travel to the annual encampment.

Hundreds of Commander Grate's neighbors, however, turned out to salute their community's celebrated resident when Atwater observed "John Grate Day" on Jan. 31, 1947.

"The gentlemanly commander took the celebration in stride, wisecracking his pleasure upon being the central figure in "all the fuss,"' Evening Record reporter Loris Troyer wrote in an article headlined, "It Was a "Grate' Day for Atwater."

Representatives of the Spanish-American War and both world wars paid tribute to the Civil War veteran, who related some of his wartime experiences from eight decades earlier.
Later, seated in a rocking chair, he greeted scores of well-wishers. Among them was 88-year-old Homer Hillyard of Atwater, who told Commander Grate, "I saw you march off to war," recalling a vivid memory he had experienced as a 3-year-old.






Sources
"Atwater Historical Society, Preserving the Heritage of Our Founders, Atwater, Ohio Town 1, Range 1 In the Western Reserve Est. 1799 And Vicinity Old Records And History ***** Atwater Twp. Portage Co., Ohio
Additional Information