Masonic Temple (Philadelphia, Pennsylvania)
Introduction
A National Historic Landmark, the Masonic Temple in Philadelphia is one of the most architecturally significant Free Mason buildings in existence. The building was constructed in 1873 and attracts thousands of visitors to tour the building inspired by multiple centuries of historically significant events that have occurred here. The Temple is still in use today as the main headquarters of the Pennsylvania branch of the Masonic Great Lodge.
Images
The Masonic Temple was built in 1873 and is known for its extremely ornate exterior and interior design.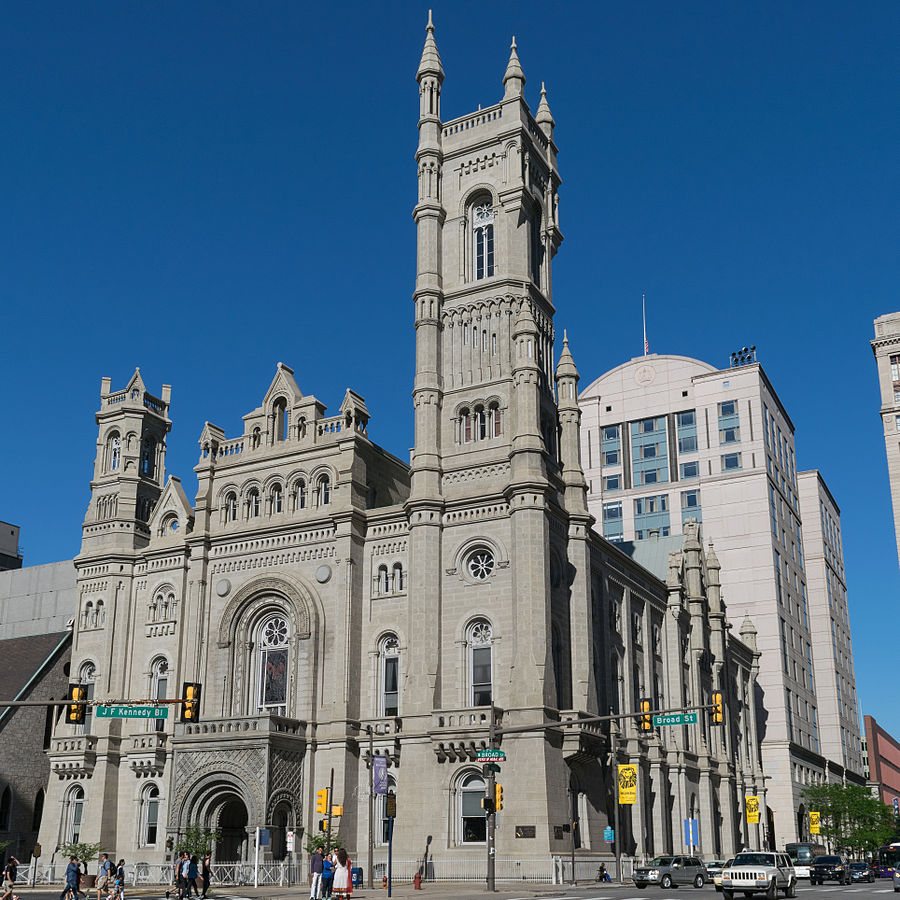 Backstory and Context
Dedicated on September 26, 1873, the Temple in Philadelphia, built in the Norman-Romanesque style, contains some of the most stunning ornate interiors of any late Victorian structure in the nation. The Masonic organization that built the temple officially went by the name "The Right Worshipful Grand Lodge of the most Ancient and Honorable Fraternity of Free and Accepted Masons of Pennsylvania." As part of the Grand Lodge of Philadelphia, the society has had many noteworthy Grand Masters, including Ben Franklin. The historic temple building speaks to the organization's prosperity as it cost $1.6 million to build in the 1870s (some estimates would put that value at more than $35 million in 2022 dollars). 
Freemason membership, almost exclusively comprised of white males, grew substantially during the late nineteenth and early twentieth centuries, and Masonic organizations like this one played significant roles in communities offering social organizations that also supported philanthropic efforts, education, and community service. Masonic organizations are believed to have roots well back into the Middle Ages but are also associated with secret societies forming in England and its colonies (including North America) during the eighteenth century. Although an abundance of folklore and speculation surround the history of Freemasons, aspiring men throughout the U.S. during the late nineteenth and early twentieth centuries became Masons; numerous wealthy entrepreneurs and politicians were Freemasons.
Before constructing the temple, the Masons used at least fourteen different locations for meetings. In 1867, an architectural competition was held, which James H. Windrim won at age 27. The Masons laid a massive, ten-ton granite cornerstone on St John the Baptist Day, June 24, 1868. Roughly 10,000 members attended and, the members reported, nearly 14,000 marched in a parade to commemorate the event. Another lavish celebration took place during the Temple dedication five years later on Friday, September 26, 1873. However, all told, the historic Masonic Temple took twenty years to complete as it took another fifteen years to finish the interior design. 
Nationwide Freemason membership declined throughout the twentieth century; membership has plunged seventy-five percent since 1959. The imposing and highly ornate Temple in Philadelphia speaks to the impact and mystique that once surrounded Freemason societies. 
Sources
Feuerherd, Peter. "The Strange History of Masons in America." JSTOR Daily. jstor.org. August 3rd 2017. Politics and History sec. https://daily.jstor.org/the-strange-history-of-masons-in-america/.
"The Masonic Temple in Philadelphia." Masonic Temple and Masonic Library & Museum. Accessed December 12, 2022. https://pamasonictemple.org/temple/.
Pitts, Carolyn. "Nomination Form: Philadelphia's Masonic Temple." National Register of Historic Places. nps.gov. 1984. https://npgallery.nps.gov/GetAsset/7afbe6ec-6f2d-4041-990b-ad1c17417a28.
Silva, Christianna. "Freemasons Say They're Needed Now More Than Ever. So Why Are Their Ranks Dwindling?" National Public Radio: WBEZ-Chicago. npr.org. November 28, 2020. https://www.npr.org/2020/11/28/937228086/freemasons-say-theyre-needed-now-more-than-ever-so-why-are-their-ranks-dwindling. 
Thomas, George E. Thomas. ".Grand Lodge of the Masonic Temple." Society of Architectural Historians (SAH) Archipedia: Philadelphia, Pennsylvania. sah-archipedia.org. 2012. http://sah-archipedia.org/buildings/PA-02-PH50.
Image Sources
By Jersey856 - Own work, CC BY-SA 4.0, https://commons.wikimedia.org/w/index.php?curid=40432051

Additional Information