Chester County Courthouse
Introduction
Built in 1847, this historic courthouse as designed by architect Thomas U. Walter in the Greek Revival style. Walter was later appointed the Architect of the Capitol and designed the House and Senate wings of the U.S. Capitol as well as the Capitol dome and several other federal buildings in the nation's capitol. This structure replaced a previous courthouse on High Street that was built in 1786 that had become inadequate to serve the needs of the growing county and its government. Rather than construct new structures, residents of the county determined to preserve the historic courthouse and build a series of annexes and extensions with new court rooms and office spaces. The building was listed on the National Register of Historic Places on June 5, 1972.
Images
The Chester County Courthouse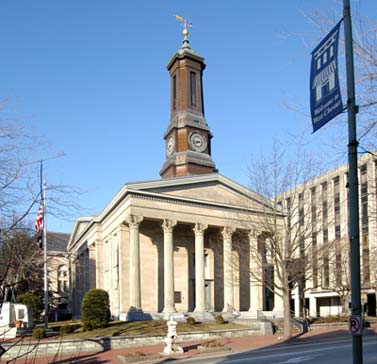 Backstory and Context
One of the first three counties in the British colony of Pennsylvania, Chester County was established by William Penn in 1682.

In 1920, a plaque depicting the Ten Commandments was installed on the courthouse grounds. Sally Flynn, of the Freethought Society, challenged the Constitutional validity of having this plaque installed on the grounds of a governmental building in court in 2002. For a time the plaque was covered while judges deliberated questions related to the separation of church and state while also considering the historical value of the plaque and the continuity of established traditions and practices that reflected the views of modern Americans as well as change over time. The cover was removed and the plaque was again on display in 2003 as the result of the ruling by the United States Court of Appeals for the Third Circuit that the plaque did not advance religion but instead served as a historical artifact that reflected views of residents in 1920 while also
highlighting the cultural influence that the Commandments had upon the basis of many laws in the British and American courts.
Sources
Freethought Society v. Chester County, 334 F.3d 247 (3d Cir. 2003)
Additional Information