Henry Logan Memorial AME Church
Introduction
The Henry Logan Memorial African Methodist Church is one three historic African American churches in Parkersburg, WV. Known for its Vernacular Romanesque style of architecture, and square pyramidal corner tower, it is a cornerstone of Parkersburg's African American community. The church was constructed in 1891 and named after Henry Logan, a wealthy white businessman who, along with his wife Lavinia, supported and fostered the African American community in Parkersburg. The church is still used by the Henry Logan AME congregation and was listed on the National Register of Historic Places in 1982.
Images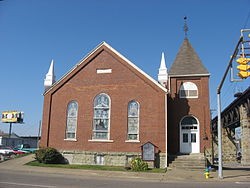 Backstory and Context
Immediately after the end of the Civil War in 1866, Reverends D. Bowser and Charles O. Fisher organized the Methodist Episcopal Church for the newly-emancipated African Americans in Parkersburg. The burgeoning congregation held its first service in the basement of the First Methodist Episcopal Church. Without a permanent home, the congregation shifted from the First M.E. Church in the mornings and afternoons to a local school house in the evenings. To address the congregation's need of its own space, congregant Phelan Julius erected a building for worship on 5th Street near the Ohio River.
A few years later, the M.E. Church purchased a lot on 6th Street and erected another house of worship. Henry Logan, a local wealthy white businessman, and his wife Lavinia contributed a significant amount of money to the construction of the second church. Logan found fault with the location on 6th Street and helped the congregation purchase from a Baptist church a lot on the corner of 6th and Ann Street on December 20, 1871. The M.E. Church erected another wooden frame building on the lot and worshipped there for the next nineteen years.
In 1890, the M.E. Church congregation moved the wood frame building to the back of the lot and began construction on the current brick church. Constructed in a vernacular Romanesque architectural style, the new building took over one year to complete with financial assistance from Lavinia Logan. On February 14, 1892, the Methodist Episcopal Church dedicated their new house of worship to the Logans by renaming it the Henry Logan Memorial African Methodist Episcopal Church. A pipe organ was installed in the church in 1900 and sometime afterwards the basement was finished and converted into school rooms and a kitchen.
The Henry Logan Memorial African Methodist Episcopal Church was added to the National Register of Historic Places in 1982.

Sources
Christina Mann, Eliza Smith. Historic Properties Inventory Form. West Virginia Department of Arts, Culture and History. March 9, 1983. September 17, 2018. http://www.wvculture.org/shpo/nr/pdf/wood/82001778.pdf.

Logan Memorial United Methodist Church to mark 150 years Sunday. The Parkersburg News and Sentinel. December 03, 2016. . http://www.newsandsentinel.com/news/local-news/2016/12/logan-memorial-united-methodist-church-to-mark-150-years-sunday/.


Additional Information