Willow Island Disaster Memorial
Introduction
This memorial monument commemorates the lives of the fifty-one laborers who perished in a construction accident that occurred when the scaffolding around the cooling tower at the nearby Pleasants Power Station collapsed on April 27, 1978. The accident is one of the deadliest construction accidents in US history and one of the worst non-mining industrial disasters in West Virginia history.
Images
This memorial bears the names of each of the fifty-one victims of the accident.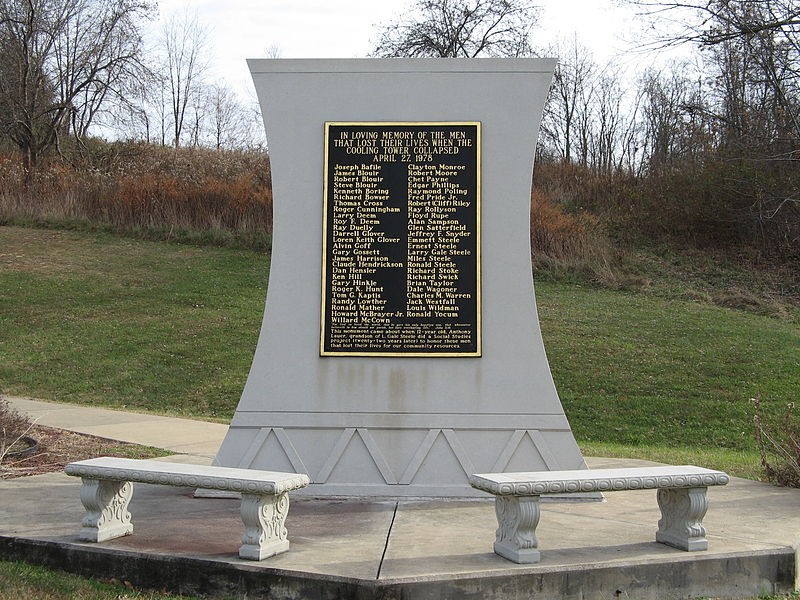 Initial news reports of the accident from a local paper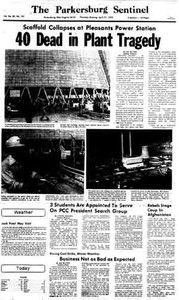 Backstory and Context
The Willow Island cooling tower that partially collapsed on April 27, 1978 was one of two under construction for a larger power plant being constructed by Allegheny Power System (now First Energy) adjacent to the utility's Willow Island Power Station in Pleasant County, West Virginia.

Concrete work on Tower Number Two had reached a height of 166 feet on the day of the accident. As workers were preparing to pour a new layer of concrete just after 10 a.m., concrete from the previous day's pours started to unwrap from the tower. As a result, concrete, wooden forms and metal scaffold supporting the 51 workers began to collapse inward toward the hollow center of the tower. All of the workers - many of whom were area residents working on the job - fell to their deaths. One family experienced the loss of 10 family members in the accident: four of five sons, a brother, two brothers-in-law, and three nephews.
Federal reviews and investigations of the accident by the Occupational Safety and Health Administration (OSHA) and National Bureau of Standards determined the most probable cause of the collapse was due to construction loads being imposed upon the shell before prior concrete pours had gained adequate strength to support these loads.
Three construction companies involved in the project faced significant federal fines and possible criminal charges following the accident. However, a federal grand jury returned no criminal indictments after hearing evidence in the case.
Sources
Casto, James E. "Willow Island Disaster." e-WV: The West Virginia Encyclopedia. 19 November 2010. Web. 02 May 2014. Hai S. Lew; S. G. Fattal; J R. Shaver; T. A. Reinhold; B. J. Hunt; "Investigation of Construction Failure of Reinforced Concrete Cooling Tower at Willow Island, West Virginia (NBS IR 78-1578)" 30 November 1979. Web. 02 May 2014.
Additional Information