Halltown Union Colored Sunday School
Introduction
Located next to the Halltown Colored Free School, this Sunday school was built in 1901. It served both the local black community and a local African-American non-denominational congregation until 1967.
Images
Halltown Union Colored Sunday School in 2008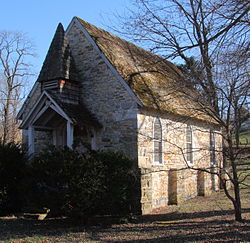 Backstory and Context
Built in 1901 on the land of freed slave Thomas Edwards, this Sunday school was erected next to Edward's Halltown Colored Free School to serve his large family and the small African-American populace.
The portion of the land given to Edward's for the Sunday School came from former state supreme court justice Daniel B. Lucas, whom was also desiring a church for the local African-American community.
Laborers from the Charles Town and Harpers Ferry areas came down to work on the Sunday School.
Besides functioning as a church, the Sunday school was also involved in the community buy way of weddings, funerals, community and social events. It was in operation for over 50 years.
In 1982, the Halltown Memorial Chapel Association, INC purchased the structure and restored it.
Additional Information