Halltown Colored Free School
Introduction
From 1870-1929, this school served African-American children. It was later converted to a private residence and is today owned by a non-profit organization that hopes to use the facility for educational purposes and as a window to understanding history of education during the era of Jim Crow.
Images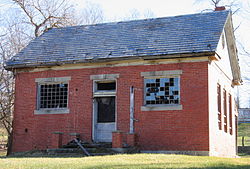 Backstory and Context
Prior to 1870, Halltown had about 100 residents with a small African-American community. This small group had no school or church for use due to segregation laws in place. Thomas Edwards, a freed slave, was able to purchase land from a Virginia Lucas. On this land also was built the Halltown Union Colored Sunday School in 1901 by laborers from the region. Edwards, using his own money and taking time off to help, and local 'Black males' worked on the regular school. Both schools are on the same lot. The school was originally intended to be used to educate Edwards' large family.
The school suffered from low enrollment from the start. Edward's daughter, Ada R. Shelton (Edwards) and her family teamed up with Edward's granddaughter, Olive P. Braxton (Shelton), and her family, to increase enrollment. The building ceased as a school in 1929. From then on for a time, Ada and her family used the building as a private residence.
The building was eventually abandoned as a residence, and is today owned by the Halltown Memorial Chapel Association, INC. In 1980, it was listed in the NRHP.
Additional Information