Tomlinson Mansion
Introduction
Built in 1839 by local politician Joseph Tomlinson III, the Tomlinson Mansion is the oldest home in Williamstown, West Virginia. It is a two-story building in the shape of the letter "L" with a slate-covered gable roof. Already a member of the reputable Tomlinson family of Moundsville, Joseph III and his wife, Susannah McMahon, frequently opened their home for social gatherings. One of their most notable guests was John James Aubudon during his tour for his 'Birds of America' paintings.
Images
Photo of the Tomlinson Mansion.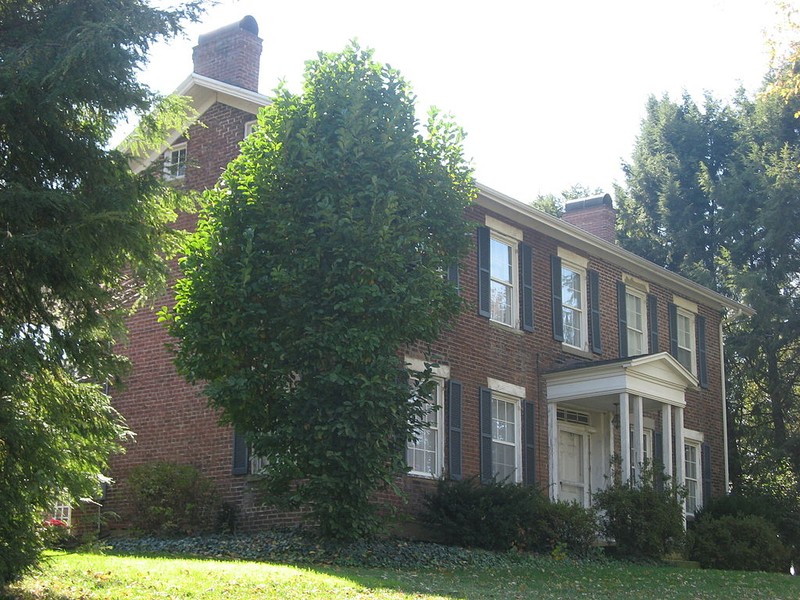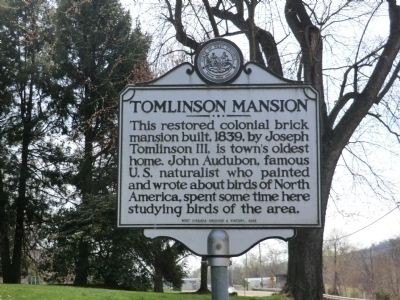 Backstory and Context
Joseph Tomlinson III was the son of Joseph Tomlinson I and the brother of Joseph Tomlinson II. He was born in what is now called Cumberland, Maryland after the family had moved from Moundsville due to the looming threat of Native American attacks. Joesph III was raised in the Williamstown area where he built a log cabin on land given to him as a gift by his father in 1809. As the area grew in population, Joseph III gained the respect of his peers becoming Justice of the Peace and sheriff in Williamstown. He also served a year as a representative in the Virginia legislature.
The log cabin that Joseph III owned burned down in 1838 which made way for construction of the present Tomlinson Mansion in 1839. Susannah McMahon, Joseph III's wife, would host social gatherings at the mansion which made it the big social spot of the Ohio Valley. Before his death, Joseph III passed down ownership of the house to his only daughter, Elizabeth. Elizabeth married George W. Henderson which transferred ownership over to the Henderson Family until the 1970's. Pat Love and her husband would then purchase the mansion and try to restore it to good shape. They accomplished this goal putting the mansion on the U.S. National Register of Historical Places in 1974. Pat Love was quoted saying;
"We moved down there to that place and I thought I was just in heaven, because it was so big."
The Love couple sold the house to Daniel and Carol Huff in 1985 and the couple only lived in the house part-time.
There was another Tomlinson Mansion built in Stratford, New Jersey in 1844. Up until 2015, the mansion was used to hold elementary classes for Stratford Classical Christian Academy. The 11-acre land the mansion sits on was purchased for $1.3 million dollars by a developer which wishes to build a senior complex on the site and sending local historians in a frenzy that the building was set to be demolished. This started an initiative by local preservers in order to save the Tomlinson Mansion from being destroyed. There was a Facebook group started in support of saving the historical home and an online petition that has received over 2,000 signatures.
Sources
Strunsky, Steve. "Historic N.J. mansion could be restored as part of senior complex, not razed to make way for it," NJ Advanced Media . September 27th 2020. Accessed May 5th 2021. https://www.google.com/amp/s/www.nj.com/camden/2020/09/historic-nj-mansion-could-be-restored-as-part-of-senior-complex-not-razed-to-make-way-for-it.html%3foutputType=amp.
The Parkersburg News and Sentinel Newsletter. "Tomlinson Mansion has historic memories,"The Parkersburg News and Sentinel . November 23rd 2014. Accessed May 5th 2021. https://www.newsandsentinel.com/news/local-news/2014/11/tomlinson-mansion-has-historic-memories/.
Image Sources
"Tomlinson Mansion." The Historical Marker Database. Accessed October 8, 2020. https://www.hmdb.org/m.asp?m=73512.

Additional Information