Orange County Regional History Center
Introduction
Located in the historic Orange County Courthouse that was built in 1927, this five-story museum serves as the headquarters of the Historical Society of Central Florida. Exhibits throughout the museum display nearly 12,000 years of Central Florida history. There is also an outdoor park, called the Heritage Square that is available for events. A free audio-tour of the History Center's permanent exhibits is available at admissions.
Images
The History Center offers three fun-packed floors of smart, surprising, and fun activities for the whole family to enjoy.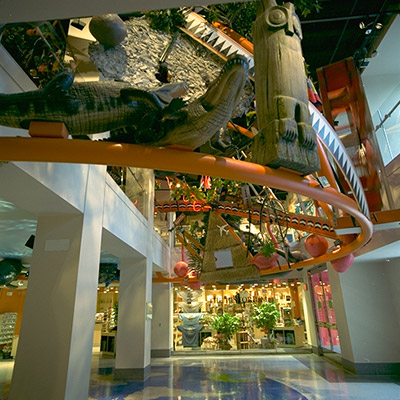 Backstory and Context
As well as being a historically significant building, the Orange County Courthouse was home to one of the twentieth century's most famous murder cases. This courthouse is where the famous serial killer Ted Bundy was tried for the murder of Kimberly Leach. The trial began on January 7, 1980 and reached a guilty verdict on February 7. Julius Africano and Lynn Thompson, the defense attorneys, unsuccessfully fought for a plea of "not guilty", arguing that Bundy was insane. Bundy carved his name into the table where he sat during the trial.
The Orange County Regional Center tells the story of Orlando outside of the famous theme parks for which it is so well known. The museum tells this story in a variety of ways, one of which is its "Orlando Remembered" gallery. Currently, this gallery tells the story of citrus workers during the Great Depression. Although the Great Depression officially began in the nation with the 1929 Stock Market Crash, Florida receded into a depression, due in part to the end of the Florida Land Boom, as early as 1926. Then, in 1929, the same year as the Stock Market Crash, the citrus industry in Florida suffered a huge loss due to an infestation of Mediterranean fruit flies Migrant workers flocked to South Florida for work during harvest season.
The "Orlando Remembered" gallery also tells the story of the famous Peabody Hotel ducks and the practice of sending friendship dolls between Japan and the US during the late 1920s.
The permanent collection also includes exhibits exploring Florida's natural environment, it Native American history, its industry, and its aviation history. Check the website for latest updates on temporary exhibitions
Sources
https://www.thehistorycenter.org http://orlando.about.com/od/museums/a/historycenter.htm http://en.wikipedia.org/wiki/Old_Orange_County_Courthouse_(Florida) https://www.floridamemory.com/photographiccollection/photo_exhibits/migrant/
Additional Information