U.S. Army Sergeant Richard Bowry Memorial Bridge
Introduction
On March 5, 1865 in Waynesboro, Virginia, Army Sergeant Richard Bowry (also known as Boury), of the Company C in the 1st West Virginia Cavalry, serving under Brigadier General George A. Custer and Major General Philip Sheridan, captured a Confederate flag during battle. Bowry captured the flag having been shot in the leg, with the ball remaining lodged in his boot. Bowry was from Mineral Wells, Virginia (now West Virginia), and a bridge over I-77 is named in his honor. Bowry was one of the first West Virginians to be awarded the Congressional Medal of Honor, awarded on March 26, 1865.
Images
Woody Williams at the ceremony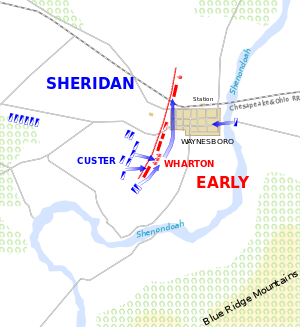 Backstory and Context
The dedication of the bridge in Bowry's honor took place in June of 2013 after Bowry's great-great-grandson petitioned the State House of Delegates. At the ceremony were Marine Corps League Detachment 1087, local politicians, state delegates, and a battery for a canon salute. Fellow Medal of Honor Recipient Hershel "Woody" Williams served as the keynote speaker and illuminated those present that "a unit flag was one of the most prized possessions asit was the identity of the unit that flew it … losing it was considered a disgrace and demoralizing to the people who served under that flag."
Bowry was born on June 15, 1830 in Monroe County, Ohio, and enlisted in the 1st West Virginia Cavalry at the Wirt Courhouse. The regiment contained 14 members who later were awarded the Medal of Honor, the most from any regiment during the Civil War. Bowry's capturing of the CSA flag was seen by Congress as "extraordinary heroism" in the award.
According to Woody Williams, "for the thousands of people who will travel over this bridge for years to come, the name of Richard Bowry will say to them, 'I served America in time of great turmoil. It also said I served her with honor,'" and that without context on the bridge marking by the Division of Transportation, Bowry's heroism goes underappreciated, "Mr. Bowry risked his life to do the thing his citation said he did. There needs to be more."
If you find yourself crossing this bridge in Mineral Wells, and see his green sign with white letters, remember his bravery and sacrifice. Modern visitors should expect a brief sign marking this man's heroic deeds, interstate, and a nearby McDonalds.
Additional Information