Thomas Wolfe State Historical Site
Introduction
Novelist Thomas Wolfe spent a decade of his childhood here in his mother's Asheville boardinghouse. Called "Old Kentucky Home" the house was patronized by summer tourists and health seekers during the early years of the 20th century. These boarders would later inspire many of the colorful characters in Wolfe's 1929 novel, Look Homeward, Angel. The house itself was recast as "Dixieland" and would provide much of the setting for the story. Today, tours of the Old Kentucky Home provide a glimpse into Asheville's early rise to prominence as a resort for health and recreation as well as the stories associated with Thomas Wolfe's colorful and turbulent childhood here. An adjacent visitor's center and museum contains a self guided exhibit hall and 22 minute film presentation on Wolfe's life and writings.
Images
Thomas Wolfe State Historical Site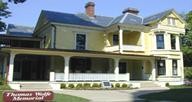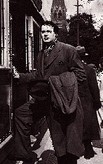 Old Kentucky Home/Thomas Wolfe Memorial in 1906. Thomas Wolfe as a child is siting on stone wall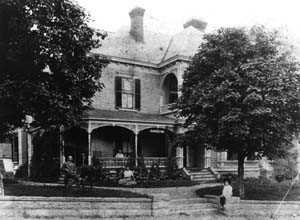 LOOK HOMEWARD, ANGEL. 1929. Thomas Wolfe's debut. The Old Kentucky Home would be immortalized in this novel. Wolfe changed the name to "Dixieland" in the novel.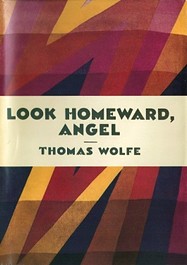 Back of Thomas Wolfe Memorial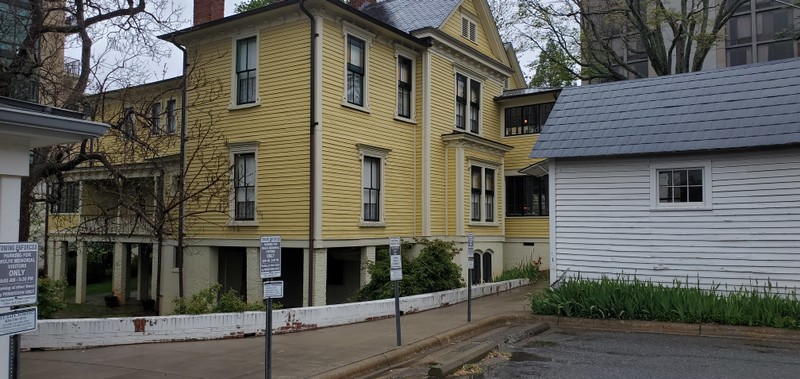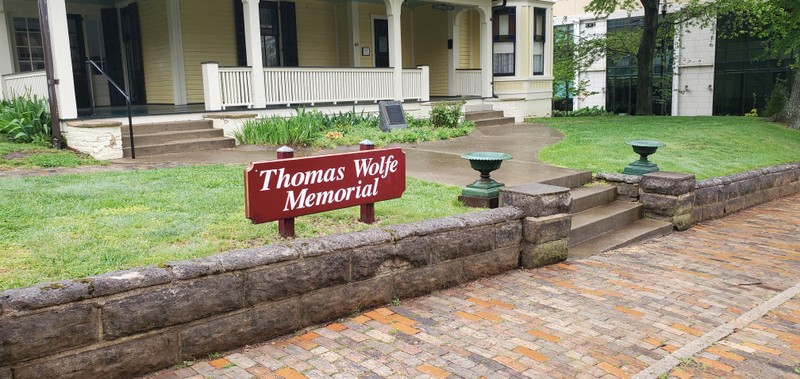 Front of Thomas Wolfe Memorial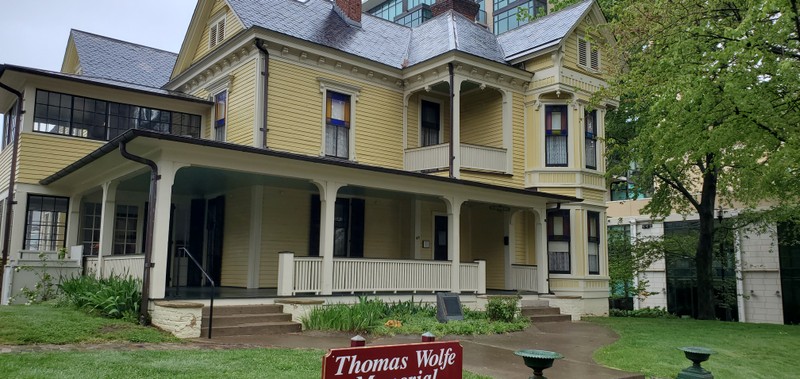 Thomas Wolfe Memorial Visitor Center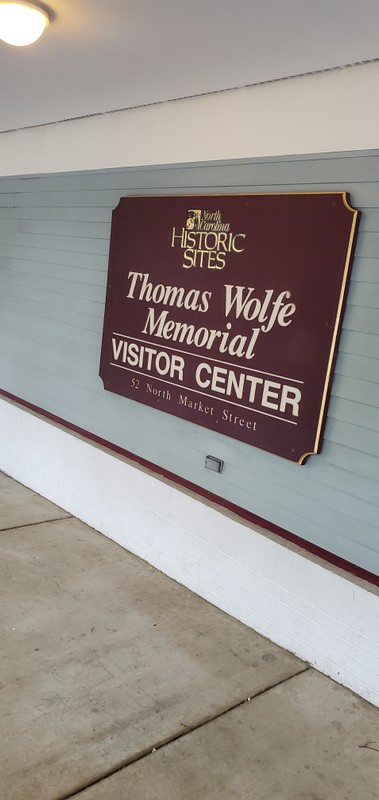 Thomas Wolfe Memorial Visitor Center Information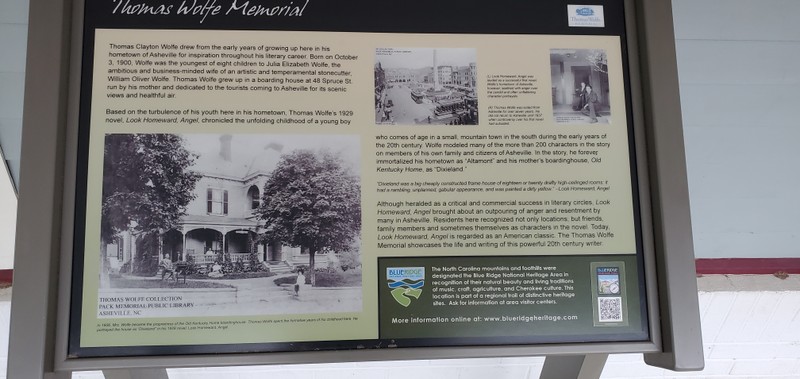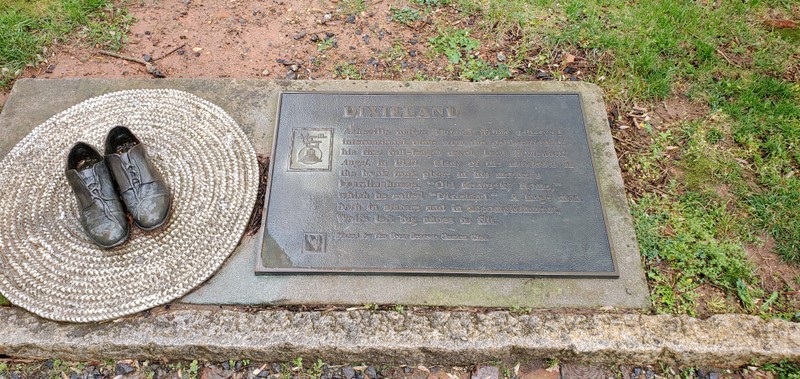 Backstory and Context
*From Thomas Wolfe Memorial website:
"Thomas Wolfe left an indelible mark on American letters. And his mother's boardinghouse in Asheville, North Carolina—now the Thomas Wolfe Memorial—has become one of literature's most famous landmarks. Named "Old Kentucky Home" by a previous owner, Wolfe immortalized the rambling Victorian structure as "Dixieland" in his epic autobiographical novel, Look Homeward, Angel. A classic of American literature, Look Homeward, Angel has never gone out of print since its 1929 publication, keeping interest in Wolfe alive and attracting visitors to the setting for this great novel.
Thomas Clayton Wolfe, the youngest of eight children, was born October 3, 1900, at 92 Woodfin Street in Asheville. His father, William Oliver Wolfe (1851-1922), was descended from hardy Pennsylvania German-English-Dutch farmers; his mother, Julia Elizabeth Westall Wolfe (1860-1945), was a third-generation North Carolinian of Scots-Irish-English stock. Surprisingly, Julia Wolfe did not operate the boardinghouse because of financial need. W. O. Wolfe made enough money from the tombstone shop he owned and operated on Asheville's city square to support the family. But former teacher Julia was obsessed with the real estate market and used profits from the boardinghouse's operation to buy more property. A shrewd and hard-nosed businesswoman, Julia Wolfe was remembered as a "driver of hard bargains" by family members.
The sprawling frame of the Queen Anne-influenced house was originally only six or seven rooms with a front and rear porch when it was constructed in 1883 by prosperous Asheville banker, Erwin E. Sluder. By 1889, additions had more than doubled the size of the original structure, but the architecture changed little over the next 27 years. In Look Homeward, Angel Thomas Wolfe accurately remembered the house he moved into in 1906 as a "big cheaply constructed frame house of eighteen or twenty drafty, high-ceilinged rooms." In 1916, Wolfe's mother enlarged and modernized the house, adding electricity, additional indoor plumbing, and 11 rooms. Thomas Wolfe would leave Asheville to attend University of North Carolina Chapel Hill at the young age of fifteen. After he graduated his mother urged him to return home but instead he continued his education at Harvard where he studied to become a playwright.
Today the boardinghouse where Thomas Wolfe spent his childhood and adolescence feature furnishings that evoke the daily routine of life in both fact and fiction. In Wolfe's second novel, Of Time and the River (1935), 14 years before the "Old Kentucky Home" became a memorial, Wolfe already had intuitively assessed the house's true importance. He said his mother's "old dilapidated house had now become a fit museum." It is preserved almost intact with original furnishings arranged by family members very much the way it appeared when the writer lived there. Memories, kept alive through Wolfe's writings, remain in each of the home's 29 rooms.
Thomas Wolfe was perhaps the most overtly autobiographical of this country's major novelists. His boyhood at 48 Spruce Street shaped his work and influenced the rest of his life. So frank and realistic were his reminiscences that Look Homeward, Angel was banned from Asheville's public library for over seven years. Today Wolfe is celebrated as one of Asheville's most famous citizens, and his boyhood home has become a part of our nation's literary history.
Of Time and the River was a continuation of Look Homeward, Angel and Wolfe's last two major novels (published posthumously), The Web and the Rock (1939) and You Can't Go Home Again (1940), followed the events of his life in New York and Brooklyn, his wandering travels through Europe, his success as a novelist, and his final sad revelation of "you can't go home again." Thomas Wolfe died in the prime of his life of tubercular meningitis on September 15, 1938, 18 days short of his 38th birthday.
Wolfe's mother lived in the "Old Kentucky Home" until her death in 1945. Four years later her surviving sons and daughters sold the house to a private organization, the Thomas Wolfe Memorial Association, and it opened to the public as a house museum on July 19, 1949. The association continued to operate the memorial until 1958, when it was taken over by the City of Asheville. On January 16, 1976, the North Carolina Department of Cultural Resources acquired the property." In 1998 the house sustained fire damage and the house was shut down to the public for several years to restore the property. It was finally reopened in 2004 and remains open today.
Sources
Biography of Thomas Wolfe. Retrieved May 02, 2021, from https://historicsites.nc.gov/all-sites/thomas-wolfe-memorial/history/biography-thomas-wolfe
Lathan, S. (2012, October). Thomas Wolfe: Chapel Hill days and death from tuberculosis. Retrieved May 02, 2021, from https://www.ncbi.nlm.nih.gov/pmc/articles/PMC3448571/
Mitchell, T. Thomas Wolfe Memorial. Retrieved May 02, 2021, from https://www.ncpedia.org/thomas-wolfe-memorial
Thomas Wolfe House-- Asheville, North Carolina: A National Register of Historic Places travel itinerary. Retrieved May 02, 2021, from https://www.nps.gov/nr/travel/asheville/wol.htm
Thomas Wolfe. Retrieved May 02, 2021, from https://www.britannica.com/biography/Thomas-Wolfe
Additional Information