Fort Parker, near Groesbeck, Limestone County, Texas and the Fort Parker Massacre
Introduction
A massacre took place at Fort Parker in May 1836 which had been constructed in 1834 by Elder John Parker and his sons and other members of the "Pilgrim Predestination Baptist Church came from Crawford County, Illinois in 1833." settling and The Fort was named after the family . A peace treaty had been arranged with local indians living near the settlement but apparently did not This treaty did not include Indians of the "Comanches, Kiowas, Caddoes, and Wichitas. tribes. Many member of the Parker family were slain or kidnapped. One young girl kidnapped was Cynthia Ann Parker the future mother of Quanah Parker who would later become Chief of the Comanches The original Fort was build with walls 12 feet high surrounding four acres. There were Blockhouses placed on two opposite corners for lookouts. Cabins were built against inside walls. Portions of the old fort have been reconstructed. There are guided tours through the Fort with re-inactments, and trail rides available in season. Seasonal events take place at the Fort near Halloween and Christmas. Other seasonal events are scheduled throughout the year.
Images
Cynthia Ann Parker with her daughter, Prairie Flower, about 1861.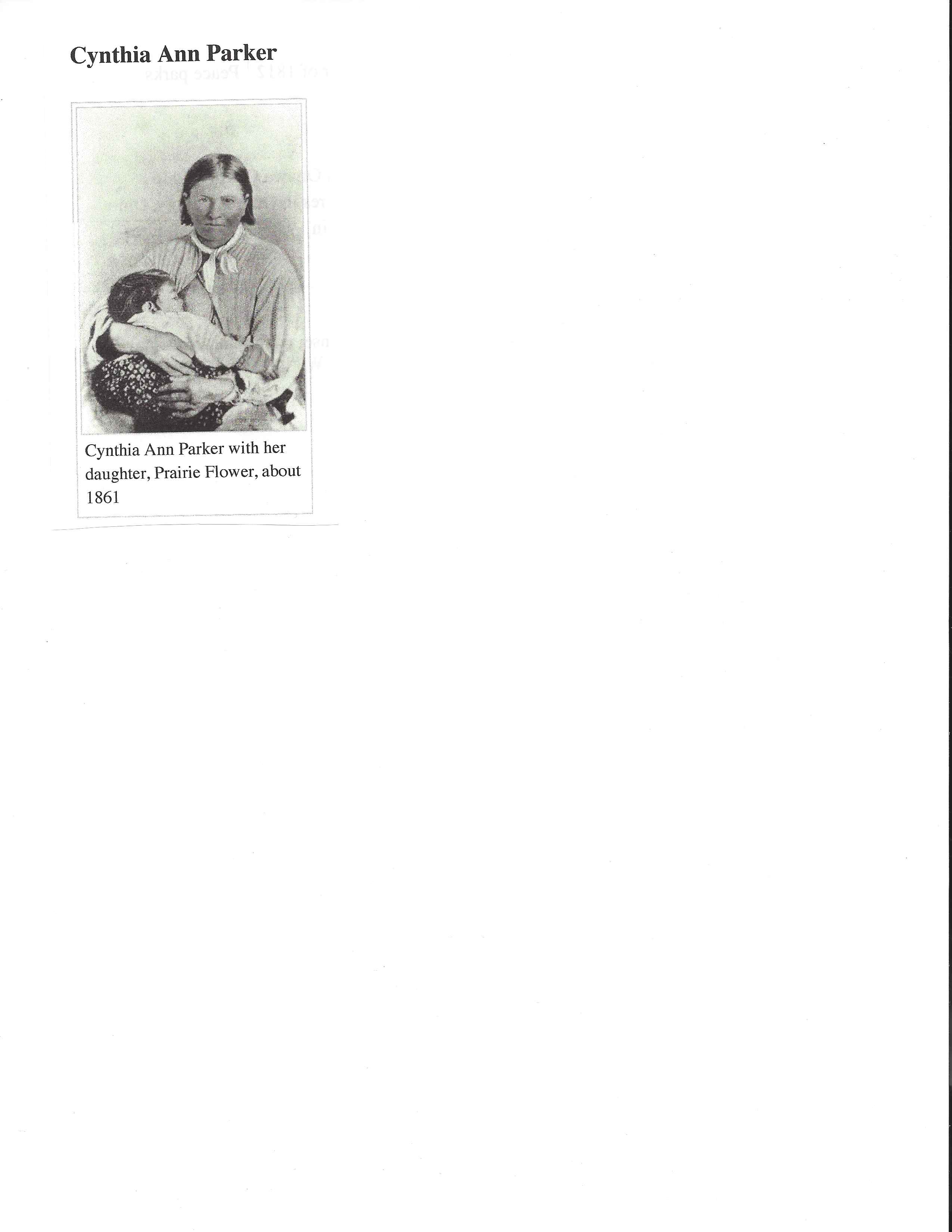 Fort Parker, Groesbeck, Limestone County, Texas
Backstory and Context
Fort Parker was established in Limestone County, Texas in 1834 and is about 2 miles west of present day Groesbeck, TX.

This was a religious group of the "Pilgrim Predestinarian Baptist Church of Crawford County, Illinois." When the group arrived in Texas the group split into two with Elder John Parker's group settling near the Navasota River in present Limestone County Texas. The fort was built in 1834 with a 12-foot walled stockade and two Blockhouse lookout towers built for protection against the Indians. Most of the residents were John and Sarah Parker's children, grandchildren and other extended family members.

Settlers had began to build homes and farm the land outside of the fort. A peace treaty had been signed with the local indians living near the fort. In May 1836 a large party of indians attacked the Fort under a false approach using a white flag. The indians gained access to the Fort killing many of the family and kidnapping others. It is believed that the Fort Parker residents "...had allowed a Texas Ranger company to use the Fort, perhaps not understanding that many Native Americans regard the Rangers with hatred for their Indian fighting." This prompted the war party to attack the fort.

One of those kidnapped was 9 year old Cynthia Ann Parker, grand daughter of Elder John Parker. Cynthia Ann lived with and married Comanche Chief Peta Nocona for 25 years. She was the mother of three of his children. A son, Quanah Parker was later to become Chief of all the Comanche Tribes. Peta Nocona was later killed by Texas Rangers at the Battle of Pease River. Cynthia Ann was captured by Texas Rangers at the Battle of Pease River in 1860. She was identified by her Uncle Isaac Parker and brought back to live with family. She was never able to re adjust to living in the white society and starved to death after her daughter, Prairie Flower died from pneumonia.

Quanah Parker. "...became a leader of the Quahadi Comanche" who were the last tribe left in the Texas Stake Plain area. He became Chief of all Comanche after surrendering and moving to the Reservation near Fort Sill, Oklahoma.

Cynthia Ann Parker, her daughter Prairie Flower, and Quanah Parker are buried at Fort Sill military cemetery in Lawton, Oklahoma. Other Parker family members moved west with some settling in the Hurst, TX area where they are buried in the Parker Cemetery.


Sources
Historical Markers Limestone County http://forttours.com Fort Parker, Texas Historic Site http://en.wikipedia.org fortparker www.hursttx.parkercemetery http://www.oldfortparker.org