Fort Sam Houston Quadrangle
Introduction
Built in 1876, the Quadrangle is the oldest building a part of Fort Sam Houston, the headquarters for the 5th United States Army. The building was created to serve as a supply depot, but the piece of history it is most known for is that in 1886, it imprisoned Geronimo, the war chief of the Apache tribe. In the center of the Quadrangle, there is a 19th century clock tower. The Quadrangle is open to the public and draws many visitors who enjoy its serene atmosphere and the resident animals such as deer, peacocks, guinea fowl, ducks and geese. The fort itself is listed on the National Register of Historic Places and is a National Historic Landmark.
Images
Quadrangle Plaza, Fort Sam Houston (postcard, circa 1890–1924) Image from the University of Houston Digital Library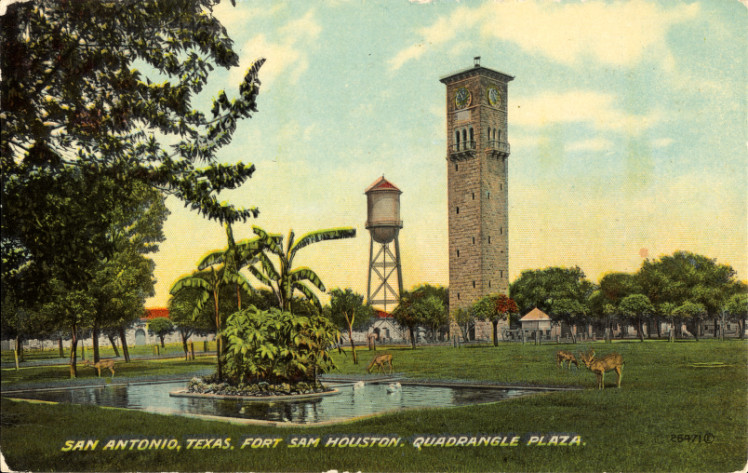 A resident peacock with clock tower in the background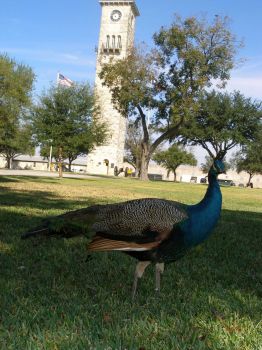 Backstory and Context
Today, the Quadrangle is the headquarters for the U.S. Army North, but originally, it was built for storing housing supplies and then later serving as the arsenal. It is the oldest structure a part of Fort Sam Houston.
After his surrender in Arizona, the Quadrangle contained Geronimo, the Apache chief, and 31 of his men for six weeks. According to legend, the deer that now frequent the area were said to have been brought there in order to make Geronimo "feel more at home." Another variation is that the deer were brought there for them to hunt for meat because they refused to eat the food the Army provided to them. Of course, this is only speculation, and it remains a mystery why the deer as well as various other animals have made the Quadrangle their home.
According to the National Park Service, "In 1898 the fort served as a rendezvous for Col. Leonard Wood and Lt. Col. Theodore Roosevelt's 'Rough Riders,' before their departure for Cuba during the Spanish American War. The fort also supplied the men and materials for Brig. Gen. John J. 'Black Jack' Pershing's campaign against Pancho Villa in 1916. "
And According to the website for Fort Sam Houston, "The post is the birthplace of military aviation and saw the development of the concept of airborne operations. The post evolved into the 'Home of Army Medicine' after World War II and into the 'Home of Military Medicine' with the establishment of the Medical Education and Training Campus in 2010."
Sources
"Fort Sam Houston Quadrangle." Information San Antonio. Accessed June 2, 2015. http://www.informationsanantonio.com/toseeanddo/sanantonioattractions/quadranglesanantonio.html.

"History of Fort Sam Houston." For Sam Houston. Accessed June 2, 2015. http://www.samhouston.army.mil/history.aspx.

"The Quadrangle." Atlas Obscura. Accessed June 2, 2015. http://www.atlasobscura.com/places/the-quadrangle.

Additional Information