Edward Steves Homestead
Introduction
The Edward Steves Homestead is a part of the historic King William District. Built in 1876, the victorian mansion was home to the founder of the Steves Lumber Company, Edward Steves, who with his wife, moved to San Antonio from Germany. It is speculated that popular San Antonio architect Alfred Giles was the the designer of the home. The house is made of ashlar limestone and is reminiscent of the French Second Empire and the Italian Villa styles. Today, the home is maintained by the San Antonio Conservation Society and serves as a museum open to the public for historic tours.
Images
Front Exterior of Steves Home "Edward steves homestead" by Larry D. Moore. Licensed under CC BY-SA 3.0 via Wikimedia Commons - http://commons.wikimedia.org/wiki/File:Edward_steves_homestead.jpg#/media/File:Edward_steves_homestead.jpg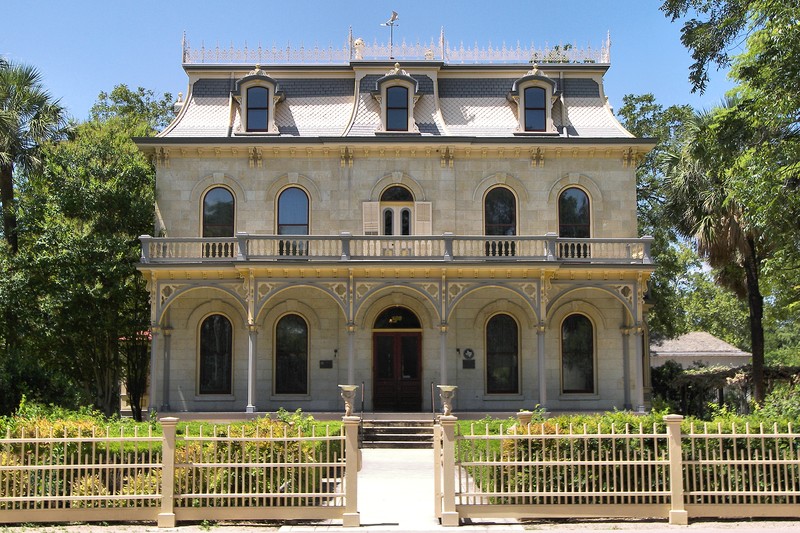 Backstory and Context
The homestead was donated to the San Antonio Conservation Society by the granddaughter of Edward Steves, Edna Steves Vaughn, in 1952. The homestead has been restored to its original French Second Empire style and furnished with time-appropriate pieces. Some of the furniture featured are a mosaic table displaying an image of St. Peter's Square in Vatican City as well an 1857 Chickering and Sons grand piano, which was donated by Yale University.
In addition to the main house, the property includes a carriage house, servants quarters and a brick structure known as "The River House." The carriage house is even older than the main house dating back to 1875. The stone structure was restored in 1976 and 1977. In 1877, the servants quarters were added to the property and housed a gardener and stable boy; in 1983 and 1984, the quarters were restored and are now where tour tickets are sold.
The River House was a natatorium--the first in San Antonio. According to the San Antonio Conservation Society, "The pool was brick-lined and filled by an artesian well located on the property. Local tradition relates that Mrs. Steves swam every day at two o'clock no matter what the weather. " The pool has been covered with flooring, and the San Antonio Conservation Society hosts events and activities there.
Sources
https://www.saconservation.org/EducationTours/HistoricalTours/tabid/130/ArticleID/59/ArtMID/560/Edward-Steves-Homestead.aspx http://en.wikipedia.org/wiki/Edward_Steves_Homestead
Additional Information