Young Men's Institute
Introduction
Built in 1893, the Institute served as an African-American equivalent to the YMCA. Philanthropist and resident, George Vanderbilt ordered and paid for the construction of the YMI while also building a lavish home in Asheville. The institute served as a community center and a temporary church for some local congregations. It also served as a school.
Images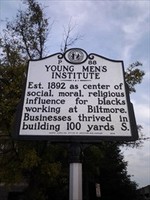 The YMI circa 1915. Courtesy of D. H. Ramsey Library, Special Collections, University of North Carolina at Asheville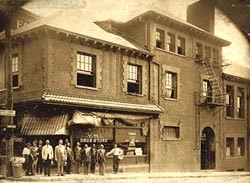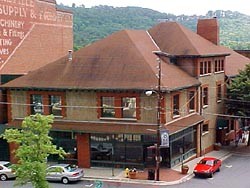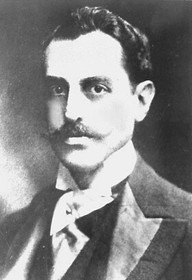 Backstory and Context
During construction of his lavish home in Asheville, George Vanderbilt (1862-1914) established a community center for his African American workers and for residents of the town. The building, constructed between 1892 and 1893, was designed by Richard Sharp Smith, supervising architect of the Biltmore House. The center, known as the Young Men's Institute (YMI), held an organizational meeting in February 1893.

The YMI offered the Black community speakers, a gym, bathing facilities, and classes for youths and adults. By 1910 the organization even had its own orchestra. In addition, churches, schools, and civic organizations were permitted to use the venue for special events. Church congregations used the YMI space for their worship services when needed. A variety of businesses and institutions utilized the YMI building over the years. African American professionals, such as Dr. James A. Byron, one of Asheville's first Black physicians, kept offices at the YMI building. The Asheville Public Library operated a branch there from 1926 until 1966.

Vanderbilt in time separated himself from the YMI and in May 1906 it was incorporated with 49 of Asheville's Black leaders as members. Although the organization was not able to raise enough money to purchase the property outright, they garnered $10,000 and secured a mortgage for the remainder.

While the YMI thrived for three decades, the Depression took its toll. In the early 1940s the YMI ceased to operate and the building fell into disrepair. Reorganization of the YMI took place in March 1944. Money was raised to restart programs and renovate the building, and it reopened a year later. In 1946 the South Market Street Branch of the Young Men's Christian Association (YMCA) purchased the property and carried on the recreational aspects of the YMI.

The neighborhood had deteriorated by the 1970s and in 1977 the building was condemned. The African American community in Asheville rallied to save the structure and was able to get it placed on the National Register of Historic Places in July 1977. Renovations were completed in 1988 and today the YMI Cultural Center operates the facility, offering cultural arts, economic development opportunities, and community education. There is also an auditorium, a museum, and community meeting space.
Additional Information