Adobe Walls Battleground
Introduction
The location of Col. Kit Carson's greatest fight and the largest Indian battle of the Civil War has long been forgotten by many. It now remains a little-known ghost town northeast of Stinnett in the plains of the Texas Panhandle. Established in 1843 as a trading post for buffalo hunters, Adobe Walls was the site of two considerable battles with the Native Americans and is now the resting place of civilian Medal of Honor recipient Billy Dixon. His grave as well as several monuments and markers can be visited here.
Images
The trading post of Adobe Walls.

The view of Adobe Walls today.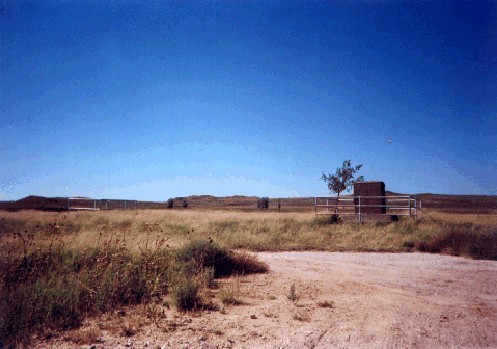 A historical marker for the First Battle of Adobe Walls.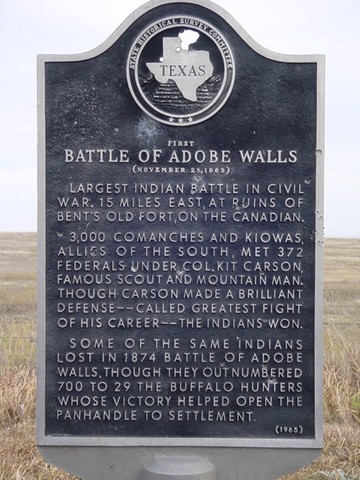 A monument for the Indian warriors killed in the second battle of Adobe Walls.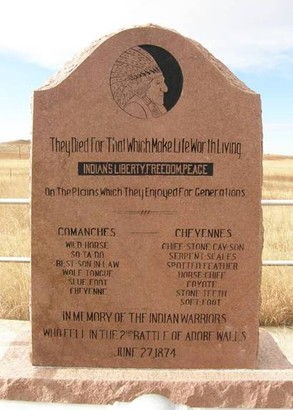 Map and directions to Adobe Walls, Texas.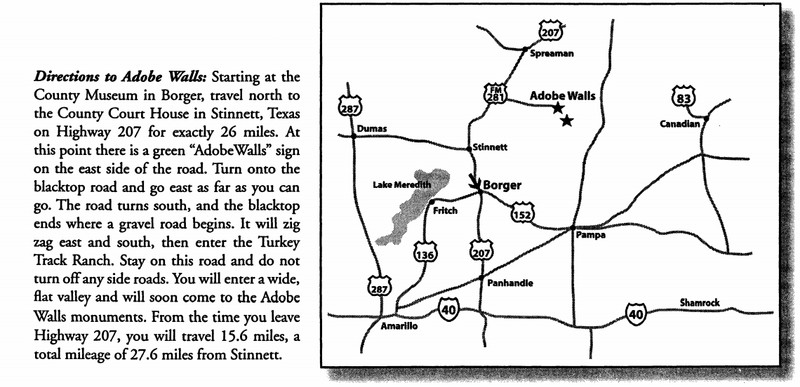 Backstory and Context
Adobe Walls was established in 1843 as a trading post for buffalo hunters near the Canadian River in Texas. It started as a cluster of log structures built by the trading firm of William Bent. In 1845, the log buildings were replaced with a single-entrance brick adobe fort called Fort Adobe. It closed only three years later and in 1849, after finding some of his livestock slaughtered by local Indians, was blown up with gunpowder by Bent. He left the Panhandle and by the time of the first battle of Adobe Walls, only the crumbling walls remained.

In 1864, Brigadier General James H. Carleton decided he needed to curb Indian attacks on white settlers traveling the Santa Fe Trail to New Mexico. He sent in Colonel Christopher "Kit" Carson to deal with the Kiowa and Comanche tribes that were rampantly raiding along the trail. Gathering 336 volunteers from California and New Mexico, Carson led an attack on a Kiowa village on November 25, 1864. The very next day, the Kiowa joined the Comanche to attack Carson and his men while they rested in the ruins of Fort Adobe. Even with the odds against them, Carson lost only three men while 60 Indians were killed. He was hailed as a hero and the First Battle of Adobe Walls was said to be one of the largest battles on the Great Plains.

Ten years later, in 1874, new buildings were built on the land including a few stores, a saloon, and a Blacksmith. Trade boomed in the Texas Panhandle. But the Indians that remained in the area saw the post and its buffalo hunting as a threat to their existence. On June 27, 1874, nearly 700 Comanche, Cheyenne, Kiowa, and Arapaho Indians attacked the trading post where William "Billy" Dixon and Bat Masterson were located. Even after four days of battle while being radically outnumbered, the Indians lost around 70 of their warriors and soon retreated. The small band of tradesmen and buffalo hunters were victorious in the Second Battle of Adobe Walls.

Following the battles, Adobe Walls received its first settlement and post office in 1887, with Billy Dixon being appointed its first postmaster. He ran the office out of his own home until 1901. It remained in operations until 1921, when the mail service moved to nearby Plemons. In 1929, Billy Dixon's remains were re-interred at the site. From 1940 to 1970 the Texas Almanac listed Adobe Walls as having a population of 15. On May 22, 1978, it was added to the National Register of Historic Places and in 1979, was recognized as a state archaeological landmark. It now remains an abandoned ghost town 17 miles northeast of the town of Stinnett, but much of its history lives on in the Hutchinson County Historical Museum in Borger, Texas.

Sources
"Adobe Walls, Texas," Wikipedia, last modified January 1, 2015, http://en.wikipedia.org/wiki/Adobe_Walls,_Texas. "Texas Legends: Adobe Walls - Buffalo & Battles," Legends of America, last modified June, 2013, http://www.legendsofamerica.com/tx-adobewalls.html. "Adobe Walls & Booming Borger," Hutchinson County Historical Museum, accessed May 30, 2015, http://www.hutchinsoncountymuseum.org/Adobe%20Walls%20Brochure2011.pdf.
Additional Information