Champaign County Historical Museum
Introduction
Established in 1972, and open to the public since 1974, this local history museum is now located in the city's first bank, known as the Cattle Bank because it provided loans to ranchers. The museum is open Thursday-Sunday and contains exhibits and artifacts related to the history and growth of Champaign, as well as the University of Illinois at Champaign-Urbana. The museum's "popcorn truck" is among the more unique artifacts in the museum's collection. The truck is actually the combination of a horse-drawn wagon built to serve popcorn in 1919 that was mounted to a Ford Model T truck chassis. After closing for renovations in 2015, the museum reopened in April 2017 with new exhibits and new plans for public outreach.
Images
The museum is currently housed in the oldest known commercial building in Champaign County: Cattle Bank, built in 1857.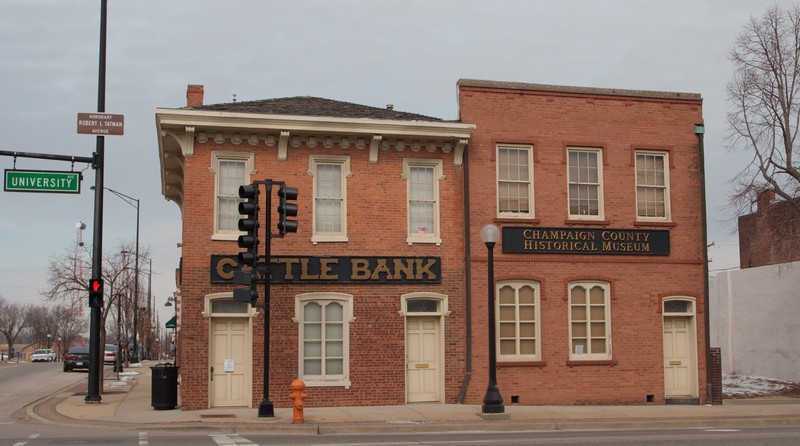 Backstory and Context
Since its 2017 reopening, the museum's three rotating exhibits are:
- "When We Went To War," an exhibit on life during WWII.
- "A Second Home - 150 Years of Student Living at the University of Illinois," an exhibit that explores student life, complete with model student housing from 1867, 1917, 1967 and 2017.
- "Champaign County History Uncrated," an exhibit centered around historical objects.
Sources
"About the Museum" and "1919 Cretor Popcorn Wagon." Champaign County History Museum. Accessed November 17, 2017. https://www.champaigncountyhistory.org/about. https://www.champaigncountyhistory.org/popcorn-wagon.

Wood, Paul. "A long time coming for Champaign County History Museum." The News-Gazette (Champaign, IL), April 30, 2017. http://www.news-gazette.com/living/2017-04-30/long-time-coming-champaign-county-history-museum.html.


Additional Information