The Jenkins Plantation
Introduction
The Jenkins Plantation Museum is the home of Albert Gallatin Jenkins, a lawyer and politician, who became a Confederate raider during the Civil War. The father of Albert Gallatin Jenkins, Captain William Jenkins, purchased the plantation home around 1826 and it remained in their family for years to come. Greenbottom, the location of the Jenkins home, is approximately fifteen miles north of what is now Huntington, West Virginia. It is said that the Greenbottom Plantation was one of the largest within the area, housing more than fifty enslaved persons within its borders that ran along the nearby Ohio River. When the trumpets of war began to sound in an area split between Northern and Confederate sympathizers and many others who hoped to avoid the potential destruction of civil war, Jenkins abandoned his post as a U.S. Congressman to support the Confederate States of America. As was common at the time, Jenkins' political prominence led to his appointment as an officer in the Confederacy. He helped to recruit and form the 8th Virginia Calvary regiment and became its Colonel. By 1862, Jenkins also became a member of the Confederate Congress and was later promoted to Brigadier General. Today, Jenkins is best known for his actions around Chambersburg, Pennsylvania leading up to the battle of Gettysburg where his men captured hundreds of free Black women and children with the purpose of taking them to Virginia where they were sold into slavery. These actions seem to have upset Confederate leadership, and Robert E. Lee issued an order banning the theft of property upon his arrival in Chambersburg shortly after Jenkins' actions. Jenkins died on May 21, 1864, from wounds sustained at the Battle of Cloyd's Mountain. He is interred within a Confederate plot at the nearby Spring Hill Cemetery, located in Huntington. Currently, neither the West Virginia Division of Culture and History or any other state agency has immediate plans to renovate and re-open the Jenkins Plantation to the public owing to the cost of such an ambitious project.
Images
The Jenkins Plantation prior to renovations by the Corps of Engineers.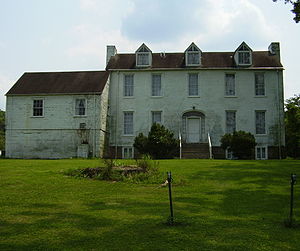 General Albert G. Jenkins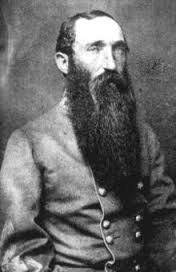 The Jenkins Plantation was built around 1835 and was restored as part of a US Army Corps of Engineer project.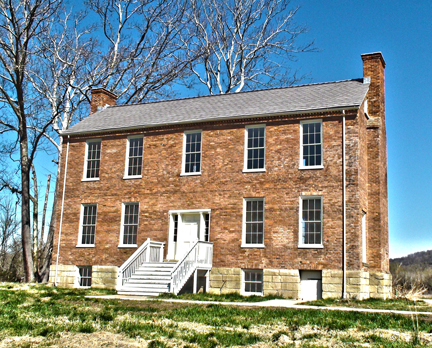 View of the house from the road.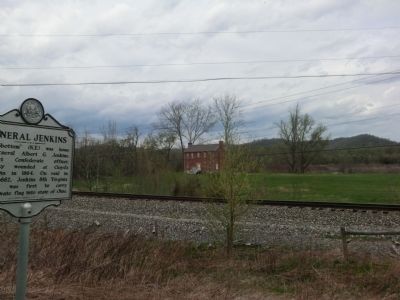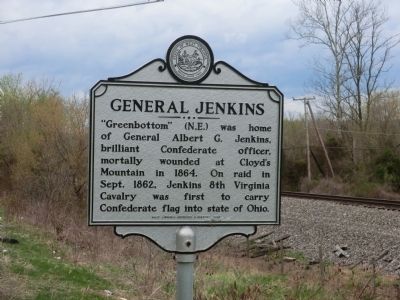 Backstory and Context
Green Bottom plantation is a 4,000 acre plot of fertile farmland stretching along the Ohio River upstream from Huntington, West Virginia. The lands composing Green Bottom were initially awarded to Joshua Fry for his participation in the French and Indian War. Later, around 1812, Virginia governor Wilson Cary Nicholas purchased the land and established a slave plantation. Sometime afterwards former Virginia governor William H. Cabell purchased the land and continued plantation operations. In 1820, 53 slaves lived and worked the plantation producing a variety of crops and livestock. In 1825, Captain William Jenkins, father of the famous General Albert G. Jenkins, purchased the land and moved to Green Bottom with his family and built a large brick mansion on the property. The family kept the plantation running and owned around 50 slaves.
Abolitionists white and Black were said to have plagued the area of Jenkins' plantation because of the various safe houses for the Underground Railroad in operation along the free banks of the Ohio River. According to Cabell County records in 1827, Jenkins was used by a local slave catcher by the name of James Shelton. Shelton accused Jenkins of not paying enough for the return of one of the latter's slaves captured by Shelton.
On November 10, 1830, a boy was born on the plantation who would play a pivotal role not only in West Virginia history, but the history of the United States, Albert Gallatin Jenkins. Around the age of eighteen, Albert Jenkins began his formal education and journey into the political spotlight. He was educated at Marshall College (present day Marshall University) and Jefferson College. He went on to study law at Harvard University and was admitted to the bar in 1850. In 1856 he served as a delegate at the National Democratic Convention held in Cincinnati. Between 1857 and 1861 he served as a United States Congressman in the 36th and 37th Congresses. In 1861, Jenkins gave a speech defending slavery and urged other residents of the area to support the Confederacy. Jenkins resigned from Congress, as did other Virginia politicians throughout the state of Virginia.
After leaving Washington, he returned home to Green Bottom and in April 1861 was elected captain of a company composed of one hundred and one riflemen nicknamed the Border Rangers. His company led raids in the Kanawha Valley region, and on August 11, 1862 Jenkins led a military campaign that would become known as Jenkins Raid. On that date, the Union army withdrew 5,000 troops that were stationed near Charleston, West Virginia, for use in other areas of conflict. General Jenkins sensed opportunity and led 550 men on a march to Salt Sulfur Springs in Monroe County to begin a campaign across the state.
His troops first marched to the Tygart Valley where they had a brief skirmish with Union forces near Huttonsville. On August 30, Jenkins' troops attacked and captured the town of Buckhannon. The next day, they took the nearby town of Weston. From there they moved to Glenville and then on to Spencer where on September 2 they surprised and captured several companies of the 11th West Virginia Infantry. They moved on to Ripley the next day and took the town without firing a shot. From there, Jenkins marched his men intndo Ohio and became to the first to raise a Confederate flag in the state. Their sweep of the state included towns in Mason County and Putnam County. On September 8th they returned to West Virginia and fought a small skirmish in the town of Barboursville. From there, they continued into Wayne, Logan, and Raleigh Counties. The Jenkins Raid showed that the Union forces in the area were vulnerable and on September 13, 1862 a large force of Confederates took the city of Charleston.
In 1863, Jenkins marched north into Pennsylvania. Jenkins and his men were tasked with reconnaissance and acquiring supplies that could assist Confederate forces as they invaded Pennsylvania. Instead, Jenkins and his men led raids that resulted in capture and sale of free people of color in Pennsylvania in Richmond. These actions limited his usefulness to the Confederate cause and caused Robert E. Lee and other leading Confederate officers to distrust Jenkins. Upon his arrival in Chambersburg, Lee issued an order against the kinds of raids Jenkins and his men had just conducted in that town.
Among the sources provided by historians was the Diary of Rachel Cormany, a resident of Franklin County witnessed Jenkins' actions firsthand and recorded them in her diary. On June 16, 1863, she recorded this passage:
June 16, 1863: Jenkins and his men were "hunting up the contrabands & driving them off by droves. O! How it grated on our hearts to have to sit quietly & look at such brutal deeds--I saw no men among the contrabands--all women & children. Some of the colored people who were raised here were taken along--I sat on the front step as they were driven by just like we would drive cattle. Some laughed & seemed not to care--but nearly all hung their heads. One woman was pleading wonderfully with her driver for her children--but all the sympathy she received from him was a rough "March along"--at which she would quicken her pace again. It is a query what they want with those little babies--whole families were taken. Of course when the mother was taken she would take her children. I suppose the men left thinking the women & children would not be disturbed. I cannot describe all the scenes"
Additional sources included a letter of Jenkins' own men and numerous other eyewitnesses collaborating these events. Numerous newspaper accounts were read by a historian at a public meeting, including the Lancaster Daily Express, June 20, 1863 which claimed that Jenkins and his men "went to the part of the town occupied by the colored population, and kidnapped all they could find, from the child in the cradle up to men and women of fifty years of age." 
On July, 2 Jenkins was wounded in the Battle of Gettysburg after being sent to a far flank of the battlefield by Lee. He recovered by the fall and went to work for the Confederate Department of Western Virginia. He was in charge of organizing large cavalry corps in West Virginia. In May of 1864 he was appointed Commander of the Department of Western Virginia. Upon hearing of a large Union force invading the Kanawha Valley, Jenkins took his men to Cloyd's Mountain where the Confederates suffered a devastating defeat. Jenkins was wounded at the battle and on May 24, 1864 he died of his wounds in the town of Dublin.
In 1976 controversy arose after it was discovered that the U.S. Department of Transportation may have covered up the graves of Jenkins' slaves during a road project to improve the W. Va. 2. An investigation was opened but concluded without a clear conclusion.
In 1978 Albert Jenkin's plantation at Green Bottom was added to the National Register of Historical Places. For many years afterwards it was opened to the public as the Jenkins Plantation Museum. In 2008 it was closed for renovations, which were partially completed in 2012. The plantation remains closed as it awaits further restoration.
Sources
The Jenkins Plantation Museum. (n.d.). Retrieved February 19, 2015, from http://www.wvculture.org/museum/JenkinsMod.html Nance, K. (n.d.). Green Bottom. Retrieved February 19, 2015, from http://www.wvencyclopedia.org/articles/2162 Dickinson, J. (n.d.). Albert Gallatin Jenkins. Retrieved February 19, 2015, from http://www.wvencyclopedia.org/articles/1005 McKinney, T. (n.d.). Jenkins Raid. Retrieved February 19, 2015, from http://www.wvencyclopedia.org/articles/1006 Johnson, F. (n.d.). The Civil War Record of Albert Gallatin Jenkins, C. S. A. Retrieved February 19, 2015, from http://www.wvculture.org/history/journal_wvh/wvh8-1.html West Virginia's African-American Heritage Trail. Published by the West Virginia Division of Tourism. Vertical Files Box # 74 (Schools-One Room TO Steamboats) Folder: Slavery. Two 5/24/1976 Huntington Advertiser articles "Slave Graves: Did road project cover up cemetery on local plantation?" and "Slave graves: They're here.". Located in Marshall University Special Collections.
Green, Hillary, "The Persistence of Memory: African Americans and Transitional Justice Efforts in Pennsylvania," in Paul Quigley and James Hardon, eds. Reconciliation After Civil Wars: A Global Perspective, New York: Routledge, 123-149.
Jacob Hoke, The Great Invasion of 1863; General Lee in Pennsylvania. Dayton, Ohio: W.J. Shuey, 1887. 
James C. Mohr (ed.), The Cormany Diaries: A Northern Family in the Civil War (Pittsburgh: 1982), pp. 329–30.
Letter of Isaac Reynolds, August 9, 1863. http://russellvets.org/letters/reynolds12.html
Lancaster Daily Express, June 20, 1863 
Wallace, George Selden. Cabell County Annals and Families. Richmond, VA. Garrett & Massie, Publishers, 1935.
Johnson, Flora Smith. The Civil War Record of Albert Gallatin Jenkins, C. S. A.. WV Division of Culture and History. July 01, 1947. Accessed May 03, 2017. http://www.wvculture.org/history/journal_wvh/wvh8-1.html.
Dickinson, Jack L. "Albert Gallatin Jenkins." e-WV: The West Virginia Encyclopedia. 07 December 2015. Web. 05 May 2017.
Nance, Karen N. Cartwright "Green Bottom." e-WV: The West Virginia Encyclopedia. 05 August 2016. Web. 05 May 2017.
Virtual Tour: Jenkins Hall. Marshall University. Accessed May 03, 2017. https://www.marshall.edu/campus/virtualtour.php?id=16.
Bozzoli, Carlos. Jenkins Hall. Marshall University Architectural Guide. Accessed May 03, 2017. http://www.marshall.edu/virtual-tour/google-earth-3d-tour/architectural/JenkinsHall.html.
In 1993, Ed Ayers led a team of scholars at the University of Virginia in the creation of the Valley of the Shadow Project. This pioneering work made thousands of records relating to the Civil War in Franklin County available online. This database includes a dozen sources confirming the nature and scope of Jenkins' raid http://valley.lib.virginia.edu
Letter of Priscilla Marshall to Orlando Brown, April 4, 1866, Records of the Assistant Commissioner for the State of Virginia, Bureau of Refugees, Freedmen and Abandoned Lands, 1865-1869, National Archives and Records Administration, Record Group 105, M1048, roll 17. Creation of machine-readable version: 
Desi Hopkins, University of Virginia Library, Valley of the Shadows Project http://valley.lib.virginia.edu/papers/B1226 Used with permission from National Archives and Records Administration
Image Sources
"General Jenkins." The Historical Marker Database. Accessed September 18, 2020. https://www.hmdb.org/m.asp?m=73693.

"General Jenkins." The Historical Marker Database. Accessed September 18, 2020. https://www.hmdb.org/m.asp?m=73693.

Additional Information