Old Barboursville Cemetery
Introduction
First and oldest cemetery in the Barboursville area.
Images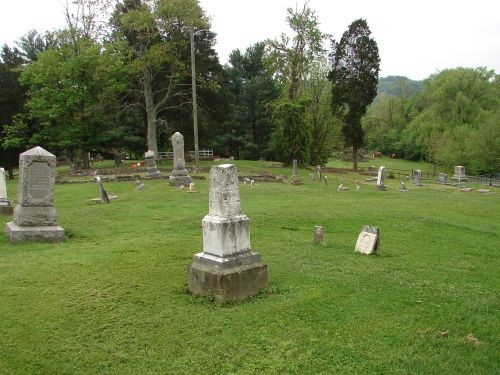 Backstory and Context
Establishment of the cemetery started in 1824 when the village's first Methodist Church building erected in the same area.
The Norther portion of the cemetery was used to bury slaves. Stones marking the slaves had either "S" or initials carved into the stone.
The Daughters of the American Revolution (DAR) took a complete inventory of all burials in the 1940s. They did the same for 3 other cemeteries around the village.
Others buried here include William Clendenian Miller and one of his employees Billingsly Stafford who drowned in the Guyan.
Rumors are the cemetery is haunted.
Sources
Historical Walking Tour of Barboursville West Virginia. Funded by the Village of Barboursville. Compiled by Robert G. Hall. http://rootsweb.ancestry.com/~wvcccfhr/cemeteries/barboursville/bvillecem.htm http://www.barboursville.org/history.php Vertical Files Box # 74 (Schools-One Room TO Steamboats) Folder: Slavery. 6/16/1940 Herald Advertiser article "Barboursville Man Recalls Slave Days". Located in Marshall University Special Collections.
Additional Information