Sullivan Hall, West Virginia State University
Introduction
Constructed in 1970, this West Virginia State University residence hall is named in honor of alumnus Leon Sullivan, the founder of Opportunities Industrial Center (OIC) and an influential civil rights leader and businessman in both Philadelphia and West Virginia. Leon Sullivan also became the first African American member of General Motor's Board of Directors and was a leading voice against South African apartheid.
Images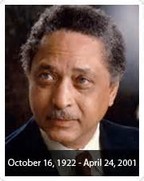 Sullivan Hall shortly after its completion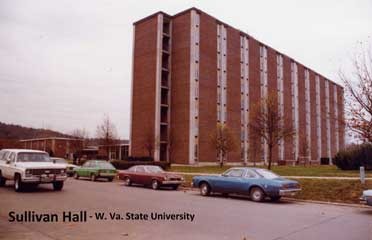 Backstory and Context
Born in Charleston, West Virginia October 6,1922 Leon Sullivan became a Baptist minister at the age of 18. Sullivan who lived with his grandmother growing up realized at an early age that he would spend his life fighting racism following his experience being denied service at a downtown Charleston lunch counter when he was ten. Sullivan decided that he would visit each drugstore movie house and restaurant in the area until he was granted the same type of recognition afforded to his white counter parts. Sullivan found little success but his determination and intelligence was apparent when a white store owner approached him to ask him to leave. Sullivan stood up and recited part of the U.S. Constitution. The store's owner was impressed by Sullivan and gave the young man a free hamburger and doughnut and told him he could dine there anytime he chose.
Sullivan who was a gifted athlete and at six foot five inches tall, he was awarded a basketball scholarship to West Virginia State College. While attending West Virginia State in 1942 Sullivan, met Adam Clayton Powell Jr. The U.S. Representative and pastor who encouraged Sullivan to come to New York upon graduation from college. In 1943 Sullivan moved to New York to study Theology at Union Theological Seminary and Sociology at Columbia University. Powell assisted Sullivan in securing a job with Bell Telephone Company as a coin box collector.
Powell moved to North Philadelphia and led Zion Baptist Church in Philadelphia  for many years as its pastor. During these years, he also decided to take on issues related to a lack of decent and affordable housing. Sullivan created the Philadelphia Committee which work hand in hand with he police to clean up the area. In 1954 Sullivan founded Opportunities Industrialization Center provide education and job opportunities for Black youth. In 1968 Sullivan's efforts in helping others improve living conditions earned him visits from the President of the United States, as well as numerous honors including the Franklin D Roosevelt Four Freedoms Medal in 1987. One of the most influential residents of Charleston, Leon Sullivan has been recognized by the renaming of a prominent downtown street in addition to this residence hall.
Sources
African News Service, May 21, 1999. The Christian Century, May 23, 2001. Ebony, August, 1999. Emerge, July-August 1995, p., 20. Jet, March 30, 1992, p. 4; March 27, 1995, p. 55. M2 Presswire, November 8, 1999. New York Times, May 18, 1987, p. A12; June 4, 1987, pp. Al, D6; April 18, 1991, p. A8; May 10, 1995, p. A3. PR Newswire, April 26, 2001. U.S. Newswire, October 12, 2000. —Marilyn J. Williams
Image Sources
Photo from Drain-Jordan Library Archives

Additional Information