Zion Baptist Church and Reverend Leon Sullivan
Introduction
Zion Baptist Church was established in 1882. Reverend Leon Sullivan was one of the congregation's most influential ministers. He also worked as a civil rights advocate, humanitarian and corporate leader. He is best known for creating the Opportunities Industrialization Centers of America as well as the Sullivan Principles which promoted political reform in South Africa.
Images
"Sullivan, Leon Howard Jr. (1922-2001) | The Black Past: Remembered and Reclaimed." Sullivan, Leon Howard Jr. (1922-2001) | The Black Past: Remembered and Reclaimed. Web. 27 May 2015.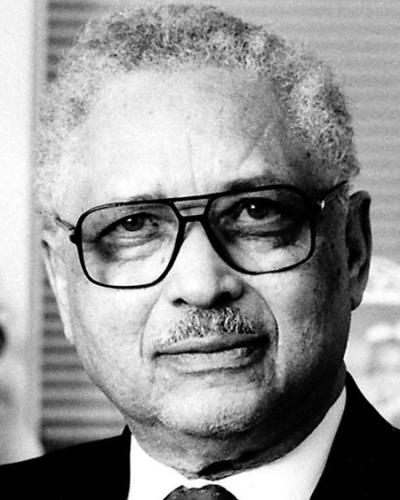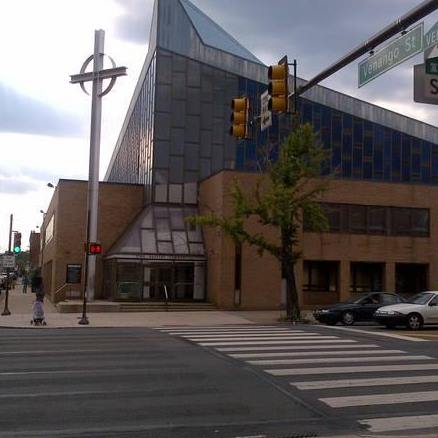 Backstory and Context
Reverend Leon Sullivan was born on October 16, 1922 in Charleston, West Virginia. He received a football and basketball scholarship to attend West Virginia State College. Sullivan had to turn to the steel mill for employment and as a way to pay his tuition after he suffered a foot injury that ended his athletic career.
Sullivan became a Baptist minister when he was 18 years old. He was enrolled in the Union Theological Seminary located in New York City from 1943-1945. In 1947 he completed a Master's degree in Religion from Columbia University.
In 1950 Reverend Leon Sullivan became the pastor at Zion Baptist Church in North Philadelphia, Pennsylvania. He continued working at Zion Baptist Church until 1988. During his time as pastor at Zion Baptist Church, the church membership grew from 600 to more than 6,000.
Reverend Sullivan noticed job discrimination was a problem in Philadelphia. He began to organize and lead campaigns that would challenge discrimination. One campaign led by Reverend Sullivan was known as the "selective patronage" program. This campaign organized the boycott of companies who were participating in employment discrimination.
Reverend Sullivan also saw a need for the availability of job training in African American communities. He felt job training would help in the fight to end job discrimination. Reverend Sullivan founded and led the first Opportunities Industrialization Centers of American, Inc which established employment and training programs.
General Motors Corporation elected Reverend Sullivan to their Board of Directors in 1971. Sullivan used this position to his advantage and used it to battle discrimination. Because GM was the largest employer in South Africa, Reverend Sullivan established a code of conduct for all corporations operating out of South Africa called Sullivan Principles. The principles were established to protect human rights and encourage equal opportunity for workers. This code of ethics helped to disassemble the apartheid in South Africa.
With help from United Nations Secretary-General Kofi Annan, Reverend Sullivan was able to extend Sullivan Principles by launching the Global Sullivan Principles. Reverend also helped raise money for small businesses by establishing the Zion Investment Association.
Reverend Sullivan's most ambitious project is considered to be The International Foundation for Education and Self-Help. The program allowed for the creation of the Peoples Investment Fund for Africa, the Self-Help Investment Program, as well as Teachers for African and Schools for Africa programs.
Over 50 universities and colleges have presented Reverend Sullivan with honorary doctorates, honoring him for his humanitarian and philanthropic activities. In 1992, President George H. Bush awarded Reverend Sullivan the Presidential Medal of Freedom for the help he provided economically and socially disadvantaged people around the world. He was honored for his humanitarian efforts in 1999 by President Bill Clinton and received the Eleanor Roosevelt Award.
Reverend Sullivan's success is not limited to religion, corporations or even civil rights. He was also a distinguished author. Reverend Leon Sullivan died from leukemia on April 24, 2001 in Scottsdale, Arizona however, his legacy lives on through the Leon H. Sullivan Foundation.
Sources
"Sullivan, Leon Howard Jr. (1922-2001) | The Black Past: Remembered and Reclaimed." Sullivan, Leon Howard Jr. (1922-2001) | The Black Past: Remembered and Reclaimed. Web. 27 May 2015.
Additional Information