Violet Bank Museum
Introduction
Violet Bank, originally built in 1777 and rebuilt in 1810, was first a house. However in 1864 General Robert E. Lee used Violet Bank as his headquarters for nearly six months. Today it is a museum, on the National Register of Historic Places, and a Virginia Historic landmark thanks to its history and it beauty. It is visited for its architectural significance, artwork, and Civil War artifacts.
Images
Violet Bank as it stands today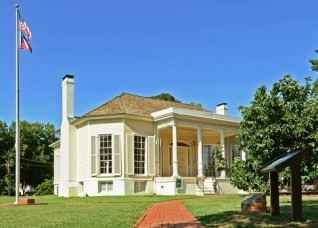 Daughters of the Confederacy Marker commemorating the Violet Bank House as one of Lee's Headquarters.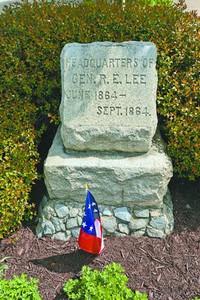 A sign outside of the museum explaining the origin of the name of Violet Bank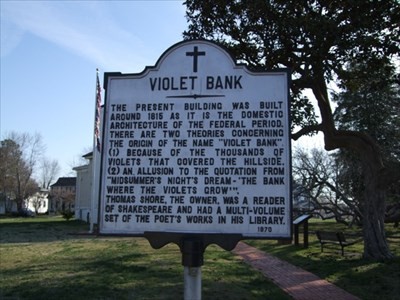 The giant cucumber magnolia tree planted in 1718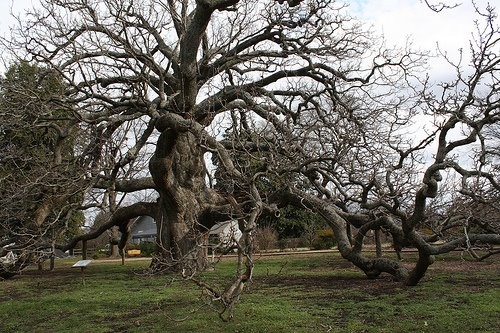 Backstory and Context
Located in Colonial Heights, Virginia, Violent Bank was built in 1777 by Thomas Shore as a home for himself and his family. Unfortunately, the original home was completely lost to a fire that occurred in 1805. Thomas Shore's widow, Jane Grey, and her new husband, Henry Haxall rebuilt the house in 1810.

Starting in June 1864 Violet Bank was the headquarters of General Robert E. Lee during the siege at Petersburg. Lee stayed here until November of the same year. Violet Bank is most known for the Confederate general who stayed in it. However, he was not the only important military figure to stay there. Major General Marquis de Lafayette also used the home as headquarters during the Revolutionary war. After the war, the property of Violet bank was divided and sold until all that remained was the single house and a small amount of insignificant land.

Visiting the Violet Bank Museum today will reward visitors with an excellent example of Federal-style architecture, artistic decorations from the early 1800s, and Civil War artifacts that are on display. Also located outdoors at the museum is the famous cucumber magnolia tree. This massive tree whose branches extend out to 110 feet is believed to have been a gift from Thomas Jefferson that was planted in 1718.


Sources
"Violet Bank Museum" accessed May 29, 2015, http://www.colonialheightsva.gov/facilities/facility/details/Violet-Bank-Museum-44 "Violet Bank" accessed May 29, 2015, http://www.nps.gov/nr/travel/jamesriver/vio.htm "Colonial Heights Cucumber Magnolia" accessed May 29, 2015, http://www.howitgrows.com/2009/01/fieldtrips-colonial-heights-cucumber.html
Additional Information