Lake Hopatcong Historical Museum
Introduction
As the largest freshwater body in New Jersey, Lake Hopatcong has historically attracted vacationing New Yorkers during the spring and summer months. Since the 1880s, tourism into the area has played a significant role in Morris and Sussex county economy and culture. Furthermore, this lake is central to the New Jersey Skylands, and the area is famous for its Native American heritage as well as colonial development and industrialization. Located in a rustic 19th-century that once served as the lock tender's house on the Morris Canal, the Lake Hopatcong Historical Museum captures the entirety of the rich history surrounding the lake and presents it to the public in a fun and interesting manner. Search through Lenape artifacts or discover the area when it was a tourism centerpiece for the entire region, when thousands flocked for dancing and nickel nights.
Images
Outside View of the Lake Hopatcong Historical Museum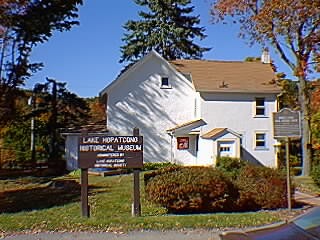 Bertrand Island Park (date unknown)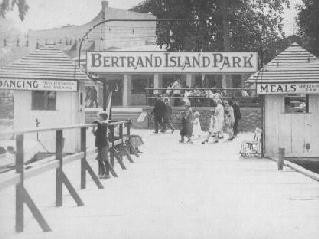 Bertrand Island Amusement Park Postcard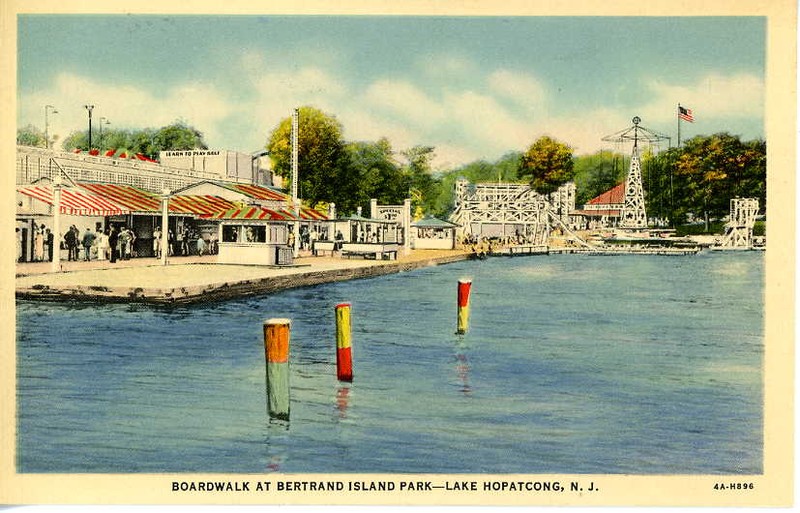 Vacationers swimming in 1915
Backstory and Context
History of Lake Hopatcong
Lake Hopatcong is more than six miles long and covers over 2,600 acres, and like many parts of the region, it predates the last ice age. However, when the last glacial shelf receded, it left behind two individual lakes located miles apart known as the "Great Pond" and the "Little Pond."
Early explorers started surveying the lakes in the mid 1600s, and a 1715 journal written by John Reading called the lake by its Native name, "Huppakong." There is disagreement about the origin of the lake's name, and in an 1853 map of the area, the cartographer named the area of the lake as "Indian Warf."
The lake remained fairly undisturbed until about the mid-1800s, which was when the Morris & Essex Railroad first advanced towards the area. Although the company did not build a station at the time, Lake Hopatcong acquired its first passenger station in 1882 and New York vacationers flocked to the area for its beautiful picnic setting. As more weekenders came, amusements were constructed and a tourist industry began flourishing. Hotels, resorts, steamboats, trolleys, and other attractions also came in hordes.1
Exhibits at the Historical Society Museum
Visitors to the Lake Hopatcong Historical Museum are able to discover the entire history of the area in just a couple hours, from the natural history of the area to its tourism boom. To give visitors such a broad view of history, the museum remains dedicated to collecting, housing, and preserving the civil, political, social, and general history of Lake Hopatcong.
One of the more popular permanent exhibits at the museum is the "Passage to Progress: The Morris Canal and The Transformation of Lake Hopatcong," which showcases this history through educational and entertaining displays. The other permanent exhibits include "Simpler Times at Lake Hopatcong," "Jewel Of the Mountains: The Great Hotel Era at Lake Hopatcong," and "Greetings from Bertrand Island Amusement Park," among others.
Additionally, the historical museum showcases a variety of specialized nuances of Lake Hopatcong history, allowing visitors to discover many different facets of this history. For example, some of these specialized exhibits include people and topics such as "Bette Cooper, Miss America 1937," "Ice Houses & Harvesting," "Nolan's Point Amusement Park," and "Lackawanna Railroad."2
Sources
1.) http://www.njskylands.com/history-lake-hopatcong 2.) http://www.lakehopatconghistory.com/Exhibits/
Additional Information