The Jimmy Stewart Museum
Introduction
The Jimmy Stewart Museum highlights the career and life of actor Jimmy Stewart, who was also a "military hero, civic leader, family man and world citizen" ("About"). The museum offers "displays, film presentations and gallery talks" ("About"). Brief film clips can be viewed in the museum's 1930s music theater. Located on the 3rd floor of the Indiana Public Library in Indiana, Pennsylvania, Stewart's hometown, visitors can see original movie posters and photos dating from the 1930s onward, as well as the Stewart family hardware store site, the bronze statue of Stewart dedicated on his 75th birthday, Stewart's vast array of awards, his favorite mementos, and the old Indiana courthouse clock (made famous by Life magazine as its back from WWII photo).
Images
The entrance to the museum at the Indiana Public Library.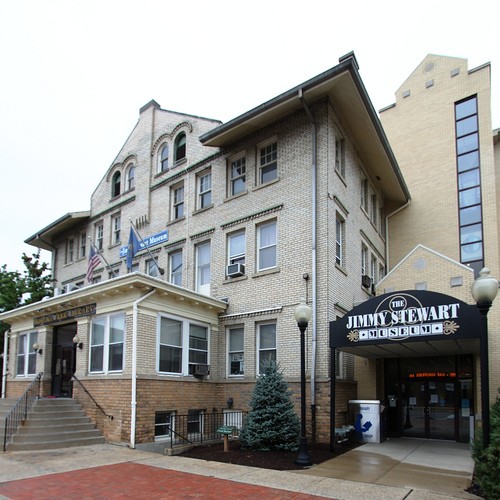 The statue and picture of Jimmy that greets visitors as they enter the museum.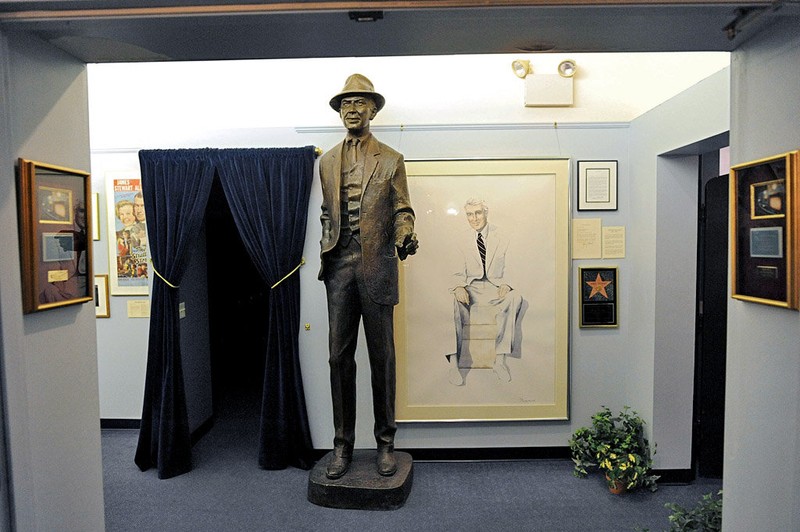 Artifacts on display within the museum.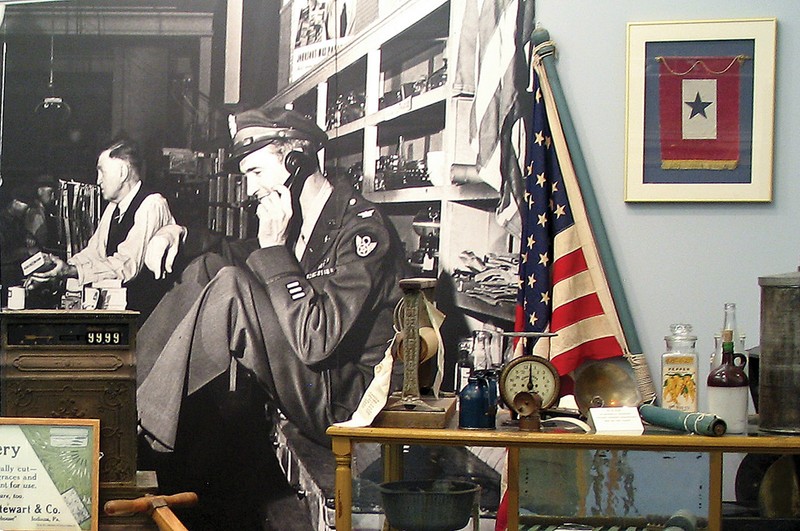 In 2007, Jimmy Stewart was honored with a stamp as part of the Legends of Hollywood Series along with other famed actors such as Gary Cooper and James Cagney. The stamp was first issued in Universal City, 30 minutes away from his Beverly Hills home.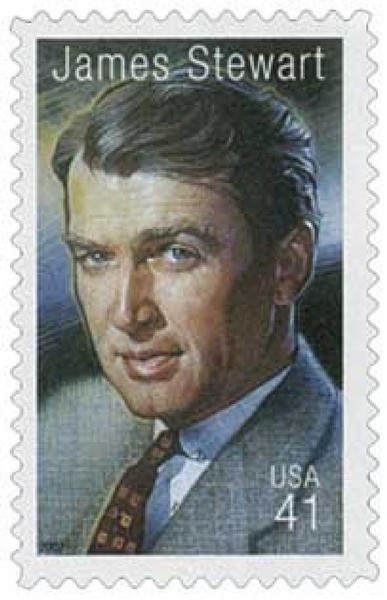 Backstory and Context
Jimmy Stewart was born on May 20, 1908 to Alexander and Elizabeth Stewart and was the eldest brother of two sisters. Stewart's father owned a hardware store and showed his family the importance of music, reading, and religion. During his childhood, Stewart was a boy scout and attended the Model School and Mercersburg Academy where he was actively involved in football, track, yearbook, and choir before his graduation in 1928. During his teenage years, he worked two summers as a magician's assistant where he gained quite a bit of stage experience and began honing his showmanship.
He followed in his father's footsteps and attended Princeton University where his music skills and fluency with the accordion granted him early and high participation in theater, although he studied architecture. However, once he graduated, with concerns about the Great Depression and his father's store's destruction, Stewart accepted a position with the University Players and his career skyrocketed. He appeared in several Broadway plays, such as Spring in Autumn and All Good Americans in 1933, and a multitude of films: between 1935 and 1939, Stewart appeared in 29 films, most notably Mr. Smith Goes to Washington and It's a Wonderful Life. A patriotic man, Stewart put his acting career on hold during World War II to serve in the Army and Air Force Reserves as a licensed pilot.
Upon his return, he continued to act and met his wife Gloria McLean, whom he married in 1949. Stewart made his way onto television and starred on The Jack Benny Show, The Jimmy Stewart Show, and The Tonight Show with Johnny Carson. In addition to his various and prestigious awards, Stewart won the Pennsylvania Award for Excellence in the Performing Arts (1967), the Life Achievement Award (1980), and an Oscar for Lifetime Achievement (1987). The Jimmy Stewart Museum was dedicated in 1995, two years before Stewart's passing at the age of 89.
Sources
"Jimmy Stewart Museum, in the actor's hometown, rebounds from adversity." Associated Press. December 24, 2013. Accessed December 14, 2016. http://www.nola.com/movies/index.ssf/2013/12/jimmy_stewart_museum_in_the_ac.html
"Jimmy: Biography." The Jimmy Stewart Museum. 2006. Accessed December 14, 2016. http://www.jimmy.org/about-jimmy-biography/
Cheney, Jim. "Uncovering the legacy of a legend while visiting the Jimmy Stewart Museum in Indiana, Pennsylvania." Uncovering PA. December 12, 2013. Accessed December 14, 2016. http://uncoveringpa.com/visiting-the-jimmy-stewart-museum
Additional Information