Musée Mécanique
Introduction
This family owned vintage coin arcade features over 300 items, ranging from orchestrions, coin operated pianos, antique slot machines, and animations, down to small bird boxes. The collection was started by, and belonged to, Ed Galland Zelinsky. After he passed away in 2004, Ed Zelinsky's son, Dan, took over the operations of the museum arcade. The arcade is situated in a prime location within Fisherman's Wharf and is open to the public 365 days a year.
Images
Entrance "Musée Mécanique 003" by User:Piotrus via Wikimedia Commons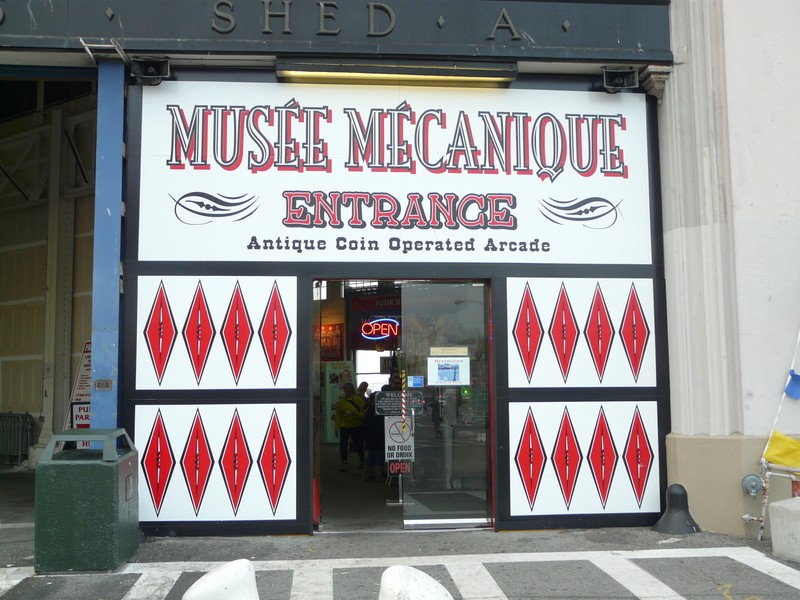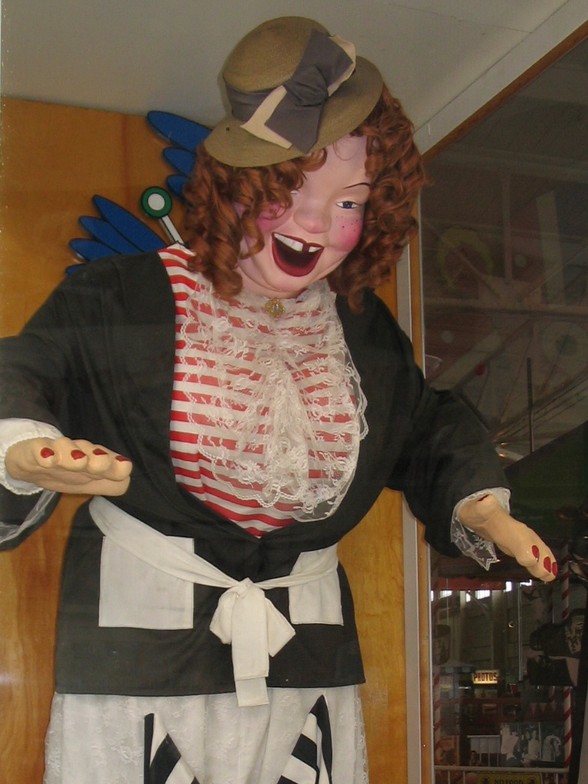 Steam Powered Motorcycle "Musée Mécanique 043" by User:Piotrus - Own work. Licensed under CC BY-SA 3.0 via Wikimedia Commons
Backstory and Context
Musée Mécanique founder Ed Galland Zelinsky started collecting arcade games when he was just 11 years old. According to his own account (available on the museum's official webpage), it all started when he won a Bingo game during a theatre intermission. Upon spinning a big wheel, he won five quarts of motor oil, which, since he was a child, he had no use for. He made 75 cents from selling the oil to his piano teacher. With that 75 cents he bought a penny skill game and prompted his friends and family members to play the game, racking up enough money to invest in more game machine purchases.
In his story, Zelinksy says, "One of my favorite purchases was a slot machine, which is now a collector's item. At the time, slot machines sold for $20-$25, sometimes less. I bought a Charles Fey Liberty Bell slot machine for $25 and sold it for what I then thought was the fantastic price of $200 (it is now worth between $25,000 and $30,000). But that's the way of a collector-you should have done this and you should have done that."
After returning from his serving in WWII, Zelinsky continued his collection, picking up pieces here and there such as picture machines and a Seeburg piano with an attached xylophone and mandolin. One of the biggest attractions at the arcade museum is a steam powered motorcycle. In his story, Zelinsky recounts how he came to own this prized piece:
"I seldom sell, but I love to trade. I did a lot of trading with George Whitney, Sr.; we traded music boxes and pianos back and forth. I made one trade with George Whitney that I will never forget. I had lunch with him every third Thursday and Mr. Whitney sat at the same table that he sat at for 20 years. I remember he had a scotch over ice, shrimp cocktail and a minute steak. I tried to copy him, but I couldn't keep up with him on the drinks. Well, one time I had quite a few drinks, and I was feeling no pain and George said, "Ed, you have a 1904 Franklin, do you want to trade it?" And I said, "George, what will you give me for it?" Well, I don't really remember the conversation, but I do remember shaking hands with him and Mr. Whitney telling me, "Ed, you are the proud owner of a steam motorcycle.""
He continues: "Later, we had dinner again and he asked me who got the best deal in the trade. I said, "I don't know, George, you tell me." He said, "Ed, I got the best deal. I got a Franklin that's running and you got a motorcycle that isn't, and needs repair." I told him, "That's funny, George. I thought I got the best of the deal because I got the only steam motorcycle, perhaps, in the whole world." He called me up a few weeks later and asked if I wanted to trade back again. That's when I knew I had a good deal. The motorcycle was made about 1912 in Sacramento by a man named Gillingwater. It is still in working condition and is on display at the Musée Mécanique."
Zelinsky's games were first displayed at Playland in the 1920s, but when the amusement park closed in 1972, the game collection was moved to the basement of Cliff House. Finally, upon plans to renovate the Cliff House, the game collection was moved to its present location in Fisherman's Warf.
Today, visitors can enjoy games from 1 cent to a dollar. The Musée Mécanique website informs prospective guests that they do not need to bring their own quarters because the arcade has change machines there.
Sources
De Anda, Juan. Tourism for Locals: Musée Mécanique Revives Past with Family Fun. SF Weekly. November 20, 2013. Accessed April 06, 2017. http://archives.sfweekly.com/exhibitionist/2013/11/20/tourism-for-locals-musandeacutee-mandeacutecan....

Guthrie, Julian. Musee Mecanique rich in mystery, history. SF Gate.
December 26, 2012. Accessed April 06, 2017. http://www.sfgate.com/bayarea/article/Musee-Mecanique-rich-in-mystery-history-4147875.php.


Additional Information