Museum of Science, Boston
Introduction
Dating back to the antebellum period, the Museum of Science, Boston is one of the oldest educational institutions dedicated to serving the public in the city. The museums boast that it is the world's largest science center, and the institution continues to serve as Boston's premier educational center for youth. Exhibits and programs are designed for all ages. Current exhibits include A Bird's World, Bradford Washburn: The Man Behind the Lens, Butterfly Garden, Catching the Wild, Colossal Fossil: Triceratops Cliff, Conserve @ Home, Cosmic Light, Dinosaurs: Modeling the Mesozoic, Discovery Center, Energized!, Hall of Human Life, Innovative Engineers, Investigate!, Live Care Animal Center, Making Models, Mapping the World Around Us, Math Moves!, Mathematica, Microrobotics Take Flight, Museum of Science: Now & Then, Nanotechnology, Natural Mysteries, New England Habitats, Science in the Park, Seeing is Deceiving, take a Closer Look, The Colby Trophy Rooms, the Light House, the Rock Garden, To the Moon, and Weems Animal Sculptures.
Images
The museum's building dates back to the 1950s, while Boston's efforts to create exhibits related to science predates the Civil War.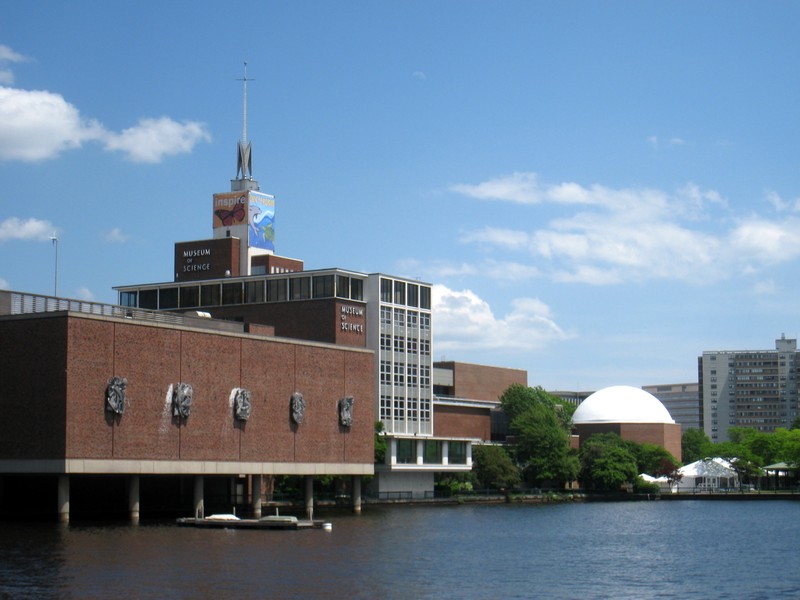 Backstory and Context
The Museum of Science dates back to 1830 when the Boston Society of Natural History was founded; these members collected, studied, and displayed their scientific specimens, sharing their love of science with each other and the city of Boston. In 1864, they opened the New England Museum of Natural Science. After World War II, the museum signed a 99-year lease to create Science Park, where the museum resides today, and officially changed its name to the Museum of Science, Boston.
In 1948, the museum designed and built the first traveling planetarium, which they used to drum up interest in and awareness of the museum. In 1951, the 1st wing of the museum officially opened and the museum was the first to incorporate all of the sciences in one building. The museum continued to undergo several expansions and renovations during the next two decades, most notably the creation of the Charles Hayden Planetarium in 1958. A new wing opened in 1968 and the Elihu Thomson Theater of Electricity opened in 1980. Bringing education to the museum's forefront, they opened the Mugar Omni Theater in 1987 and the incorporated The Computer Museum and created the Gordon Current Science and Technology Center in 1999.
In 2004, the National Center for Technological Literacy opened within the museum and in 2011, the museum implemented a "$250 million Campaign to transform the Museum's Exhibit Halls to tell the interconnected story of the natural and designed worlds; to enhance our public spaces and amenities, focusing on sustainable systems and materials; to expand the Museum's K – 12 engineering curricula program; to further develop forums and engaging programs for adult museumgoers; and to increase levels of endowment support and unrestricted annual giving" ("Museum History").
Sources
"Museum History." Museum of Science, Boston. Accessed May 27, 2015. http://www.mos.org/history.
Additional Information